Back to News
B$Z: IVI Welcomes Keith Hufnagel
August 1, 2012
IVI WELCOMES KEITH HUFNAGEL
Skate legend, Entrepreneur, and Streetwear Icon Joins IVI Roster
IVI is proud to welcome Keith Hufnagel to our growing list of brand ambassadors.
IVI will be at booth J-22 of the Agenda trade show in Long Beach, CA, Aug 1-2. Please stop by to see the line and learn more about IVI.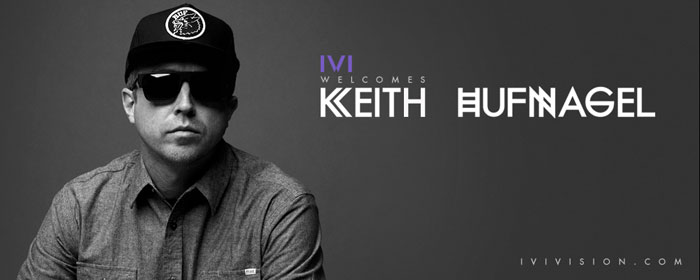 IVI today announces the addition of Keith Hufnagel as a brand ambassador. Keith joins Rob Dyrdek and Carey Hart in partnering with the new sunglass brand.
IVI,created through the combined vision of founders Rob Dyrdek, Pete Fox, and Jerome Mage, bridges the gap between action sports/street cultures and luxury eyewear. Featuring timeless styles with modern applications, premium materials and exclusive use of ZEISS sunlenses, IVI has sought ambassadors that represent the brand's concept.
IVI is partnering with athletes that are not only iconic in their field, but also have the passion and drive to extend their legacies and inspire the communities around them through meaningful business ventures, content development, and philanthropy.
"Keith is a great representation of the IVI philosophy. An iconic personality, successful entrepreneur and someone that has not only achieved what he's set out to do, but gone on to create greater goals to reach in the future." Pete Fox, CEO, IVI, LLC.
"For a new brand, IVI has built a solid foundation based on quality product. The style, lens clarity and fit and finish of the frames are all done really well. I'm looking forward to collaborating on the design process." Keith Hufnagel.
A new IVI frame designed by Keith will be released in the Spring 2013 IVI sunglass range.
Learn more at IVIvision.com
---