Back to News
ART: Otro, a glow-in-the-dark skateable sculpture in France.
August 6, 2012
Otro, a skateable sculpture at Vassivière Island, France.
The glow-in-the-dark skateable structure created by Korean artist Koo Jeong-A is located at the Centre International D'Art & Du Paysage (International Center of Art & Landscape) on the Ile de Vassivière, région Limousin, France.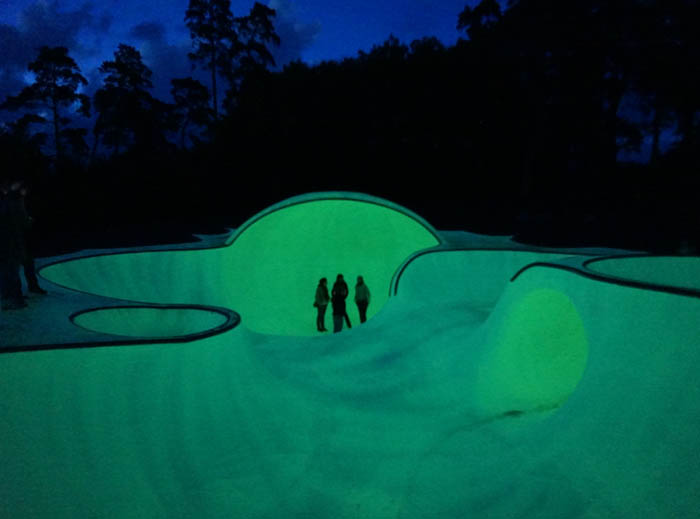 OTRO is a daring skateable artwork, composed of different bowls, a cradle and a tunnel. Koo Jeong A invites novices and experts to share the physical and sensorial experience of her work by "skating the landscape".
At the time of her arrival in 2007 for her exhibition called Oussseux, Koo Jeong A had been impressed by the mysterious winter landscapes of the island and the atmosphere that arose from it : Vassivière became Oussseux, an unreal, phantasmagoric and powerful dreamscape belonging to the imaginary world of the artist.
With OTRO, Koo Jeong A tries out the fragile visibility of the artwork, its discrete appearance that tests our perception, obliging you to discover with patience the artwork's essence.
The concept of OTRO, its ovoid shape, the use of green phosphorescent paint, its progressive discovery, and its integration in the island meadow make this artwork become an infinite land of investigation, that reflects all details like the light, its link with the site, the atmospheres, the dream and the fantastical. OTRO is an artwork made of bumps – the cradle – and hollows – bowls and a tunnel. This work of Koo Jeong A refers to both definitions of sculpture and representation: hollows and bumps, shadows and lights, soft or accentuated reliefs.
It is an art work to live, to experiment, not only from a sporting point of view but also from a sensorial, sensitive and artistic point of view. It establishes the link between the urban, practicable, sporting and playful aspect of the artwork as a skate park and the artwork from an artistic point of view as part of Koo Jeong A's world.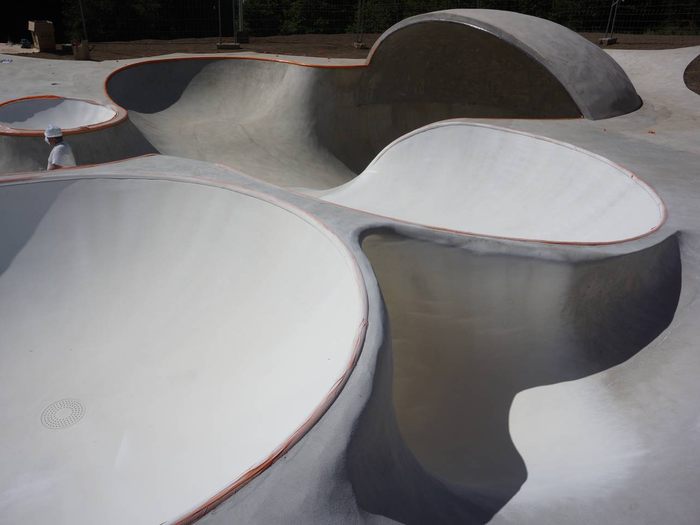 More info and a photo gallery available from L'Escaut, the architecture firm behind the sculpture.
Born in 1967 in Séoul in Corée du sud , Koo Jeong A lives and works everywhere.
---