Back to News
B$Z: The House of Marley Introduces 'Lively Up' Collection
August 7, 2012
The House of Marley Introduces 'Lively Up' Collection of Totes, Backpacks, Overnights, and Messenger Bags
New Collection Merges Classic Designs with The House of Marley's Exclusive, Earth-Friendly and Durable REWIND™ Fabric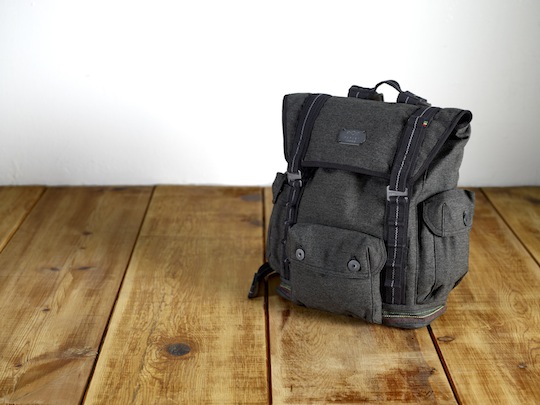 The House of Marley returned to the Agenda tradeshow in Long Beach last week where the brand introduced its new "Lively Up" bag collection, while also showcasing its premium headphones and portable speaker systems.
The "Lively Up" bag collection is comprised of everyday use packs and totes made with The House of Marley's unique blend of eco-fabric called REWIND™ fabric. Exclusive to The House of Marley, REWIND fabric is composed of reclaimed hemp and organic cotton, combined with the fibers of recycled water bottles (rPET) and finished using water-based dyes. The House of Marley "Lively Up" Collection can be previewed now at www.TheHouseofMarley.com and will be available for purchase online and at select independent and major retailers starting later this month. Anyone attending Project Las Vegas (August 20-22), can check out the entire collection from The House of Marley, including recently launched audio products.
The House of Marley has been working on the development of the REWIND fabric since early 2011. Unhappy with the quality and feel of other earth-friendly materials readily available on the market, The House of Marley created a fabric from scratch that is durable and functional and adheres to the Marley family belief that people should limit their impact on the planet by recycling materials already available whenever possible.
Functional, understated and durable, the "Lively Up" bag collection contains more than 15 models in various colorways and constructions. Suitable for casual hikes, overnight trips, excursions to the store or the morning commute, the "Lively Up" bag collection adds style with a subdued, earth-friendly vibe. In addition to utilizing REWIND fabric, hardware on the bags is custom molded with a low impact plating process for the best in eco-form and function. Leather models are colored using vegetable dye and feature a TPU coating for extra weather resistance. Many feature iPad/tablet and laptop compartments, making them even more appropriate for modern pursuits.
Available in mid-August 2012, highlights from The House of Marley "Lively Up" collection include:
• Lively Up Sling: Medium capacity sling (2.5 liters) with padded iPad™ compartment, perfect for everyday jaunts. MSRP: $59.99, $79.99 leather
• Lively Up Backpack: Simple and functional. Large capacity (14 liters), fold-top backpack with an internal laptop sleeve and side accessory pocket. MSRP: $99.99, $129.99 leather
• Lively Up Messenger: Medium capacity (14 liters) messenger bag built for modern pursuits. Separate compartments for a laptop and iPad, as well as document sleeves and other accessory compartments. MSRP: $109.99, $149.99 leather
• Lively Up Foldover Tote: Large capacity (22.5 liters) bag perfect for trips to the beach, store or carrying multiple items to a friend's house. Features a removable shoulder strap and multiple accessory pockets. MSRP: $109.99, 169.99 leather
• Lively Up Scout Pack: Built for adventure. A large capacity (18 liters) backpack. Multiple accessory compartments and a padded laptop pocket surround main compartment. Padded back and shoulder straps ensure comfort. MSRP: $129.99, $199.99 leather
• Lively Up Overnighter: Large capacity business-style travel bag with shoulder strap, perfect for weekends out of town. Features external document pocket, laptop compartment and multiple accessory pockets. MSRP: $169.99, $249.99 leather
The House of Marley was created with the family of Bob Marley, offering a collection of personal audio and lifestyle products that adhere to the Marley family values of equality, unity, authenticity, sustainability and charity. The House of Marley donates five percent of annual profits to 1Love.org, a global movement sparked by the Marley family that provides funding to charities focused on youth, planet and peace.
Learn more at www.houseofmarley.com, join us on Facebook at www.facebook.com/TheHouseofMarley, and follow us on Twitter at www.twitter.com/houseofmarley. Visit the Marley Family's primary website at www.BobMarley.com and join the Official Bob Marley Facebook page at www.Facebook.com/BobMarley. Learn more about other Marley Family ventures by visiting Marley Beverage Company at www.MarleyBeverages.com, Marley Coffee at www.MarleyCoffee.com, and 1Love.org at www.1love.org.
---