BACK TO NEWS
EVENT: TransWorld Business And Surf Expo Swimwear Fashion Show Returns
TransWorld Business And Surf Expo Swimwear Fashion Show Returns
See The Summer Swim Showroom Come To Life At Surf Expo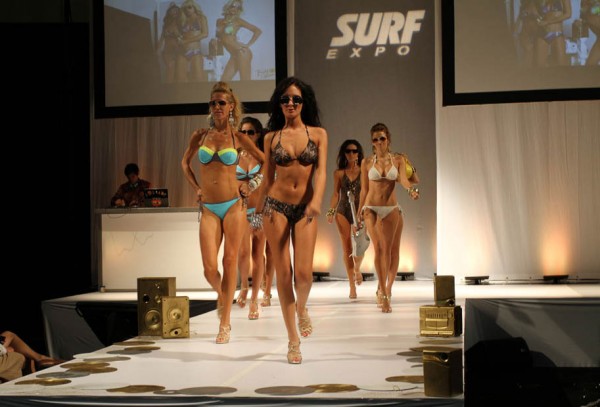 TransWorld Business and Surf Expo have teamed up once again to birng the pages of the Swimwear Showroom to life with daily fashion shows highlighting brands, looks, and sizzling styles that will be lighting up beaches in 2013.
Following the success of last year's glam rock-themed Swim Showroom Fashion Show, TransWorld Business has yet again partnered with stylist extraordinaire Eden Struss for this summer's super hero-themed 2013 Swimwear Showroom.
"Jump in your Bat Mobile and ride down International Drive to the TransWorld runway show featuring super hero hotties from all over the world wearing the latest trends in the surf industry," says Struss. "It's not to be missed."
This year's show will take place on the Surf Expo show floor at 4 pm on Thursday, September 6 and Friday, September 7 and will feature swimwear from brands including B.Swim, Billabong, Body Glove, L*Space, Swim Systems, Under Armour, Volcom, and more. The show will also highlight the hottest trends in junior's apparel for Spring 2013 from the likes of Billabong, Element, and Volcom.
"The TransWorld Business Swimwear Fashion Show at Surf Expo is a great opportunity to showcase upcoming trends and styles in front of the industry's top buyers," explains TransWorld Business Editor in Chief Mike Lewis. "It's also a great opportunity to bring the issue's pages to life, take a break from appointments at the show, and enjoy a glass of champagne. We're keeping it super hero-classy.
Surf Expo is rolling out the red carpet for attending buyers and sees the fashion show as an opportunity to give them a creative look at next year's lines.
"For more than 25 years, TransWorld Media's trade titles have supported specialty retailers with in-depth analysis, news, and a sense of community," says Surf Expo Brand Manager Sean O'Brien. "Today TransWorld Business remains the unrivaled leader in trade journalism for the action sports market; your daily spot to understand and capitalize on an ever-changing market. We're thrilled to bring that expertise and attention to detail to the floor of Surf Expo through the Showroom fashion shows—and we know our thousands of buyers will be too."
Check out the full story on twsbiz.com here.
---