Back to News
WEB: Burton 2013. An Iconic Year
August 14, 2012
Burton 2013. An Iconic Year
New year, new gear, (new website). Welcome to Winter.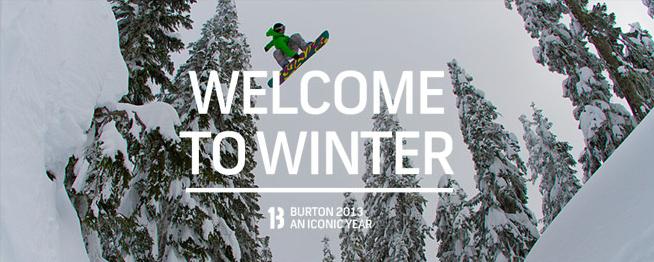 BURLINGTON, VT (August 13, 2012) - Today marks the beginning of winter for snowboarders worldwide, as Burton kicks off the first phase of its month-long winter launch campaign featuring three big moments.
The first is the announcement that the new Burton 2013 winter gear is now on shop floors, next Burton is proud to introduce the all-new Burton.com which is now live, and finally, today's launch features the debut of the first teaser from Burton's brand new snowboard film, called 13.
At the heart of every Burton launch is the brand new gear, and today the 2013 Burton winter product is available in stores and online for the first time. Designed, tested and inspired by the world's best snowboarders, Burton's new line of 2013 products is in one word, iconic.
Here are a few must-see 2013 products and tech features: for hardgoods, definitely check out Nug Raduction technology (now available on more boards than ever); Family Tree, a new quiver of snowboards built for freeriding; Total Comfort Construction and new Speed Dial lacing on Burton boots and Re:Flex™ technology in bindings.
On the outerwear side, Burton's got you covered with the most well-developed and complete outerwear collection in snowboarding that keeps you warm and dry. Finally for 2013, Burton has expanded its tech apparel, apparel, bags and youth lines, to offer riders and riders at heart everything they need all year long.
And then there is the new Burton.com. Burton Snowboards prides itself on completely rebuilding its website from the ground up each winter, and this year is no exception. For 2013, Burton.com is a rich, dynamic, mobile-optimized site packed full of original content and a variety of digital tools that showcase Burton's industry-leading products.
A key highlight includes the brand new dedicated tech section where users can dig deep into the top 2013 tech stories through detailed descriptions, diagrams and dozens of videos that clearly explain the industry-leading features that are in every Burton product.
Also ramped up for 2013, riders can get to know products via compelling collection pages that showcase the individual personalities of each product line, such as [ak], B by Burton or The White Collection.
And finally, one of the key must-see highlights of Burton.com is the News+Video section, where Burton will be providing a mountain of original content, all showcasing the stories, footage and photos behind the team and the product through 10 unique channels such as, 'Lift Access', '80 Proof' and 'Mountain Fresh Gear'.
In addition to launching the new 2013 product and website, today Burton also unveiled the first teaser of their brand new feature film, 13. Featuring footage from state-of-the-art cameras, 13 showcases the world's top riders at locations around the globe, including Whistler, Alaska, Lake Tahoe, Northstar, Heavenly, Sun Valley, and Europe.
The film stars Burton pro snowboarders Danny Davis, Mikkel Bang, John Jackson, Mark Sollors, Mikey Rencz, Jussi Oksanen, Terje Haakonsen, Jeremy Jones, Zak Hale, Ethan Deiss, Seppe Smits, Peetu Piiroinen, and more. 13 will drop at video premieres, and on DVD and iTunes this coming fall, and check out the very first teaser here: 13.
This is just the beginning - stay tuned for more details about all things Burton 2013 in the coming weeks, including new movie teasers each week, dates for 13 premieres, contests and in-store events. And to get a first look at the new 2013 gear from Burton, head to your local snowboard shop, www.burton.com or a Burton flagship store near you.
Follow our line at: facebook.com/burtonsnowboards, twitter.com/burtonsnowboard and burtonsnowboard on Instagram.
About Burton
In 1977, Jake Burton Carpenter founded Burton Snowboards out of his Vermontbarn. Since then, Burton has fueled the growth of snowboarding worldwide through its groundbreaking product lines, its team of top snowboarders and its grassroots efforts to get the sport accepted at resorts. In 1996, Burton began growing its family of brands to include boardsports and apparel brands. Privately held and owned by Jake, Burton's headquarters are in Burlington, Vermont with offices in California, Austria, Japan and Australia. For more information, visit www.burton.com.
---