BACK TO NEWS
B$Z: SIA Releases 2012/13 Snow Industry Planner
SIA Releases 2012/13 Snow Industry Planner
Annual Planner Gets Industry Fired up For Next Season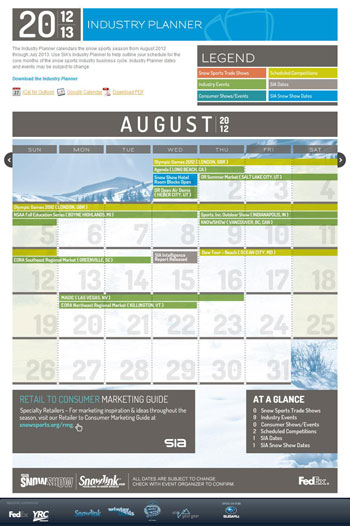 WASHINGTON, DC (August 13, 2012) -- While summer activities are in full swing, the snow sports industry can't help but think about the upcoming season of SNOW. Each August, the industry starts to get fired up for winter when they open up their mailboxes and see the SIA Snow Sports Industry Planner. In fact, more than 27,000 snow sports industry retailers, reps, manufacturers and media received their copy of the redesigned SIA 2012/13 Snow Sports Industry Planner last week.
This year's planner features a modern layout and monthly call outs of both industry and consumer events, helping you plan for the upcoming year. New this year, is an updated and more visual view and layout of the digital version that includes a month-by-month PDF for view or print, along with downloadable iCal versions compatible with Google and Outlook calendars at snowsports.org/industryplanner.
The digital version also includes complete contact, website and location details for each event. Reminders appear for Bring-A-Friend Challenge, Learn to Ski and Snowboard Month, World Snowboard Day and Winter Trails Day - all national programs working to educate consumers on snow sports and increase participation. Please note, calendar dates may be subject to change, please check the online version for updates.
"Wherever I go, I'm always hearing how SIA Members look forward to receiving their SIA Industry Planner in the mail. I've even heard from marketing managers that they bring the calendar to planning meetings when mapping out their travel and promotional events for the upcoming year," said David Ingemie, SIA President.
Continuing the 51 year tradition, the print calendar provides a comprehensive guide for snow sports trade shows, consumer shows, industry events and competitions along with SIA Association and SIA Snow Show important dates and reminders.
To order the printed version of the Industry Planner, please email SIAmail@snowsports.org.
---