BACK TO NEWS
EVENT: TransWorld SURF's 'Let's Surf Seriously' Video Premiere
TransWorld SURF's 'Let's Surf Seriously' Video Premiere
La Paloma Theater, Encinitas, CA — August 16, 2012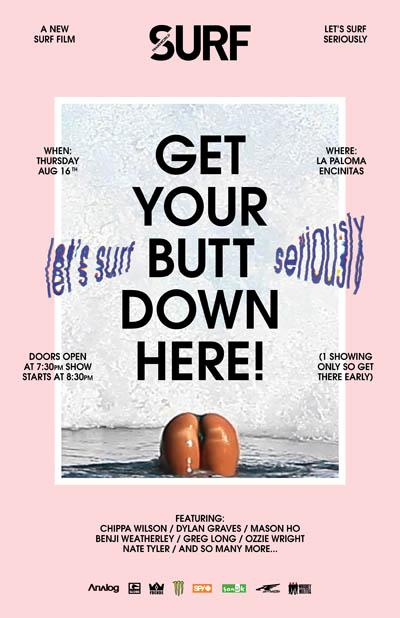 Encinitas, CA— TransWorld SURF's newest video, Let's Surf Seriously, will be featured in Encinitas, California on August 16, 2012 at the La Paloma Theater (471 S. Coast Highway). The event will be open to the public at no cost, thanks to its sponsors: Analog, Frends, Globe, Monster, Spy+, Sanuk, Arnette, and Whiskey Militia.
For this year's film, the TransWorld SURF crew ventured off across the globe for nine months to countries including: Australia, the Caribbean, Indonesia, El Salvador, and more. Surfers Chippa Wilson, Nate Tyler, Ozzie Wright, Benji Weatherly, Greg Long, Dylan Graves, Dillon Perillo, Matt Meola, and others joined TransWorld as they embarked on one of the most serious surf trips yet.
TransWorld's Chris Coté sums it up well.
Surfing used to mean something. Seems like all we see these days are fancy boys dancing on the water like damn ballerinas in fancy-ass boardshorts with $300 dollar haircuts. What happened to cutbacks? Where is all the vertical re-entry three-to-the-beach aggression? Kids these days should be studying and taking notes from their elders. Instead, they're playing on whatever new fangled video game they've got playing on their flat-screen pocket televisions. Don't give us that drop wallet tail chuck full rotation bullshit if you don't really mean it! If you're gonna do a flip, do it with some conviction! Cut the crap! Surf like you mean it, grab surfing by the balls and twist it like a crocodile dragging a baby goat to its death! If you're gonna surf, do it for real, it's time. Let's surf seriously!
Prior to the premiere, Arnette will be hosting autograph signings by Mason Ho and Chippa Wilson across the street at their new facility (444 S. Coast Highway, Encinitas) from 7:00 to 7:45 p.m.
The La Paloma Theater will open its doors at 7:30 p.m. Sponsor give-aways will be distributed inside the theater until the show begins at 8:30 p.m.
Past TransWorld SURF films include Surprise Excitement Party (2011), the award-winning High Five (2010), and Tomorrow Today (2009). To check out the trailer for Let's Surf Seriously, click here. For more things TransWorld SURF, go online to transworldsurf.com.
For more info about the premiere at La Paloma Theater, check out the event page on Facebook, here.
About TransWorld SURF:
Since its inception in 1999, TransWorld SURF has become the embodiment of youth, progression, and innovation. Through its print, digital, video and event properties, TransWorld SURF is the fastest growing surf media company in the industry. Found online at transworldsurf.com. TransWorld SURF is based in Carlsbad, California, and published by TransWorld Media, the world's leading action sports media company. TransWorld is a division of Bonnier Corporation. For more information, visit transworldmediakit.com.
---