BACK TO NEWS
EVENT: Marmot Live Interactive Webcast with Pro Mountain Guide + Fall 2012 Gear
Marmot Live Fall 2012 Gear
Two sessions on Thursday, August 16, Live from Marmot HQ - 12pm and 5pm PST

Check out select new Marmot gear for Fall/Winter 2012. Pro mountain guide Brenton Reagan with Exum Mountain Guides will show off some exciting gear for the upcoming season in a live, interactive webcast. Ask questions online, and Brenton will do his best to answer them live. This is your chance to pick the brain of a pro mountain guide.
During the webcast, you will have a chance to purchase select new Marmot Fall/Winter 2012 gear online from REI.com
While you're online, enter to win one of two $500 Marmot shopping sprees.
Enter to win $500 Marmot shopping sprees
Pick the brain of a pro mountain guide
Brenton will show off select new gear for Fall/Winter 2012 available from REI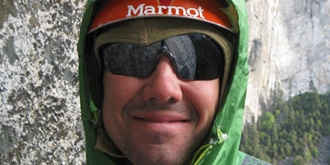 Brenton Reagan is an experienced mountain guide with Exum Mountain Guides and former member of the U.S. Marine Corps Infantry and Security Forces.
Brenton has spent time mountaineering throughout the U.S. and the Canadian Rockies, including ascents and ski descents in the Tetons and Wind Rivers, including a 12 hour car to car ascent of the North Face of the Grand Teton and an expedition to Mt. McKinley.
Other ascents and expeditions include the West Ridge of Khan Tengri, Tien-Shan in Kazakhstan and first ascent "El Pilar" and "Cerro Liso," Mexico, the 2003 Khumbu Exploratory Expedition and First Ascent Peak 5,880, Khumbu, Nepal.
Brenton has been a guide in Nepal and served on the Board of Directors Tutuaca Mountain Center, Mexico. He is a recipient of the Anatoli Boukreev Memorial Fund Grant and accompanied expeditions to Rio Murta Group, Northern Chilean Patagonia, 2006, Fitz Roy Patagonia, Guillamet. 2008 and an expedition to the Ruth Gorge, AK.
---