Back to News
MOTO: Dungey Crowned 2012 Motocross Champion
August 20, 2012
Dungey Crowned 2012 Motocross Champion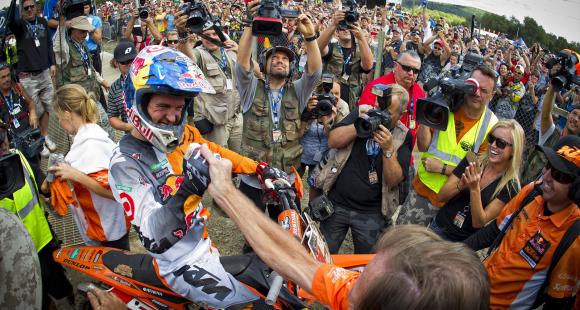 Ryan Dungey got his hands on the 2012 Lucas Oil Pro 450 Motocross Championship title in fine style with a double win at Unadilla Raceway. In the first moto of the day Dungey suffered an early crash but still managed to bring his KTM 450 SX-F over the line in first place.
The second moto at Unadilla was slightly more straight-forward for Ryan. After coming out of the gate in fourth place he quickly picked off the guys in front of him to lead from the front until the end of the race.
Ryan was over the moon to land his first US MX Nationals 450 Championship title for the Red Bull KTM Factory Team.
"It's been an amazing year with the Red Bull KTM Team. I'm so happy to clinch this championship and so grateful to every member of the Red Bull KTM Team and my family that have helped me get here today."
The pressure has been on Ryan to deliver the goods this season and he was never in doubt what the expectations were within the team.
"When I joined the KTM team last October, team manager Roger (DeCoster) told me that we would be championship contenders and I believed him. It has come true today."
Roger DeCoster was also elated to see all the team's hard work result in a championship win.
"The team and Ryan have worked so hard this season. We have seen him have success in Supercross and then suffer an injury only to come back stronger. This is a great moment for the team, for KTM and for Ryan. We are very proud of him and look forward to running the number one plate at the final two races."
---