BACK TO NEWS
EVENT: Liquid Aloha Music Festival Returns to Liberty Station in San Diego on Saturday, September 1
Liquid Aloha Music Festival Returns to Liberty Station in San Diego on Saturday, September 1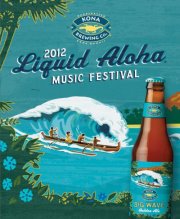 Kailua-Kona, Big Island of Hawaii, August 17, 2012 . . . Kona Brewing Company will bring its annual Liquid Aloha Music Festival to San Diego on Saturday, September 1 at the NTC Ingram Plaza in Liberty Station, Point Loma, starting at 3:00 pm. The Expendables will headline the celebration and 10% of ticket sales will go directly to San Diego Coastkeeper, a group working to protect San Diego's inland and coastal waters. Festival-goers also have the chance to buy a discounted membership to San Diego Coast Keeper for $40 which includes entry to Liquid Aloha Music Festival.
Kona Brewing will be serving Big Wave Golden Ale, its new year-round launch to the mainland, as well as Longboard Island Lager, Fire Rock Pale Ale, and Wailua Wheat, all on draught. 21-and-up tickets are $15 and are available at Brown Paper Tickets. The music kicks off at 3:30 with Arden Park Roots, Natural Heights, Hi Roots, The Simpkin Project, Nervous Wreckords, and The Expendables, who'll take the stage at 8:00 pm. There will be free parking reserved for festival guests near the gates.
This year's festival aims to have a small carbon footprint by using compostable cups, and minimizing trash through numerous recycling and composting stations. As well as seeing top acts under sunny skies of Southern California, last year's highlight was to raise $18,221 in gross proceeds for San Diego Coastkeeper. San Diego Coastkeeper is the city's largest professional environmental organization working to protect inland and coastal waters along the Pacific Ocean through education, community empowerment and advocacy.
More info at: www.liquidalohafest.com.
About Kona Brewing
Kona Brewing Company was started in the spring of 1994 by father and son team Cameron Healy and Spoon Khalsa, who had a dream to create fresh, local island brews made with spirit, passion and quality. It is a Hawaii-born and Hawaii-based craft brewery that prides itself on brewing the freshest beer of exceptional quality, closest to market. This helps to minimize its carbon footprint by reducing shipping of raw materials, finished beer and wasteful packaging materials. The brewery is headquartered where it began, in Kailua-Kona on Hawaii's Big Island. It has grown into Hawaii's largest brewery, has three restaurant sites in Hawaii and beer distribution reaching 30 states and Japan. It is the 13th largest craft brewery in the country. For more information call 808-334-BREW or www.KonaBrewingCo.com.
About San Diego Coastkeeper
Founded in 1995, San Diego Coastkeeper protects the region's inland and coastal waters for the communities and wildlife that depend on them by blending education, community empowerment and advocacy. For more information, visit San Diego Coastkeeper's website at www.sdcoastkeeper.org
---