BACK TO NEWS
B$Z: Nephews Skateshop + Gallery Now Open In Port Monmouth, New Jersey
Nephews Skateshop + Gallery Now Open In Port Monmouth, New Jersey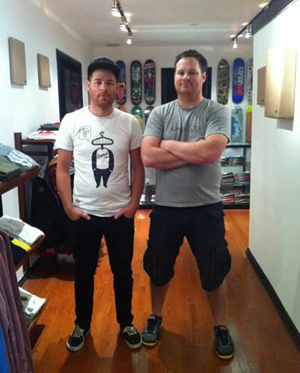 New York, NY – August 22, 2012 – Brian and Shawn Woodward, siblings hailing from the Garden State, are very proud to announce that their new joint venture, Nephews Skateshop + Gallery, is now open in Port Monmouth, New Jersey.
With a name that pays homage to their beloved Uncle Johnny who passed away in 2010, Nephews Skateshop + Gallery features a carefully curated selection of only the finest skate-lifestyle brands including 5boro, Brixton, HUF, Radlands, The Quiet Life, among others – authentic brands that reflect the core skate scene in Port Monmouth and the surrounding area. The shop also looks to grow its own smartly designed, signature collection of clothing and accessories.
"Our Uncle Johnny had an open storefront next to his barber shop for quite some time and always pushed us to open something," says Nephews co-owner Shawn Woodward. "When he passed away, we knew we wanted to do something that would make a positive impact on the community while paying tribute to the man who played such a pivotal role in our lives."
"I've been immersed in the skateboard industry for the past decade, both personally and professionally," continues Brian Woodward. "Being a photographer as well, I knew I wanted to incorporate a creative element into whatever we did. After months of brainstorming with friends, family and colleagues, we realized how many talented people we're surrounded by. Their inspiration and support pushed us to open a skateshop and art gallery."
Nephews Skateshop + Gallery will host an invite-only grand opening celebration and gallery reception on Saturday, August 25th, from 6:00-10:00PM. Original works will be on display from more than a dozen artists and photographers, whom the Woodward brothers have befriended and worked with throughout their careers.
Managed by longtime friend and dedicated skateboarder Dalton Graham, Nephews Skateshop + Gallery is located at 183 Main Street, Port Monmouth, NJ 07758. It is open Tuesday-Sunday, with hours of operation varying by day.
To learn more, please call 732-495-0750 or visit www.nephewsskateshop.com.
---