Back to News
VIDEO: Native Shoes Engages Diverse Global Community With New Film Series
August 28, 2012
Native Shoes Engages Diverse Global Community With New Film Series
The Natives Promotes "One in 7 Billion" Message of Individuality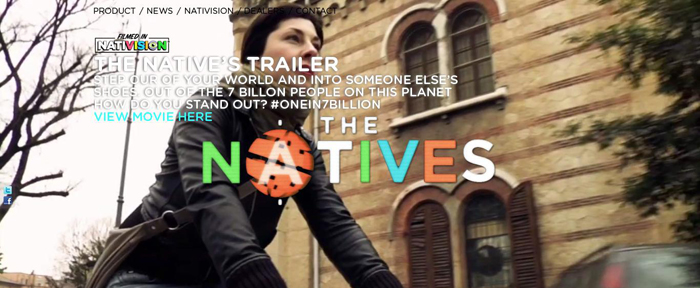 (VANCOUVER, Canada) August 28, 2012 – Native Shoes announces the launch of The Natives, a series of lighthearted short films that capture the individual spirits of a cross-section of humans across the globe. Mirroring Native's own principles, the brand has hand-selected each character for their uniqueness, creativity, innovation and light heartedness. Each film will portray a new individual in their native environment, highlighting how he or she stands out from the other seven billion people in the world. The premier film, featuring New York photographer Tim Barber, will launch to the public on August 28th on the brand's digital portal Nativision as well as YouTube. New "Natives" from Budapest to Los Angeles will make their debut every two weeks following the launch.
"The Native brand is about celebrating individuality across the globe," said Founder Damian Van Zyll De Jong. "We envisioned the series as a way to relate to a diverse community and express, in a creative and fun way, that Native is for everyone."
Created by filmmakers Corey Adams and Alex Craig of the famed Machotaildrop, each film in The Natives will highlight the featured individual's local environment and distinctive passion. Viewers will learn about Thor's dedication to motorcycles in Portland, Jozsef's quirky dance moves in Budapest and Shawnt's ice cream truck adventures in Los Angeles. The characters portrayed are wildly different from one another, though share a uniqueness that sets each apart from the other seven billion people on this earth.
Nativision, the series' online hub, will feature Google Earth technology that allows users to pinpoint the array of featured locations on a map. As the series grows, viewers will be able to use this technology to follow the global scale of the project. Native will further engage viewers through their social channels, using the hashtag #onein7billion, by asking fans to participate in The Natives virtual scavenger hunt. The online adventure will challenge fans with clues and quizzes on each film, rewarding winners with prizes including shoes and the chance to star in the next film.
The Natives' premier film will go live on August 28th, though fans will be able to check out a sneak preview of the series beginning August 21st on the brand's Nativision portal. For more information about Native and the upcoming series, visit www.nativeshoes.com.
About Native
Native (www.nativeshoes.com) was established in Vancouver, Canada in 2009 with a vision to combine the best of evolving technology and great design. Inspired by classic, casual silhouettes, Native shoes are made from foam-injection molded-EVA, a lightweight, durable and comfortable material. Along with a unique, low-emission manufacturing process, Native shoes are animal bi-product free, waterproof and odor-resistant. Since the first collection launched in Spring 2010, Native has secured global distribution in over 40 countries. Native – Keep It Lite.
---