BACK TO NEWS
B$Z: Skullcandy Reveals its Supermodel Crew in its Entirety
Skullcandy Reveals its Supermodel Crew in its Entirety
Joining Kate Upton - Welcome Chrissy, Jessica and Chanel - New to the Skullcandy Supermodel Crew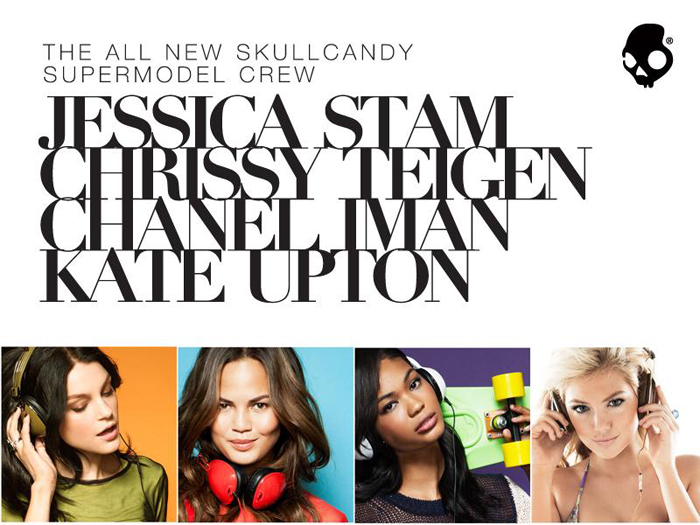 PARK CITY, Utah, Aug. 28, 2012 (GLOBE NEWSWIRE) -- Skullcandy, Inc. (Nasdaq:SKUL), a high-growth performance lifestyle audio brand, today revealed the Supermodel Crew in its entirety.
Earlier this summer, we introduced you to Sports Illustrated "it" girl and the first of our Supermodel Crew, Kate Upton. Today, she's joined by three other beautifully classy ladies: Chrissy Teigen, Jessica Stam and Chanel Iman.
If you're a follower on Twitter, you know that Chrissy Teigen lights it up. We've been fans of hers since her debut as a Sports Illustrated swimsuit supermodel and are stoked to have her be part of our crew. Jessica Stam and Chanel Iman are two of high-fashion's most talked about supermodels. We can't wait to hear the buzz now they've both joined the Skullcandy team. They'll certainly make us want to stand taller and dress better.
Get ready for an all-access pass to exclusive content, videos, posts and more from our Supermodel Crew. It all starts with Model Mondays over four weeks in Sep/Oct. Look for a complete take-over on our social channels and Website that focuses on a member of the team every Monday. We can only promise it'll be colorful and stylish.
For more information about the Skullcandy Supermodel Crew visit: http://www.skullcandy.com/models/
---