Back to News
WEB: 686 Launches New Site
September 4, 2012
The New 686 Website Is Live Now

It's starting to feel a bit like fall in some parts of the country and that can only mean one thing to those of us who live and breathe snowboarding. Winter is coming. Yes, friends, it's around the corner… It's at this time of year that we roll out the new website, packed with the latest gear and freshest features to get you amped for what we are hoping will be an awesome winter.
The updated website is your 686 headquarters with lots of new features including a 20 Year Retrospective of 686 and an Outfit Selector that features some of our past and present athletes and employees. Also back by popular demand, the product section of the site shows each piece of men's, women's and youth outerwear in great detail, and a custom video that outlines special features and waterproofing/breathability ratings. Along with updated athlete profiles, video content, downloads, contests, and an online warranty submission form, the new site covers all your winter bases.
686.com is updated daily with content and is also the hub for the new interactive ad campaign featuring Phil Jacques, Forest Bailey, Ryan Paul, Patrick McCarthy, Marco Feichtner and Joanna Dzierzawski. As each ad drops, check the corresponding videos for interactive contests and a few good laughs.
Now think SNOW!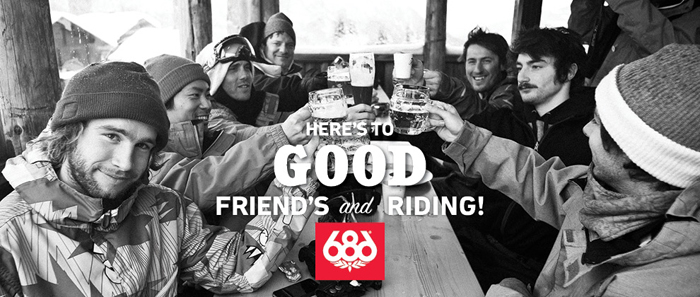 ---