BACK TO NEWS
EVENT: New York Surf Film Festival Releases 2012 Official Film Program
New York Surf Film Festival Releases 2012 Official Film Program
New York, NY - The 2012 New York Surf Film Festival (NYSFF) presented by Barbados is pleased to announce this year's Official Film Selections including 13 Feature Films and 17 Short Films directed by filmmakers and set in locations from all corners of the globe. This premier showcase of thirty (30) international surf films will play at NiteHawk Cinema, New York City, Wednesday September 19th and Thursday September 20th, 2012 from 7pm – 12am.
"This year's group of filmmakers exhibit extraordinary cinematic viewpoints, cohesive storytelling and unsurpassed mastery of the surf filmmaking craft," says Morgan Rae Berk, Founder NYSFF. "We are excited to celebrate our fifth anniversary bringing diverse surf film programming to the New York City surfing community."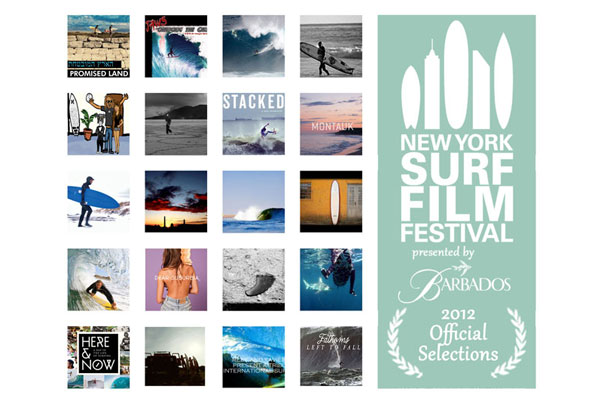 We present the 2012 New York Surf Film Festival Official Selections:
2012 New York Surf Film Festival Official Features
Dear Suburbia by Kai Neville
European Surf Journal by Peter Sterling
Gauchos Del Mar by Julian and Joaquin Azulay
Here and Now An Innersection Film
Jaws "Changing the Game" by Wangdu Hovey
Promised Land by Todd Morehead
Raw the Movie by Cohan Banfield and Mark Brightwell
Sebastian Beach One Fine Day by Billy Yeager Sebastian Beach
Surfing and Sharks by Julian Watson
The Africa Project by Jason Hearn
The Find Claiming Nelscott Reef by Erich Lyttle
This Time Tomorrow by Taylor Steele
Through the Whisky Barrel by Allyn Harper
2012 New York Surf Film Festivals Official Short Films Program
30 Days Without Surfing by Driftwood Collective
Away by Elisa Bates
Bernie and Ges by Alex DePhillipo and Andrew Gesler
Fathoms Left to Fall by Gabe Davies and Matt Strathern
Free Aloha by Alex DePhillipo:
Follow the Sun by Ryan Moss
Itxasoa by Patrick Trefz
Kook Paradise
Margaux by Michael Weybret
Montauk Documentary by John Madere
Simon Anderson by AEG Powertools
Stacked by Patrick Cummings and E.J. McLeavey-Fisher
Upcycling by Henrique "Ogro" Perrone
Water Warriors by Anna Jerstrom
WindanSea by Derek Dunfee
Wright Side of Wrong by Peter Hamblin
You Look Swell by Morgan Gore
A special complimentary screening of the 'Enyclopedia of Surfing' digital archive of historical and current film clips will be ongoing in the bar and lobby throughout the festival courtesy of Matt Warshaw.
To view the full program, film synopsis and trailers, please visit www.newyorksurffilmfestival..com. Tickets for the 2012 NYSFF will go on sale September 5th 2012 at 5PM at NiteHawk Cinemas
About New York Surf Film Festival:
Founded in 2007, the New York Surf Film Festival is the premier showcase for international independent surf films. The mission of the New York Surf Film Festival is to provide filmmakers who are exploring the diversity of surfing an opportunity to present their work to a larger audience. As surf culture becomes more popular, the notion of what it means to be a surfer expands. The New York Surf Film Festival's aim is to build upon and shape the idea of what a surf movie is, while fostering the growth of this global community in NYC. NYSFF is a proud member of the Global Surf Film Festival Collective
---