Back to News
B$Z: I Ride I Recycle Introduces "Green Zone" At This Year's Surf Expo
September 5, 2012
I Ride I Recycle Introduces "Green Zone" At This Year's Surf Expo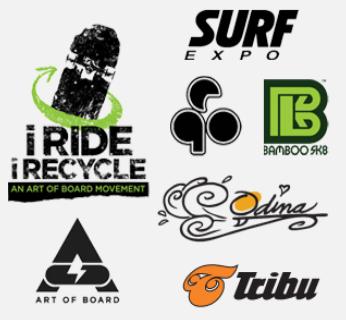 Melbourne Beach, FL – I Ride I Recycle, the FIRST-EVER international skate deck recycling movement is debuting another first for the action sports industry this September 6 through 8, 2012 at the Orange County Convention Center in Orlando, FL – the I Ride I Recycle "Green Zone" at Surf Expo.
The "Green Zone" at the global water sports and beach lifestyle tradeshow is a new designated area of Surf Expo this year where a consortium of like-minded, "green" brands have come together under the I Ride I Recycle name to promote sustainable business practices and products ranging from swimwear, flip flops and skate decks to sunglasses and retail surface tile made from broken, recycled skate decks.
"I Ride I Recycle is the action sports industry's recycling and sustainability umbrella," says co-founder Bruce Boul. "We're really excited to evolve and include more companies to become part of a movement that's not only doing good for the environment, but also creating community and supporting charities."
Started by Bruce Boul and Rich Moorhead, founders of Art of Board, a company that creates hard tile surfaces and retail displays, peel and stick wall graphics and printed textiles from discarded skateboard decks, the movement's goal is to encourage skate and surf shops, skateboard manufacturers, skate parks and individual riders to join the movement and recycle their wood waste.
"There is something about being one with the environment when you're surfing or skateboarding that makes you in tune with nature," says Doog Becker with Surf Expo, "I think for that reason, most surfers and skaters care about the planet and want to make a difference and do what's right. That's why having a Green Zone is perfect for the Surf Expo. We are showcasing companies whose products are made from recycled materials or are otherwise environmentally friendly, thereby keeping waste out of our landfills."
Though IRIR was birthed out of and remains rooted in skateboard culture, it's becoming more apparent that whether you ride a skateboard, surfboard, boogie board, wake board or snowboard, you want to "ride and recycle."
"Our goal is to have an even larger pavilion at next year's Surf Expo and be known as the industry standard to provide action sports brands with sustainable certification," says Boul. "We're thrilled to align with the International Association of Skateboard Companies (IASC) and the below brands to deliver a comprehensive recycling service to skate and surf shops at no cost while bringing an incentive to the customer to come through their doors."
Tribu, a company that makes sandals from recycled materials will be launching their "Sole Initiative" in the Green Zone. The "Sole Initiative" is an effort to keep used rubber tires out of landfills. Their "Upcycled" line of flip-flops has soles made from discarded tires from landfills. To get this initiative off the ground, they have started a Kickstarter campaign to help raise the money needed to display at the expo and raise awareness of their efforts. To contribute to this cause, please visit http://www.kickstarter.com/projects/627705205/tribu-sole-initiative-sandals-made-from-discarded.
BambooSK8, an ecologically based brand/manufacturer of skateboard decks made from bamboo harvested from sustainable managed bamboo forests, will be in the Green Zone at the Surf Expo. "We have supported this movement for a few years and are excited to be at the four front of the expansion of sustainable practices in the skate industry," says Mark Olson with BambooSK8. For more info, visit http://bamboosk8.com.
Eqo USA is closing the recycled product circle with sunglasses made from recycled-broken skateboards. This company will be launching some new collaboration shades at the Surf Expo, so come by the Green Zone to check them out. To see how it's done visit, http://eqo-optics.com
Odina Surf brings eco-stylish swimwear using recycled, reclaimed and organic fabrics. "Designed for girls who want to rip and look fabulous doing it", says Aaron from Odina, with the likes of Alison Teal rocking the suits all over the world on her adventures. Check out, http://odinasurf.com
---