Back to News
WEB: Live Webcast Announced: The Boardroom International Surfboard Show October 6th-7th
September 6, 2012
Live Webcast Announced: The Boardroom International Surfboard Show October 7th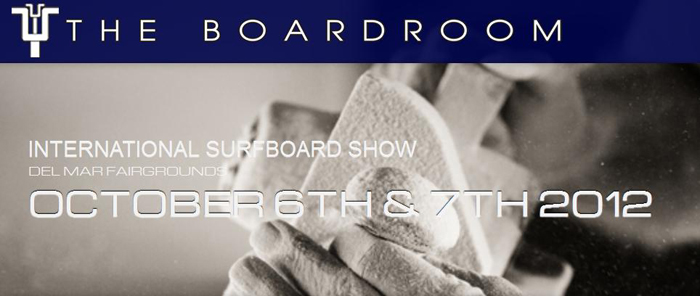 The Boardroom International Surfboard Show will quite literally be seen around the world this year via a professionally produced live webcast. This first ever webcast of a consumer surfboard show is being produced by leading industry production expert Jay Johnson and his expert staff at Action Sports Productions (ASP).
The show will feature hosts Dave Stanfield and Todd Kline along with color commentary and insight from former pro surfer Jeff Baldwin and legendary shaper Gary Linden. The Boardroom webcast will feature insightful interviews with exhibitors allowing surfboard manufacturers and surf brands to tell their story to a world wide audience.
SolSpot.com, SurfersVillage.com, and Surfermag.com, three leading providers of authentic surf content, have agreed to carry the webcast live. In addition, all of the events and exhibits which layer the cultural hive that is THE BOARDROOM will be featured during the webcast including the Icons of Foam shaping tribute to legend Mark Richards, a QnA shaping bay with top surfboard designers, the Best of Show presentation, Art-I-Zen performance art, the SurfAid Board Art Benefit live auction, the Cinema Grotto short film fest, a documentary premier featuring Greg Long, the Gun Club lounge, the Hansens Surfboard Demo Morning, the CATCH BALDY fun race, surf scribe book signings, live music, surfboard giveaways, surfboard appraisals & surf celebrities.
The webcast is being sponsored in part by American Wave Machines makers of Perfect Swell and SurfStream. AWM's patented PerfectSwell(TM) is an entirely new approach to generating traveling waves with the emphasis on the surfing experience: wave quality, duration, and frequency.
All of this and much, much more make THE BOARDROOM at the Del Mar Fairgrounds the place to be for surfboard lovers October 6th and 7th, 2012.
WHO: SURFERS WORLD WIDE
WHAT: EXPERIENCE SURF CULTURE AT THE BOARDROOM INTERNATIONAL SURFBOARD SHOW
WHEN: WEBCAST TIMES- SAT OCT 6 NOON - 5PM ; SUN OCT 7 NOON - 4PM PST
WHERE: SOLSPOT.COM, SURFERSVILLAGE.COM, SURFERMAG.COM >
WHY: BECAUSE SURFERS CARE ABOUT TWO THINGS: 1) WAVES AND 2) THE EQUIPMENT TO RIDE THEM WITH (underwear... not so much)
Booth space / exhibitor registration closes on the 15th of September. Get your booth now! http://www.surfboardshow.com/surfboardshow-exhibit/
---