Back to News
B$Z: TransWorld Ride BMX Celebrates 20 Years And Features 20 Of The Most Influential Riders In BMX
September 11, 2012
TransWorld Ride BMX Celebrates 20 Years And Features 20 Of The Most Influential Riders In BMX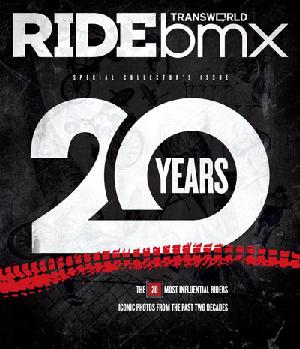 Carlsbad, CA - TransWorld Ride BMX, the largest and most influential BMX media outlet in the world, is celebrating 20 years in existence, inspiring multiple generations of riders along the way since 1992.
To celebrate this milestone, the editors spent countless hours choosing and highlighting riders who helped influence and shape BMX over the past 20 years. Each rider chosen was listed in this special commemorative issue as the "20 most influential riders" of the past two decades.
In addition, a handpicked selection of iconic photographs from the past were chosen for a special "Focus Flashback" feature, taking its readers back 20 years and through 185 issues of BMX history.
"Holy crap. Ride BMX is 20? How awesome is that?!" comments TransWorld Ride BMX Editor In Chief Keith Mulligan. "It's an amazing milestone for us, and one we are definitely proud of. We are all really stoked on this issue, we hope you will all be too. Thanks to everyone who has picked up a copy of Ride BMX—past, present and future!"
The TransWorld Ride BMX staff continues to strive to inform its readers on the sport, dedicating each issue to help grow BMX and inspire its readers to ride, learn new tricks, and continue to progress. Issues are dropping on subscriber doorsteps now, but be sure to nab your copy on newsstands starting September 18. For more information about Ride BMX, go online to ridebmx.com.
---