Back to News
Bruce Boul, I Ride I Recycle, Co-Founder
September 13, 2012
Bruce Boul, I Ride I Recycle, Co-Founder
I Ride I Recycle was started by Bruce Boul and Rich Moorhead from Art of Board as an international movement promoting sustainability in the action/board sports industries. The primary mission of IRIR is to "keep wood waste out of landfills by re-using broken decks, manufacturer scraps and irregular (unusable) boards to create wall and surface tile – where board graphics are preserved and appreciated forever."
I Ride I Recycle was birthed in the skateboarding industry but has grown by leaps and bounds and is making headway into other board sports markets. Which is why IRIR was recently spotted at Surf Expo, along with a great hand-picked crew of other green-thinking companies at the event's first-ever Green Zone. Sharing the booth with IRIR and Art of Board were Tribu, Bamboo Sk8, Odina Surf and Eqo Optics.
Aaron Taylor of Odina Surf explained the great response from the crowd at the Expo by saying, "Everyone who came by was ecstatic, I had a few people express, 'this is a step in the right direction.' We had multiple stores that would just go from one brand to the next, really interested to hear about all the different products. Ideally we will get green zone installations into stores showcasing the brands together there as well!"
Read on for how Bruce plans to grow IRIR into the standard-bearer for green certification in the action/boards sports indutries.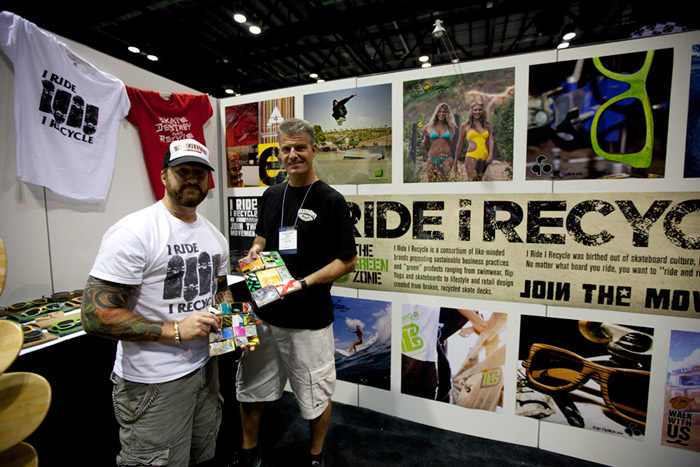 Bruce Boul and Rich Moorhead
You were in Florida last week for Surf Expo - how was the response to I Ride I Recycle's Green Zone booth and collaborating with other green-thinking companies?
It was awesome - I Ride I Recycle was birthed out of skateboarding and is still very much rooted in skate but it's constantly evolving. As we started to grow the movement we began to realize that there's really no sustainability measuring stick out there or certification in action sports. We approached Surf Expo about doing something and mentioned a green zone where we could promote the idea of sustainability and they came back to us and said there are a lot of brands who say they are green but there's not anybody measuring that. Surf Expo had been approached before about doing something similar but they didn't want to be the ones to have to police who's green and who's not so they've never really pursued any type of green pavilion. Tthey pretty much said to us that I Ride I Recycle can be that, which is exactly what we want to do.
We were really receptive to the whole idea and right away we started looking for other brands out there that have a similar philosophy and mindset, so we got four brands: Odina, Eqo Optics, Tribu, and Bamboo Sk8 to display of course with Art of Board. And we could have done so many more but we only had a 10' x 20' space. We thought, let's start with this space and these five brands and we'll just grow this. This was our first time at the Expo and now we've under our belt and Surf Expo has seen the success and the buzz created and that will grow it. Now, we want to continue to add brands that want to be involved in the movement become I Ride I Recycle certified brands. We're hoping to get back to Surf Expo next time with an even larger presence. But, to answer your question, the response was awesome. Just walk around the venue when it's on and it's huge and you have surf, you have skate - just every aspect of water and board sports there and there's nothing at all about sustainability anywhere. You'll have a booth here and there doing some stuff but there's no big sustainability presence there.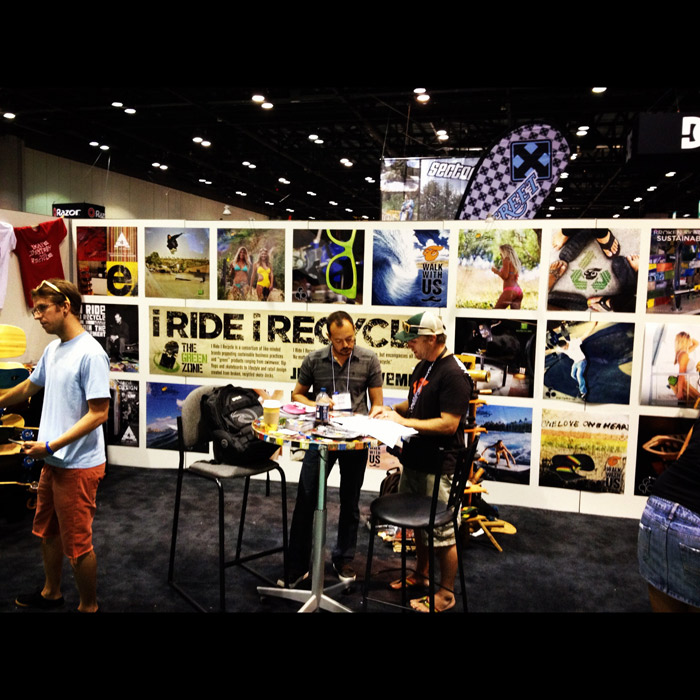 Spreading the word.
It's hard to imagine knowing how long that event has been going on that this is the first year there is a proper booth promoting sustainability but it seems IRIR is doing a great job spearheading this movement.
Yeah, it was pretty amazing to think that it had never really been done before and we're just excited because we're doing so many good and positive things at I Ride I Recycle aside from being environmentally responsible. There's just so many other aspects of positivity that we can contribute, like creating a community in skateboarding and creating a sort of DIY mentality out there where kids are coming in to skate shops and they're seeing our collection bins and that becomes a touch point for them to create a community where they can come and bring their decks in and we're developing incentive programs in skate shops where you bring in so many decks than you get a free complete from the shop or you might get a discount from one of sponsors which is pretty cool. It's amazing to see everybody embracing that and of course we're big on supporting other skate charities, like Grind for Life, the Tony Hawk Foundation, and Life Rolls On.
We are just trying to do a lot of positive things and now that we are evolving and including other types of brands, Odina Surf for example, I never imagined a swimwear brand being involved but it just makes sense because no matter what you buy, whether it's a skateboard, a surfboard, a wakeboard, paddle board - this incorporates all action sports, so it really just makes sense.
It seems like the idea could definitely be translated throughout all board sports hard products as you mentioned, but can also applied to various apparel and accessories - like Eqo Optics recycled frames for sunglasses and beyond. Do you agree?
Yeah, that's right - I'm a co-owner of the company Art of Board, which my partner and I started began by cutting up broken decks and creating tile surfaces from them. As we really started to grow that business we were collecting decks from local skate shops and that's when we started to realize that a large number of shops across the country have a stockpile of wood waste from skaters that bring in busted decks, but they probably just throw them away. So, we just started calling shops around the country to ask what they were doing with their broken decks and the answer every time was that they toss them. So, that's when we said, ok this thing we have that's called the Art of Board where we're doing all kinds of really cool commercial and retail design work – a lot of really cool high-end design with Art of Board. But, at the same time, there was just this need for a national movement to recycle wood waste and that's when we thought we have to start I Ride I Recycle and not only are we going to collect wood waste, but we can use this as a catalyst. As skaters ourselves, we grew up skating and love skateboarding and it changed our lives. We're creating really amazing designs from scraps, but to us the busted, splintered, gouged graphics on the bottom of skateboards, to us that's beautiful. And, to just trash it is so wasteful. It's pretty amazing to see how it's translating into sunglasses and all sorts of other products. Our desire is to use I Ride I Recycle as a catalyst to support skateboarding at its core, which is the local shops. It's really a 360 degree revolution where everybody benefits.
We want to involve other brands - there are some other smaller companies across the country that are doing cool things with broken skateboards. We're in the process now of reaching out to all those brands to involve them in I Ride I Recycle. It's only going to help their brand or their company to be involved with something that's becoming the industry standard.
And, you'd had great response and involvement all around. Can you confirm how many establishments are currently patricipating in the I Ride I Recycle Movement?
Yes, we have well over 300 authorized IRIR shops and parks in the U.S., Canada and Baja California, Mexico with lots of interest and plans to take IRIR to Australia, Brazil, Europe and Asia. We're growing every day. We're also calling on manufacturers to join the movement and have IRIR be a solution for their wood waste, blemished decks, veneers, etc.
This is a CALL TO ACTION for the industry!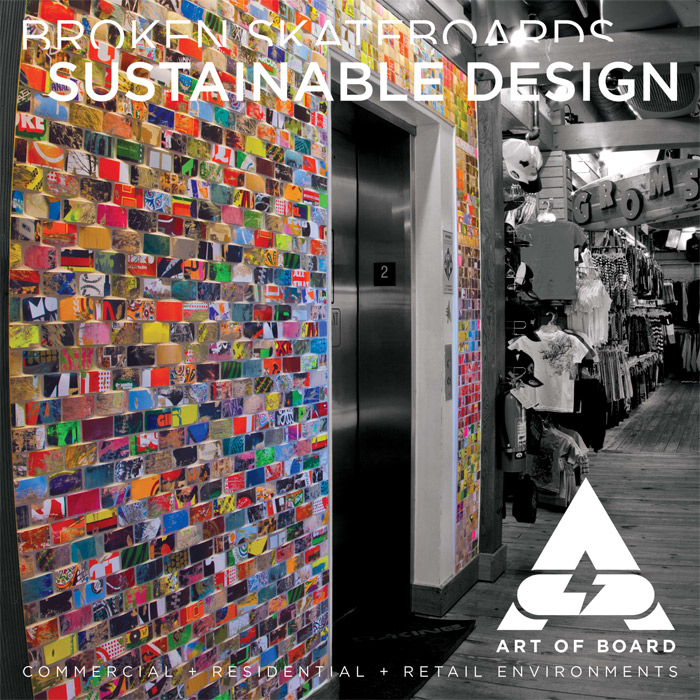 Do you have any idea of how many boards IRIR has handled and recycled?
No idea exactly how many decks we've saved from landfill –too many to tell, really. Likely, several thousand pounds of woodwaste.
Do you have a favorite deck graphic from the past and what has been the most unique graphic you've come across?
All my favorite deck graphics are from the 1980's - early Powell & Peralta, the ones Pushead did for Zorlac and probably my MOST favorite was the Vision Mark Gonzales. We see a lot of cool graphics in collecting decks from all over North America, but probably the coolest thing actually is seeing all the shop decks from around the country and the different skateshop's stickers.
I Ride I Recycle is involved in events and programs all over the country with various foundations, charities, and industry companies – can you speak on any upcoming events where IRIR's presence will be seen?
Our next event is associated with the Festival of Children organization and will be held the last Sunday of September at South Coast Plaza in Orange County. We're going to be there with a bunch of our scrap – after we're done in our shop making wall tiles or whatever else we do, we have all this extra wood and we never like to waste anything. So, we'll pre-drill each piece of skateboard scrap and then we just dump them on a big table and kids can come around and make their own keychains or necklaces. It becomes a really fun, interactive event for kids, where we can then educate them about our program and the importance of recycling and not being wasteful.
And then we are doing the Tony Hawk Stand Up For Skateparks event in Beverly Hills on October 7th. We've been supporters of the Tony Hawk foundation for years and we participate in both of their events every year as a way to promote the movement and we do our keychain event there as well. We completely support their foundation and they have been great to us. Through all the work we've done with them, Tony has called upon us to do some things – for instance, the Birdhouse team built a whole new skatepark inside his offices in Vista, California and we went in there and did our tile around the skatepark which was amazing. We're working with them a lot.
We've got a tour bus now and have plans to be going on the road for a big I Ride I Recycle tour where we'll be making stops all over the country at various local skate events. We'll bring our collection and recycling bins and we have IRIR-branded, custom-made ramps from Team Payne which we'll bring along.
So, that's what we've got coming up in the near future and I'm sure in the next few weeks we'll have more on our calendar, we are always adding events.
Are there any tentative dates planned for the big cross-country tour?
We're planning the IRIR U.S. Tour now and are lining up sponsors. We're hoping to get the tour kicked off this Fall 2012. Any potential sponsors should contact us to get involved.
How did you come up with the keychain promotion at events?
With our involvement at shows and events, we wanted to make sure our booth was more than just coming and setting up our collection bins and saying hey here we are, this is what we do. It's so cool to have the interaction we get with our keychain promotion. We didn't know how it would be received the first time we did it - the first time we did it was at Tony Hawk's Standup for Skateparks, and it's become the favorite part of the event.
What's really humbling to us is seeing kids going through all the pieces, and not only the kids – we go and do these high end design shows to showcase our wall tiles and even people there want a piece of it. They love touching them and feeling them and looking at them and it just becomes this really special thing. Every scrap is the result of a skate putting his mark on it, so it feels like every piece has a story which is pretty amazing.
It seems IRIR is getting a great response not only from the industry in general, but from individual teams and riders as well. How has it been working with pro skaters who want to get involved in the movement?
It's exciting to be working pro skaters like Mike Vallely and Mike McGill, and we recently got Mimi Knoop, 5-times X-Games winner, on board now. So, it's exciting to get these legendary pro skaters who are really excited about the movement and want to be involved and wanting to put their name on it. To us, that's just mind-blowing. To have these advocates for I Ride I Recycle is way beyond anything I ever imagined. We are putting together an advisory board now and are going to be constantly trying to evolve things and constantly try to include more and more brands and just continue to grow the movement by including more and more skate and surf shops.
This movement was started by two guys and it's to the point where it no longer belongs to just me and my partner and the Art of Board, it now belongs to the skate industry and we're giving it. We want to give this movement to everybody and make sure that everybody benefits from it.
Would you like to get involved with I Ride I Recycle?
Tell your local shop about IRIR! They can join by clicking "Join the Movement" on the IRIR website.
Or, you can join the I Ride I Recycle street team by going to the "Contact" link and submitting a comment.
---