BACK TO NEWS
EMP: SIA Snow Show Daily Introduces New Staff and Expanded Media Portfolio
SIA Snow Show Daily Introduces New Staff and Expanded Media Portfolio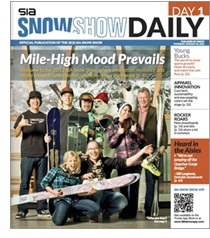 WASHINGTON, DC (September 19, 2012) - SnowSports Industries America (SIA), in conjunction with publishing partner Active Interest Media (AIM), is pleased to announce the appointment of Andy Hawk as Publisher and Cindy Hirschfeld as Managing Editor of the SIA Snow Show Daily. In addition, the Snow Show Daily portfolio, currently comprised of a preview issue and four daily editions, will expand this winter to include an On-Snow Demo Guide and a Season Ending Wrap-up.
Prior to joining the Snow Show Daily team, Hawk was the marketing director for the Professional Ski Instructors of America and the American Association of Snowboard Instructors (PSIA-AASI) where he led the exceptional growth of their industry and consumer marketing programs. He has also served as a member of the Learn to Ski and Snowboard Month task force. Andy was also the Publisher of Ski Racing magazine and worked in sales and marketing for SKI and Skiing magazines.
A veteran of the snow sports industry for almost 20 years, Hirschfeld has served as an editor for Skiing, Backcountry, the Professional Ski Instructors of America and the National Ski Patrol. She also writes for SKI, SNOW, Powder, SnoWorld, Ski Area Management, and Onthesnow.com, as well as covering snow sports for publications such as The New York Times, Robb Report, and Private Clubs.
Building on the success of last year's content partnership, the TransWorld Business editorial team will be expanding their role for both the Snow Show Preview and the Snow Show Daily editions. Also, for the second year, TransWorld Business will produce The Guide - a SIA Snow Show preview publication specifically for the snowboarding community. "We are really excited to build on our partnership with the Daily team and grow the voice of the snowboard industry within its pages," said Mike Lewis, TransWorld Business Editor-In-Chief. "Working together, we are able to offer a better product to the industry."
"We could not be more excited about having Andy and Cindy on board to lead the Snow Show Daily," said David Ingemie, SIA President. "Their experience in snow sports publishing and passion for our industry make them a natural fit for this position. Over the past two years our partnership with AIM has revitalized the Daily and created a fantastic looking publication that provides additional coverage and responds to the needs of Show attendees. The On-Snow Demo Guide and Season Ending Wrap-up will add tremendous value for the industry."
Offering state-of-the-industry analysis and previews of emerging trends, the SIA Snow Show Preview will be mailed in late December to 12,000 retailers and industry VIPs and sent electronically to another 30,000. Onsite, the Snow Show Daily provides the trade show's only on-the-floor source for news, analysis, and event coverage. In addition to distribution at the trade show, the Snow Show Daily is distributed early each morning to hotel rooms of Show attendees, electronically to the snow sports industry, and by mail to snow sports retailers unable to attend the Show.
New for 2013 will be an On-Snow Demo Guide, offering retailers a comprehensive set of resources for success during and after the On-Snow Demo/Ski-Ride Fest. As a follow-up to a successful SIA Sourcing Snow, Snow Show, On-Snow Demo/Ski-Ride Fest, the Show Daily team will release a Season Ending Wrap-up edition. The Wrap-up will highlight trends and new information presented during the Snow Show and coverage of the On-Snow Demo/Ski-Ride Fest plus a sneak peek of the season's performance metrics.
"This is an exciting time to move into this role," said Andy Hawk, Publisher of the Show Daily. "Our expanding lineup of products is an incredible resource for industry marketers, providing a platform to deliver their message to key decision makers across a variety of touch points throughout the buying cycle. There is no tool available in snow sports that is more targeted or more engaging than the Snow Show Daily family of publications."
For more information on the Snow Show Daily, contact Andy Hawk at AHawkco@gmail.com or 303-641-0695. Download the 2013 SSSD Media Kit to advertise.
---