Back to News
BMX: 2012 TransWorld Ride BMX 16th NORA Cup Winners
September 21, 2012
2012 TransWorld Ride BMX 16th NORA Cup Winners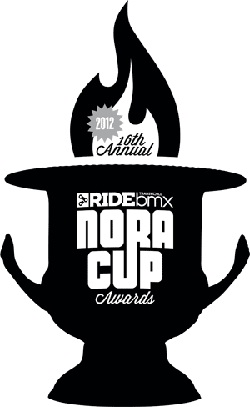 Las Vegas, NV - The 16th Annual TransWorld Ride BMX NORA Cup Awards filled up The Venetian Showroom to beyond capacity last night as Ride BMX gave away the eight most prestigious and sought-after awards in BMX, the NORA Cups. In addition, the inaugural Ride BMX Readers' Choice Award was presented to the "Rider Of The Year," as voted on by several thousand loyal Ride BMX readers. An impossible event to pull off without our sponsors Red Bull, DC Shoes, Haro Bikes, Dan's Comp, Primo Products, Éclat, and Interbike.
A few words from TransWorld Ride BMX Editor In Chief Keith Mulligan started out the night including a short video celebrating 20 years of Ride BMX and comprised of words from the many legends that have graced the pages of the magazine. The crowd stopped for a moment of silence during the celebration to pay tribute to the fallen riders from this year: Randy Taylor, Thomas Hancock, Mike "MCM" McCafferty, Ricky Bates, Gary Dimartine, Dane Searls, and Mike "Tag" Tagliavento. It has been a tough year for BMX with the loss of these great people.
The Ride BMX NORA Cup Awards are determined by polling professional BMXers. The official winners for this year's awards show are:
Number One Ramp Rider: Drew Bezanson
A NORA Cup winner in 2010, Drew had to deal with a nagging head injury that kept him off the bike for a heavy portion of 2011. But, with an epic web video accurately titled "Drew Bezanson Returns," he came back stronger than ever, not only winning several contests, but doing it in Drew's never-predictable and always-entertaining style. And that is a recipe for winning his second NORA Cup for Number One Ramp Rider.
Number One Dirt Jumper: Mike "Hucker" Clark
There's tricks and there's trails, and Mike "Hucker" Clark lands somewhere in the middle. Able to ride the biggest sets in the country one weekend and throw a double flip at a contest the next, Hucker is the rider that the others stop what their doing and just watch. He may do one of the most dipped threes in BMX, some sort of wild moto-inspired flip, or just wad it all up and laugh off the entire day. Either way, Hucker is undeniably the Number One Dirt Jumper of the year.
Number One Flatlander: Yohei Uchino
A favorite in every contest of late, Yohei Uchino, better known as "Uchi" has been on the steady uprise for several years. But only in the last year has he really put it all together. Winning the JoMoPro in April and taking his original, extremely fast, back wheel switches to unknown places; Uchi takes his first well-deserved NORA Cup.
Number One Street Rider: Garrett Reynolds
It's been said that Garrett Reynolds is the best rider in the world right now, and after winning his fifth consecutive Number One Street Rider award, it may be undeniable. He wins all the "street" events, every clip he drops is next level, and if anyone doubts Garrett, just wait for his Deadline part to drop…
Number One Racer: Sam Willoughby
It takes strength, speed, and skills to win BMX races, but it takes respect to win the NORA Cup for Number One Racer. Sam Willoughby stepped up his game over the past year and has been consistent race after race. With a huge win at the World Championships and a silver medal at the Summer Olympic Games, Sam is a force to be reckoned with—something NORA voters (including his competitors) know and respect.
Best Video Part: Dave Thompson – Killjoy
Debuting in early December of 2011, Dave Thompson's ending part in Killjoy is filled with the raw, powerful, and high speed riding that he's gained popularity for. The perfect animalistic song choice and editing style of Jordan Utley made it downright unforgettable over ten months later. It doesn't hurt that Dave does one of the biggest gap-to-rails of all time…and accidently feebles it.
Video Of The Year: Killjoy (Shawn "Elf" Walters and Jordan Utley)
After completing That's It! for the Salt Lake City-based shop 50/50, Jordan Utley and Shawn "Elf" Walters started on their own project, Killjoy. A little darker and a lot more raw, Killjoy features the most creative riders in BMX alongside true legends of our time. A rollercoaster ride of emotions and epic riding, Killjoy earned the title to be Video Of The Year.
Ride BMX Readers' Choice—Rider Of The Year: Chad Kerley
In the grand scheme of BMX, Chad Kerley is a rookie, but his riding is levels beyond what we've seen before. Able to link the unthinkable, Chad's riding blows minds even when he's just being casual. He's earned two nominations this year; one for Number One Street Rider and another for Best Video Part for his ending/winning section in The Hunt. He placed second in his first-ever X Games and even managed to throw his own street contest inside The Bakery, which is being touted as one of the best street contests of all time. He's young, amazing on a bike, and is already giving back to BMX…and for that, Ride's readers voted him as their Rider Of The Year.
All in all, it was an epic night by all accounts. Congratulations to all the winners. To check out more information on this year's

Ride BMX

NORA Cup Awards, visit

ridebmx.com/noracup2012/

. Check out up-to-the minute photos from the event by using the

#noracup2012

tag on Instagram and Twitter feeds at @ridebmx.
---