Back to News
Malakye at Interbike - Recap and Photos!
September 26, 2012
Malakye at Interbike - Recap and Photos!
Malakye was involved in a double-header at Interbike this year! We had our "Shmoozie the Camel" photo booth up on the show floor, and our ShmoozaPalooza event in a meeting room. This combined dual presence offered great opportunities for Malakye staff, and people of the Malakye community to connect in fun and productive environments.
This was Malakye's debut Shmooz at Interbike and it went off! Simply put, the event was great. Specialized debuted its new Shmooz booth which had attendees mounted up on a bike, pedaling, and talking about career opportunities with Specialized. It was a truly innovative approach to activating a company's presence at this type of event, and one that hopefully becomes a trendsetter. Approximately 200 Shmoozers came in throughout the day to Shmooz it up with many great companies including: Specialized, SRAM, Bicycle Warehouse, Fox Racing Shox, Suarez, Revolution Cycles, Sun & Ski Sports, Kinetik Sportswear, JR Velo, and Wahoo Fitness. This Shmooz was beyond capacity, with many companies having to be turned away due to space constraints, next year's Shmooz at Interbike will undoubtedly be bigger and better.
Elizabeth Walter, Recruiter at SRAM, summed it up by saying, "I have been telling people at all levels of our company how cool the event was. I have been busy forwarding some of the standout candidates so that we can begin making connections with them. Thanks for planning this, and we look forward to participating next year!"
Event photos can be found by clicking the photo below, or this link to Malakye's Facebook fan page: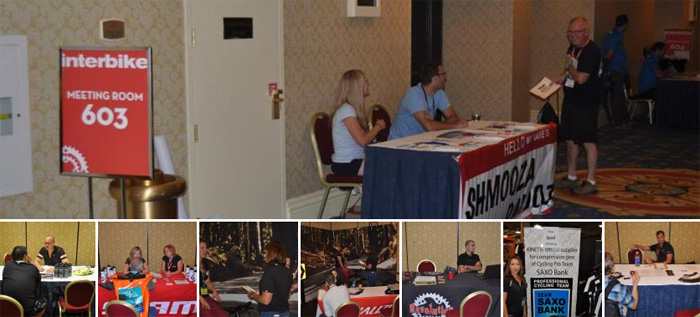 Meanwhile, on the show floor, Shmoozie the Camel was busy taking photos with tourists visiting the Malakye pyramids in Egypt! That's right, check out the image below for proof, and click through to see who all stopped by the Malakye photo booth. Many "Kings and Queens" of bike industry companies, even snow industry companies, stopped in to have a picture taken (and a bunch of us commoners too!)
To see the full gallery, click the photo below or follow this link: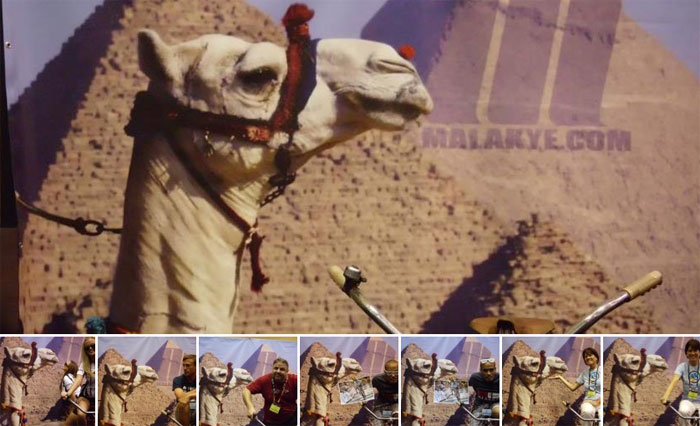 ---