Back to News
Chris Steblay, Uncle Toad's Media Group, Producer
September 26, 2012
Chris Steblay, Uncle Toad's Media Group, Producer
Uncle Toads Media Group, based in Los Angeles, is an all-inclusive, cutting edge media company owned and operated by Jordan Velarde at the forefront of live production for action sports events. The group's primary goal is to deliver its client's content to the masses with "style, savvy, and state-of-the-art technology."
For the past ten years, with hard working attitudes and an appreciation of quality product, UTMG has been able to supply media to match the lifestyle for millions of fans across the world. From smaller, one-camera productions to massive twenty camera shoots, UTMG has done it all. The company's past event coverage spans the globe, ranging from "custom commercial content for Adidas and Spin magazine in Hollywood California, to a live product launch for Nortel Networks on the desert sands of Morocco."
Over the years, Jordan and UMTG have relied on the help of producers and filmmakers across the globe to capture all the happenings from action sports' major events. One such producer is Southern California native Chris Steblay, who works alongside Jordan and is involved with all aspects of pre-production through post-production for UTMG projects.
"As a producer, I'm so fortunate because I get to see the job at all levels and from all angles, from start to finish," explained Chris. "It's fun to work with many talented individuals to deliver a show for the client that's different every time."
Read on for Chris' story, including his recent travels for work and upcoming events to be covered by UMTG.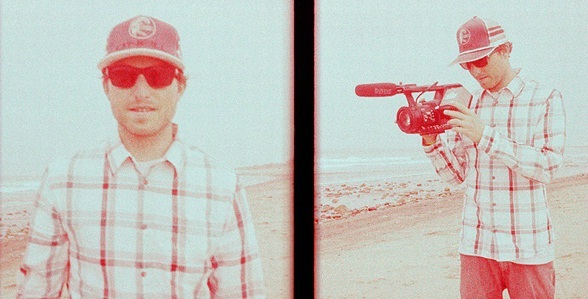 What is your current position with Uncle Toads Media Group?
I am a Producer at UTMG. I work alongside Jordan Velarde, the owner of the company. I am involved with all aspects of pre-production through post-production. As a producer, I'm so fortunate because I get to see the job at all levels and from all angles, from start to finish. It's fun to work with many talented individuals to deliver a show for the client that's different every time.
Your client list includes Billabong, ESPN, Hurley, Vans, and Volcom - how did UTMG create relationships with these industry-leading companies?
We have been broadcasting for the Action Sports industry for over 10 years. We came onto the scene towards the beginning of the boom for webcasts and worked with our clients to help grow our productions to where they are now. We get most of our clients via word of mouth. It's an industry where actions speak loader than words. We've worked with Vans on the Triple Crown of Surfing for 5 years now, and just this year we produced the first Volcom Fiji Pro on Tavarua. As a production team, we have a solid track record for not only being able to tackle tricky or near impossible jobs, but we also strive to deliver a slick show with innovative ideas and compelling story telling.
With 20 years experience under your belts, how important has it been to generate and maintain positive relationships with these powerful clients?
We always put the client's 'vision' first and foremost. It's important for us to understand the client's goals and purpose. We feel it is important for a brand's identity to transcend through our show, so we work very closely with each brand to deliver what they want. It's also fun to get to see what makes each company tick. I can definitely say, no two clients approach a project the same way. Some clients just let us do our thing, while others want to be involved in every aspect. We enjoy both and it keeps things fresh and exciting for us. If it's not challenging for us, were not pushing ourselves hard enough!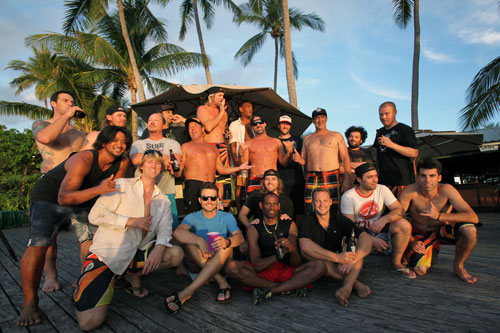 How big is the team based in Los Angeles, and are there remote members working elsewhere?
We operate like most production companies, with a small staff, but with a large international freelance crew roster. We bounce from jobs with around 40 person crews, to shoots with less than 10 people. We try to adapt our crew to the project's needs. Our crews are a blend of seasoned TV professionals and hard-core Action Sports Cinematographers and Filmmakers.
One thing that's so important to us is that our people understand the sports we are dealing with- It's key to our success. As active surfers, skaters, musicians, snowboarders, [etc,] we love our job and need our crew to love it too! After a day of shooting epic Cloudbreak or sweating over a concrete pool all day, our crew are cheek-to-cheek smiles and frothing to get some before the sun goes down.
Do you hire any freelance/contract editors or videographers at any of the various destinations UTMG travels to for work?
We travel globally for our projects and we work consistently with Australians, Brazilians, South Africans and Europeans. The action sports community is so diverse we naturally have grown into quite an assorted group of professionals. It also helps on international shoots not having to fly out every single person, and to have some local knowledge on tap for resources.
There is currently a position open for an editor to join the production team in LA, what do you look for in potential candidates besides previous action sports experience and passion for surfing, skating, life?
We are always looking for people wanting to break into our field. We can find tons of editors out of LA, but just being an editor isn't what we are looking for. We want someone with a background in Action Sports and who is stoked on the stuff we are shooting.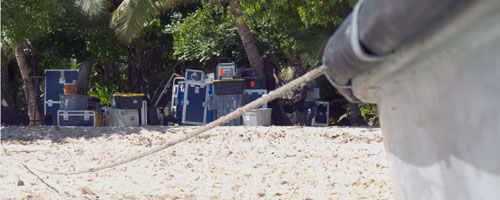 How often do you travel for work?
For 2012, we started off our year in Hawaii, broadcasting the Volcom Pipe Pro. From there we spent time in Southern California putting on events for Vans and other clients. Then we had another shoot for Volcom, this time on Tavarua for the Volcom Fiji Pro, (which was an incredible success.) We saw amazing waves and were able to broadcast live from 2 miles out to sea. It was our most challenging event to date.
Then we hit Virginia Beach this August for the Vans East Coast Surfing Championships, where we provided a live show and on-demand content. Our most recent shoot was a live movie premier and red carpet ceremony for a Red Bull mountain biking film called "Where the Trail Ends." Now we are gearing up to finish the year off in Hawaii with the Vans Triple Crown of Surfing.
How many productions do you handle in a typical year?
We are running an average of 10 live shows a year (give or take) as well as producing countless hours of content for every live event. In addition, we are constantly producing creative content for the Action Sports industry.

The proof is in the pudding.
Will you be back on the north shore for the Triple Crown this winter?
We will be producing the Vans Triple Crown live broadcast this year along with our content partner, Windowseat Pictures. Just before the Triple Crown kicks off, we shoot a Triple Crown qualifier, the HIC Pro at Sunset Beach.
What has been the favorite event you've covered? Which production have you been most proud of?
That's hard to say because every event we produce is challenging (in a really fun way) and so unpredictable due to so many variables. We had an amazing time producing the Volcom Fiji Pro this year. That event has been notorious for being nearly impossible to broadcast. The wave is 2 miles out to sea on an outer reef pass. The closest island, Tavarua, is in the middle of nowhere. It was by far our most challenging broadcast to date, but was arguably the most rewarding. We also love the Vans Triple Crown of Surfing. For the last 5 years, we have been setting up camp on the North Shore of Oahu for 6 weeks (which is epic in itself) and every year we are challenged to raise the bar in the level of quality, technology and innovation and to produce an even better broadcast than in previous years.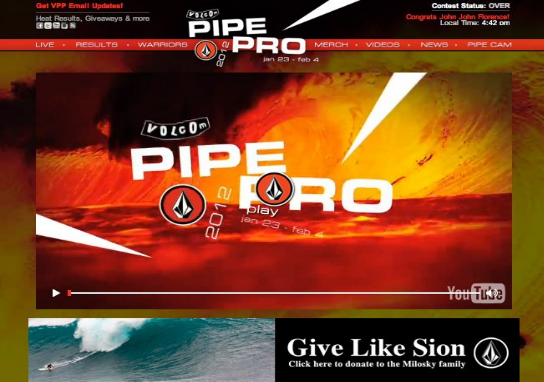 Anything we missed?
You can check out some of our work at www.uncletoads.com. Be sure to check out our show this winter, covering the Vans Triple Crown of Surfing, including the Billabong Pipe Masters. This should be an exciting year (it always is) and we are all keeping our fingers crossed that the World Tour race stays close to crowning a World Champion at Pipeline.
---