BACK TO NEWS
EVENT: SurfAid partners with Sun Diego Boardshops for the Board Art Benefit Auction
SurfAid partners with Sun Diego Boardshops for the Board Art Benefit Auction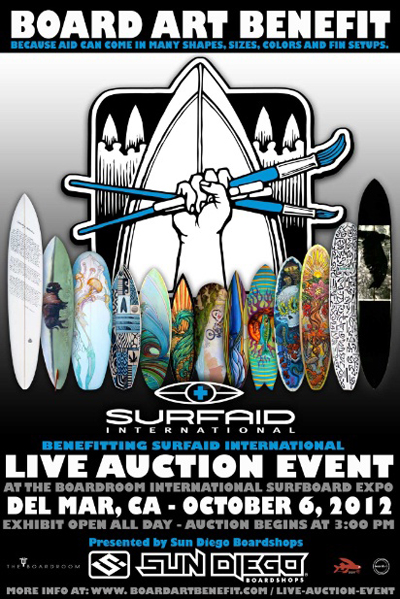 Sun Diego Boardshops have confirmed as presenting sponsors of the SurfAid Board Art Benefit Auction that will be held at the Boardroom International Surfboard Show in Del Mar on October 6th, 2012.
Twenty boards that have been painted by leading California surf artists will be auctioned from 3pm - 5pm. The funds raised will directly support SurfAid's humanitarian efforts in the Mentawai and Nias islands in Indonesia.
The President of Sun Diego, Dave Nash, said they were extremely proud to be partnering with SurfAid on the Board Art Benefit. "Sun Diego firmly believes in SurfAid's mission to improve the welfare of people living in isolated regions who are connected to us through surfing," Nash said. "We can't think of a better way to support their cause while supporting the industry as well at the Boardroom International Surfboard Show."
All boards are available for purchaseprior to the auction at a "buy now" price. Pre-bidding and phone bidding are available for those unable to attend. Available boards may be seen at www.boardartbenefit.com.
Also, a Fletcher Chouinard Design board, generously donated by Patagonia and signed by Chris Malloy, will be raffled at the event.
The Board Art Benefit Auction is sponsored by Sun Diego Boardshops, Firewire Surfboards, Patagonia, Angel Printing, Kona Brewing Company, Caldwell Auctions, Surfworks USA, The Boardroom International Surfboard Show and BeardArt.
The Boardroom International SurfboardShow is located at 2260 Jimmy Durante Blvd, Del Mar, CA 92014 at the Del Mar Fairgrounds.
For further information, pre-bidding, or VIP registration, please contact Emily Taylor
Emily Taylor
Phone: 760-753-1103
Email: emilytaylor@surfaidinternational.org
About SurfAid
The mission of SurfAid, a non-profit humanitarian organization, is to improve the health, wellbeing and self-reliance of people living in isolated regions connected to us through surfing.
SurfAid's health programs involve education in nutrition, hygiene, healthy environments and disease prevention - including mosquito net distribution.
SurfAid has built an award-winning capacity in emergency preparedness and has delivered five emergency response programs following major disasters, including the 2004 Indian Ocean tsunami and the 2010 Mentawai tsunami.
---