Back to News
MOTO: Bel-Ray Congratulates Thomas Chareyre on his World Championship
October 1, 2012
Bel-Ray Congratulates Thomas Chareyre on his World Championship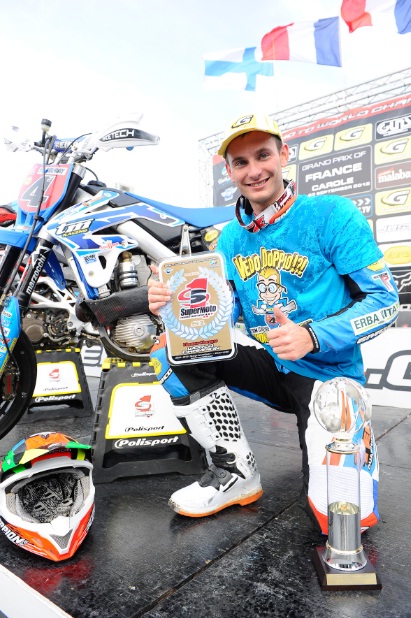 FARMINGDALE, NJ – Bel-Ray Company, Inc., the leading United States based specialty lubricant manufacturing company, would like to congratulate Bel-Ray racer Thomas Chareyre on his 2012 FIM Supermoto World Championship.
A member of the TM factory racing team, Chareyre benefitted from advantages delivered by Bel-Ray's high-performance lubricants while regaining the championship he previously won during the 2010 racing season. Consistent finishes in each moto plus overall victories in Rijeka, Croatia and Ottobiano, Italy allowed Chareyre to win the series ahead of his nearest rivals. Chareyre took control of the red plate as the series points-leader at the first round of the six-race series without losing it to a competitor. Along the route to victory he led eighty laps, scored two pole positions in timed-qualifying, and finished on the podium at each round of the series.
Bel-Ray is a supporter of TM Factory racing efforts in motocross, world enduro, and supermoto; and supplies lubricants for each new TM motorcycle rolling off the Italian assembly line.
Congratulations to Thomas and the entire TM Factory team.
Bel Ray Company Inc was founded in 1946 and is a privately held, woman-owned business serving the lubrication needs of powersports, industrial and mining customers worldwide. Bel-Ray is recognized as the leader in the specialty lubricants industry for setting high standards of quality and performance with products formulated for the motorcycle, automotive, aviation, energy, food, marine, military, mining, OEM, Industrial steel, and textile industries.
"Flex Your Engine" with Bel-Ray's superior Powersports line that delivers top quality Made-in-the-USA products to motorcycle and recreational vehicle enthusiasts around the world. Bel-Ray products are available at powersports dealers worldwide. Visit Bel-Ray.com for a complete dealer listing. Like us on Facebook.com/BelRay or follow us on Twitter/Bel_Ray
---