Back to News
B$Z: Just Released: SIA's 2012 Snow Sports Market Intelligence Report: Euro (€) Edition
October 2, 2012
Just Released: SIA's 2012 Snow Sports Market Intelligence Report: Euro (€) Edition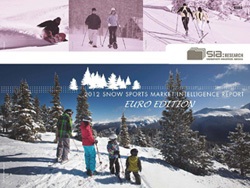 WASHINGTON, DC - SnowSports Industries America (SIA) is pleased to announce the release of the first annual 2012 Snow Sports Market Intelligence Report with Euro Currency Conversion. The report provides a detailed review of the 2011/2012 season, likely to be remembered as one of the most difficult on record for the snow sports industry. The Euro Currency Conversion allows for more convenient and comprehensive comparisons with the global snow sports marketplace and provides an easier to use version for suppliers who conduct business in the E.U. SIA converted all dollar amounts to Euros based on the exchange rate of €.8022 for every $1USD.

Celebrating its 35th annual update, the 2012 SIA Snow Sports Market Intelligence Report, with Euro Currency Conversion, provides valuable insight into retail sales, participation trends and demographics for snow sports participants as well as analysis of the season's weather and an overview of the economic health of the snow sports industry. The 2012 SIA Snow Sports Market Intelligence Report is available at no cost to SIA Members and at €381 to non-members.

Sample Report Highlights:
Reverse/mixed camber ski sales continued to grow in popularity this season; reverse/mixed camber flat skis were up 47%, while systems grew an impressive 333% in unit sales.

Core skiers struggled with the poor conditions on the mountain this winter and it showed with a 10.2% drop in core skier participation.

Snowboard equipment inventories are up 23% compared to 2010/2011, but 9% leaner compared to 2008/2009.

4.3 million Americans participated in cross country skiing during 2011/2012, down 5% from the 2010/2011 season.

Apparel sales brought in €1B, accessories sales €1B, and equipment sales €679M.
2011/2012 Business Trends:
Specialty shops kept prices and margins high through season's end.

Online retailers dropped prices and increased turns, finishing the season in the green.

New consumer trends provide opportunities during difficult times.
Additionally, the report provides answers to questions such as:
Where are consumers going for the lowest prices on apparel?

What's the average household income of an alpine skier?

What were the bestselling models of snowboard boots last season?

Where did snow sports inventories finish last season in comparison to this season?
The 2012 Report with Euro Conversion covers a variety of retail channels including snow sports specialty, chain and the Internet. The easy-to-follow analysis also features stand-alone chapters for alpine, snowboard, cross country, telemark, backcountry-randonee/AT, snowshoe, equipment/apparel accessories and apparel categories.

Full reports on the women's and juniors-specific snow sports market will also be available in September and October. Stay tuned.
The 2012 Snow Sports Market Intelligence Report with Euro Currency Conversion is available at no cost for members. To receive a copy of the report or for more information about snow sports retail sales information and other SIA Research products including the Snow Sports Participation Study, Revisiting Growing the Snow Sports Industry, State of the Market, Model for Success, and more, contact Kelly Davis, SIA's Director of Research, at [email protected] or by phone at 703-506-4224.
---