Back to News
B$Z: GrindMedia Acquires Dirt Sports Magazine
October 3, 2012
GrindMedia Acquires Dirt Sports Magazine
GrindMedia Names Jim Ryan Group Publisher of Newly Formed Dirt Sports Group; Adding Dirt Sports and Off-Road Industry Magazines to Action Sports/Adventure Media Properties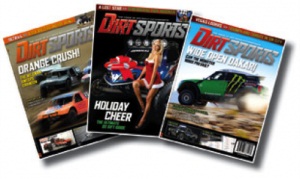 San Clemente, Calif. – In a move to bolster its off-road motorsports media business, GrindMedia is acquiring Dirt Sports and Off-Road Industry magazines and related assets from Ryan Communications Group. Jim Ryan will head up the newly formed, Dirt Sports Group, that will now include Dirt Sports and Off-Road Industry, as well as current GrindMedia market-leading brands of Dirt Rider, ATV Rider, Endurocross, and Motocross.com.
GrindMedia is the action sports / adventure media division of parent company, Source Interlink, producing leading titles such as Surfer, Snowboarder, Powder; websites such as GrindTV.com, Newschoolers.com and events such as Surfer Poll and Superpark.
"Jim brings a wealth of knowledge and experience in the off-road motorsports community and will provide GrindMedia leadership in an important growth market alongside our other motorsport brands," said Norb Garrett, Senior Vice President/Group Publisher of GrindMedia. "We are excited about Jim and his veteran staff joining our team and adding Dirt Sports and Off-Road Industry to our roster of properties."
Jim Ryan's career spans many areas of the off-road market segment from his initial job with Cycle News to a long career with the Petersen Publishing Company and the subsequent owners where he acted as the Truck Group Publisher and then Off-Road Group Publisher before launching Dirt Sports and Off-Road Industry in 2004.
"We are extremely excited to be part of GrindMedia," stated Ryan. "The action sports focus of GrindMedia is the perfect match for the Dirt Sports target market. Source Interlink's best-in-class publishing and distribution capabilities will enable our off-road market and motorsports partners a significantly greater media tool box and allow Dirt Sports to accelerate business growth online, through video production assets, as well as significantly stronger print distribution channels."
About GrindMedia
GrindMedia is a leading sports and entertainment media company with leading properties in action/adventure sports, stick and ball sports, and comedy and entertainment. The combined monthly reach of GrindMedia is 20,000,000+ through brands such as Surfer, Snowboarder, Skateboarder, Bike, Powder, SLAM, Baseball America, GrindTV.com, StupidVideos.com and Newschoolers.com. What unifies these different categories is a common target audience – the coveted Gen Y/Millennials, young male consumer. Together, the brands within the GrindMedia portfolio comprise one of the most progressive media groups in the world, leveraging not only authentic scale, but also one of the most influential audiences available.
About Source Interlink Media
Source Interlink Media, is the premier source of special interest media in the United States. With more than 75 publications, 100 Web sites, 800 branded products, 50+ events, and TV and radio programs, SIM is the largest provider of content to enthusiast communities interested in automotive, action sports, home theater and other niche activities. The division's strategy is to wholly focus on targeted audiences by leveraging and expanding upon its core market-leading brands through a multiplatform media approach.
---