Back to News
WEB: Osiris Shoes Signs with Web Cube to Launch E-Commerce Site
October 4, 2012
Osiris Shoes Signs with Web Cube to Launch E-Commerce Site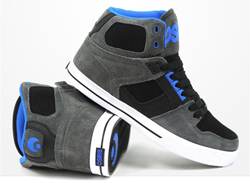 We are excited to announce that premier action sports footwear brand Osiris Shoes has signed with Web Cube to rebuild their branded e-commerce site. Osiris has selected Web Cube Enterprise as the platform of choice to fuel their ongoing e-commerce strategy.
"As a lifestyle-driven action sports brand, Osiris Shoes needed a robust e-commerce solution that would deliver a unified brand experience across all their digital touch points," says Owen Nieder, Web Development Director for Osiris. "Osiris Shoes was too big to rely on the popular open source platforms. Web Cube has given Osiris Shoes the flexibility to update, manage, and expand their web presence as they grow online. We're confident that Web Cube Enterprise is the platform that will fuel our e-commerce growth over the next decade."
Osiris will leverage Web Cube's powerful and highly scalable enterprise solution to rebuild and expand their entire digital presence, including online store, blog, team section, video galleries, mobile site, and social media channels. Web Cube's advanced features and streamlined back-end management will empower Osiris to manage their brand content, e-commerce, marketing, mobile, and social media on one fully integrated platform.
"With full CMS and e-commerce integration and a built-in suite of advanced features, the platform allows brands like Osiris to rapidly and efficiently deploy a complete branded e-commerce site without the hassle of integrating and managing multiple systems and plug-ins," says Web Cube CEO Aaron Cuker. "For Osiris, Web Cube will drastically improve their site's ease of use, functionality, and e-commerce capabilities."
---