Back to News
MOTO: Down to the Final Three in the Search for Miss Monster Energy Cup
October 4, 2012
Meet the Final Three Contestants in the Search for Miss Monster Energy Cup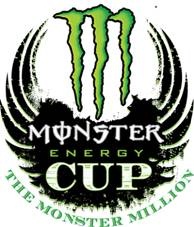 AURORA, Ill. (October 4, 2012) – Click the video below to meet the final three contestants campaigning for Miss Monster Energy Cup. The search for Miss Monster Energy Cup was narrowed down to: Mayra Tinajero, of San Diego, Crystal Cunningham, of Hesperia, Calif., and Ashleigh Fisher, of Houston. The lucky winner, who will be announced Monday, October 8, will receive an all-expense paid trip to the Monster Energy Cup on October 20 at Las Vegas' Sam Boyd Stadium to serve as the spokesmodel for this lucrative race.
The search for Miss Monster Energy Cup started with 25 randomly selected girls across the nation and has been lessened down the remaining three, whose profiles can be viewed at www.MonsterEnergyCup.com.
The 2012 Monster Energy Cup features an all-new track design inspired by five-time Supercross Class Champion Ricky Carmichael. The Carmichael-inspired track design will consist of supercross and motocross obstacles unlike any other racetrack design in the world. New to this year's track will be a 200' banked sweeping turn that will be built in the stands, two 11 rider starting gates split by 220' before they converge at the apex of the 300' start straight and the joker lane that riders will have to race through at least once during laps 2-10. After racing through these sections of the track, fans will be treated to equally exciting racing lanes that are built into the Monster Energy Fan Zone, which is located outside of the stadium. The Monster Energy Cup posts a $250,000 purse with the winner walking away with a $100,000 check, and any rider that wins all three Main Events will take home $1 million.
For more information on the Monster Energy Cup, log on to www.MonsterEnergyCup.com. For all media requests, please contact Denny Hartwig [email protected] or 630-566-6305. To follow the Monster Energy Cup on Facebook and Twitter, log on to www.Facebook.com/VegasMECup and www.Twitter.com/VegasMECup.
Tickets for the 2012 Monster Energy Cup can be purchased at the Thomas & Mack Center Box Office, UNLVtickets outlets, online at www.UNLVtickets.com, www.MonsterEnergyCup.com, or by phone at (702) 739-FANS. Tickets will be available at the Sam Boyd Stadium Box Office on the day of the event only.
About Feld Motor Sports®
Feld Motor Sports®, Inc. is the world leader in specialized arena and stadium-based motor sports entertainment. Feld Motor Sports, Inc. productions include Advance Auto Parts Monster Jam®, Monster Energy Supercross, AMA Arenacross Series, Nuclear Cowboyz®, and IHRA® Nitro Jam®. Feld Motor Sports, Inc. is a division of Feld Entertainment, the world's largest producer of live family entertainment. For more information on Feld Entertainment, visit www.feldentertainment.com.
---