Back to News
WEB: Burtongirls.com Gets a Makeover with a Completely New Site Design
October 10, 2012
Burtongirls.com Gets a Makeover with a Completely New Site Design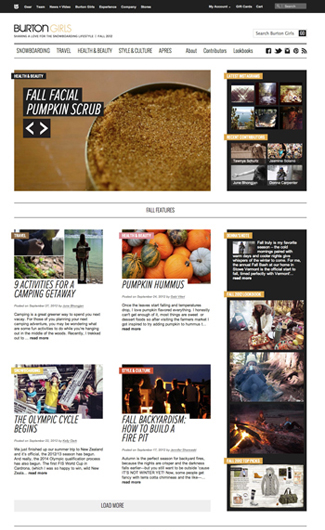 BURLINGTON, VT - Burton Snowboards today unveiled a brand new version of burtongirls.com – the online community exclusively created by women for women. Completely redesigned on every level, burtongirls.com is now loaded with more tools, content and features than ever, all aimed at sharing the snowboarding lifestyle.
"Burtongirls.com is a place where women and girls can experience the snowboard culture through fun, inspiring and creative content," stated Burton President Donna Carpenter. "Our hope is to not only inspire our existing global audience of girls who love snowboarding, but also to attract a new demographic of girls to the brand through compelling and relevant year-round content that speaks to them."
Every aspect of the burtongirls.com website has been thoughtfully restyled for this year, with a cool new platform of reinventing itself for each specific season year-round (fall, winter, spring, summer). The fall edition is live now and packed with content and photos inspired by autumn foliage, food and activities. Check out this beautiful launch video and digital lookbook featuring pro snowboarders and burtongirls.com contributors Hannah Teter, Kimmy Fasani and Gabi Viteri to get a taste. Also new for this year is a 'Contributor Picks' section, where contributors will share a round-up of their favorite clothes, accessories, music, movies, books and more for each current season. And finally, new on the site is an interactive shopping tool where girls can shop the styles right from the lookbook itself.
And that's just what's new. Coming back for the second year are some of the best parts of burtongirls.com, which include the content sections entitled 'Snowboarding', 'Travel', 'Health & Beauty', 'Style & Culture' and 'Après'. Also returning are many of the same amazing contributors who will provide content to the site year-round. First up is a group of contributors called 'Burtonistas' from the world of fashion, entertainment and snowboarding who include actress Joy Bryant, model Noot Seear and DJ Jasmine Solano to name a few. Then there is a group of contributors called 'The Team', which is made up of Burton pro riders Kelly Clark, Hannah Teter, Gabi Viteri, Kimmy Fasani and more. And rounding out the contributor roster is the 'Inner Voice' group, featuring a passionate group of women who work at Burton.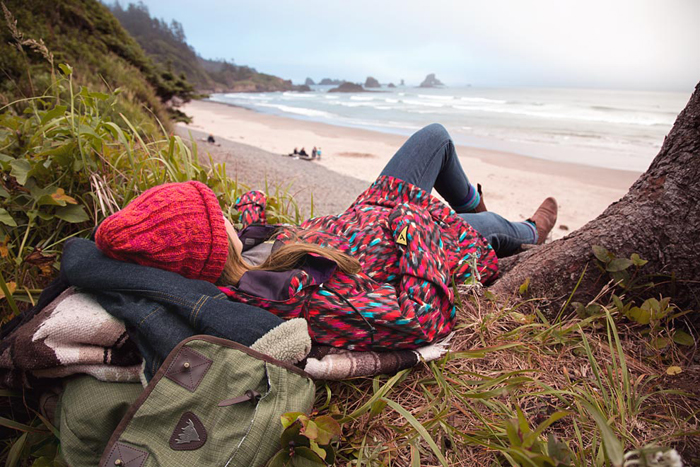 "If you're a world traveler, foodie, daredevil, music lover, fashion lover, snowboard enthusiast or if you're inspired by any of the above, then burtongirls.com is for you," said burtongirls.com returning contributor and DJ, Jasmine Solano. "Checking out the posts, contributor picks and Instagram feed on burtongirls.com makes you feel like you're hanging with your girls and getting all their insider tips. I love it!"
Finally, burtongirls.com features many new site upgrades all focused on user experience, including a new search tool, improved navigation, and a responsive design across desktop, tablet and mobile. The site also allows girls to follow burtongirls.com via dedicated Facebook, Twitter, Pinterest and Instagram accounts, as well as share content via their own social media feeds.
Head to burtongirls.com to see what's new for fall. And also be sure to check out Burton Girls on facebook.com/BurtonGirls13, twitter.com/burtongirls, pinterest.com/burtongirls13 and @burtongirls on Instagram.
---