Back to News
Kate Schade, Kate's Real Food, CEO
October 12, 2012
Kate Schade, Kate's Real Food , CEO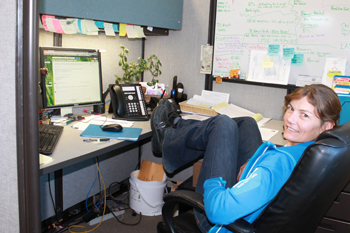 Sometime in the early 1990's, Kate Schade headed out West just a few days after graduating college and wound up in Jackson Hole, Wyoming where she found herself working various odd jobs to keep her in the backcountry doing what she loves - being a ski bum.
But, Kate quickly realized that long days spent on the skis and exploring the pass would drain all her energy. Thus, she began making bars at home on her days off for herself and her friends to eat on the Tram during those long days. And, according to katesrealfood.com, "they were pocket size, didn't freeze, were just as tasty when cold, and filling!"
After several years of friends, family, and hungry tram riders suggesting to Kate to begin selling her bars, she was finally inspired to begin a business and has been making 'Real Food' bars in the Tetons under the Kate's brand since 2010.
Now, Kate's is introducing their latest creation - the Tiki Bar, featuring a "delectable mix of mango, cashew, coconut, almond butter, and honey." And, just like all of the other bars Kate's offers, the Tiki was created to provide all-day energy for lovers of the outdoors.
As Kate explains, "the inspiration truly comes down to the roots of this company - outdoor play and sustainable organic agriculture." She produces bars that are made for outdoorsmen: the good combo of fats, proteins, and carbohydrates keeps you skiing, biking, hiking, working...or playing."
Read on for how Kate's was able to take a back country necessity from the pockets of hungry back country skiers to now being in stores in 45 states and continues to grow.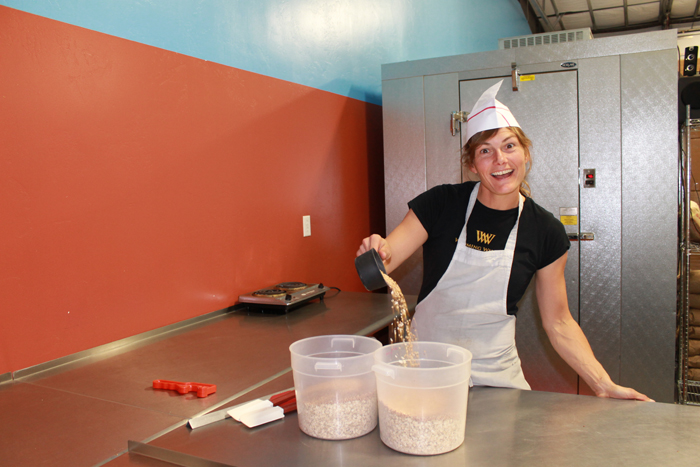 Let's start with the back story, where are you from originally and how did you get started making real food bars.
Originally, I am from upstate New York (Fingerlake Region). I moved out to Jackson Hole within a few days of graduating college and immediately loved being and playing in the mountains. My winter days were spent at the Jackson Hole Mountain Resort and in their exploratory out of bounds backcountry.
Soon enough, I found myself mixing ingredients from the cupboard so I'd have a good meal in my pocket for skiing and keeping my energy level going. My friends went a bit nutso over how good the bars were, so I started making them some too.
In the Summer, I worked at a biodynamic CSA, Cosmic Apple Gardens, where the bars became a staple for the workers in the field. This is where I was influenced by the importance of organic foods, and changed my recipe to include almost all organic ingredients.
After years of making the bars, a friend of mine said he'd help me get it going as a business. It was the kick in the butt I needed. The partnership did not work out, but I kept it going.
How long have you been selling bars under the Kate's Real Food brand?
The company started with one bar, the Tram Bar, and I was doing business under that name. In 2010, we changed the name to "Kate's" with plans of bringing out new flavors. Most folks would call my bars "Kate's Bars" at that time anyway, and it seems to add a more personable touch.
What inspired you start make the jump and start a company?
Friends and folks who tried the bars inspired me. They kept telling me I had to sell them because they were the best bars out there. I resisted for a long time. I had a great life going, was active, and happy, so why would I want to ruin that by spending my extra time making bars? Ha ha.
I had one friend, Julie Dean Hughes (a graphic designer), who even created a label for the Tram Bar before I was truly even in business. I have found that fans and friends always want to help you along the way.
The inspiration truly comes down to the roots of this company, outdoor play and sustainable organic agriculture. I felt that by creating a well respected, successful company, I'd have better ability to give more to these things I find so very important in life. This is what we are continually striving for.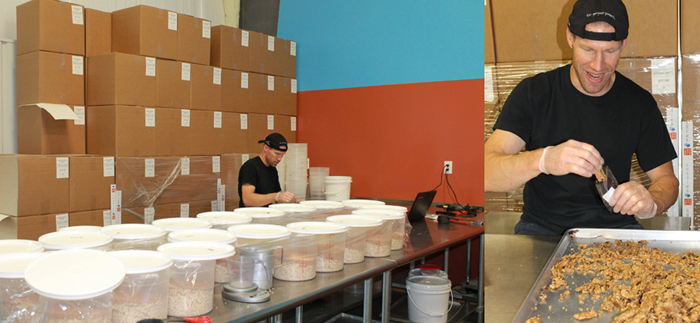 Where is Kate's based, and why?
Kate's was founded in Jackson Hole, WY, and continues to be a Wyoming Company. I like to stick to our roots, and support the community where we started.
While the company is a WY company, our operations are in Victor, Idaho where I moved to in 2001. Victor is just on the other side of Teton Pass, which divides Wyoming and Idaho. We all create one great mountain community, no matter which side of "The Pass" you are on.
Let's talk about your offerings – obviously you sell real food bars, can you speak on the flavors and any other product for sale?
Well, we currently have 4 flavors, and incidently, they all have chocolate in them! Here they are -
The Tram Bar – this is the original bar that solely started the company. It's a peanut butter trail mix meal, meaning fruits, nuts, crunch, chew, and chunks of creamy milk chocolate. Yum! And, it's totally satisfying.
Grizzly Bar – Same as the above Tram Bar, but with dark chocolate. Just as delicious!
Handle Bar – These are not solely made for bikers. Anyone can have a Handle Bar! This bar is an almond, dark chocolate, cherry. What can I say, but tasty!
Stash Bar – The Stash is a peanut butter dark chocolate. The addition of hemp seeds and flax seeds make this bar extra nutty tasting, and this one has no fruit. It also has a bit extra protein than the others.
T-Shirts. We also have "Tasty" t-shirts. Why? Because that's what we are, TASTY.
What's the most popular flavor?
Well, all the bars sell about the same, but the Tram Bar and Grizzly Bar eek out a bit more sales than the others.
The latest bar sounds really delicious, – the Tiki Bar, featuring mango and coconuts, congrats on the launching this newest bar! When will it be available?
Ah, thanks! This bar is everyone's new favorite! We have been sampling them out, but they will not be officially available until November 12. This will be our first no chocolate bar and it is also made with gluten free, soy free, and dairy free ingredients. It has a much lighter flavor than the other bars, and will be bringing a little bit of tropical sunshine to your day. Soooo tasty!
Are there any other new products in development?
There are always new products developing in my head, and I can't wait to get in the kitchen and experiment even more. That's all I am allowed to tell you at this time, sorry! You'll just have to wait.
Can you compare your product now to when you were first starting baking bars in your kitchen, are you making the same product?
I probably started making the first version in the mid 90's. The ingredients (different nuts, fruits, grains, etc.) have changed a lot over that time, but I'm guessing it was around 2003 when I got to the recipe that stuck. Since then, it has not changed, and as we grow larger it is also our goal that the quality of our bars will stay the same.
How do you compare your product to your competitors?
Tastier. Our bars are simply the tastiest. In the sea of bars on the shelves, anyone can find an organic, wholesome option. We are all that, but what sets us apart is our taste, complete with a great texture so it's just like eating real food! Another thing to note is that our bars are a bit bigger than most bars on the shelves.
Where can we buy Kate's bars besides on the site at katesrealfood.com?
You can also get online to see what area stores we are in. Our sales are more concentrated out West, but you'll be surprised to see we are in 45 states!
---