Back to News
FREE: The Inertia Presents Sine Qua Non: The Psychology of Big Wave Surfing with Greg Long
October 15, 2012
The Inertia Presents a Film by Richard Yelland
Sine Qua Non: The Psychology of Big Wave Surfing with Greg Long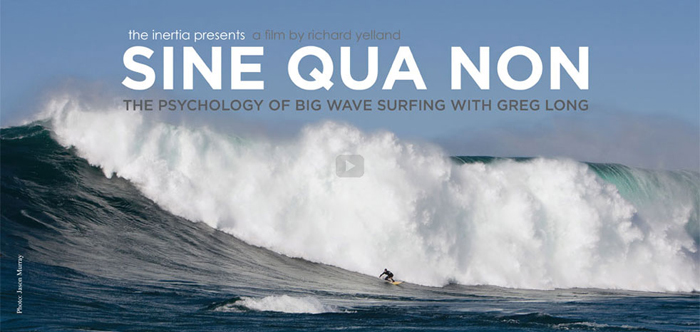 download the full film for free from at TheInertia.com
From TheInertia.com:
The Inertia is proud to announce the launch of our new documentary film series, which aims to tell the best stories in surfing. Period. The first, 24-minute episode provides an intimate portrait of the mentality, risks, and lifestyle associated with pursuing monstrous waves around the planet through the eyes of the world's most decorated big wave surfer, Greg Long. The film's title, Sine Qua Non, is a Latin phrase, which, roughly translated, means, "Without which, [there is] nothing."
Download the film for free for exclusively on The Inertia for a limited time only.
Viewing Tip: Cable or high-speed internet connection works best. Otherwise, maximize the Vimeo window at highest available resolution to optimize the viewing experience. For slower Internet connections, use our YouTube channel for better chances at uninterrupted playback.
Behind the Scenes: Check out more information and behind the scenes imagery from the making of Sine Qua Non: The Psychology of Big Wave Surfing with Greg Long here.
Special thanks: to the Long Family for their unthinkable generosity and openness, as well as Jason Murray, Todd Glaser, Bill Sharp and the Billabong XXL Global Big Wave Awards, Gary Linden, Al Mackinnon, Kirk Presley, Curt Myers and Powerlines, and Chris Dixon, Astra Heights, and Good Morning Orbit for the amazing imagery, video, and music footage used in this film. As well as to Gallo, Matt Johnston, and Director Richard Yelland, who also directed 12 Miles North, for the passion, long hours, and even longer conversations.
---