Back to News
B$Z: X-1 Powered by H20 Audio Unveils New Websitein Support of Rebranding Effort
October 17, 2012
X-1 Powered by H20 Audio Unveils New Websitein Support of Rebranding Effort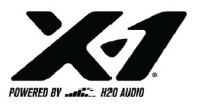 SAN DIEGO, Calif. – X-1 Powered by H2O Audio, the leader in Waterproof, Weatherproof and Sweatproof headphones, cases and accessories, has launched a revamped website highlighting the company's recent branding changes, including new additions to the product line, logo and brand messaging.
Inspired by the Bell X-1, the first aircraft to break the sound barrier, the team at X-1 set out to perfect a line of products that break down the barriers of sound, allowing athletes to harness the power of music in any arena. The redesigned site demonstrates a cohesive company culture while reflecting X-1's new brand identity and market expansion beyond the water sports industry.
"We have a very dedicated user base that utilizes our technology for a wide variety of activities," said Dana Swanson, Marketing Director. "It was important for us to create a website for our users that is easy to navigate and makes it simple to find the perfect audio solution for their sport."

The site has a fresh, new look with a user-friendly layout. Designed for simplicty, sections of the website are clearly labeled, mapping out the brand's history, contact information, product support and product overviews. Visitors of the site can also shop or browse products by sport. Other key features of the site include, X-1 athlete bios, technology highlights and the latest company news.
The refreshed website will feature new additions to the product line including, X-1 for Women, a line of headphones designed for female athletes. While www.x-1.com officially goes live today, Oct. 15, X-1 fans can expect to see new products complete with redesigned packaging hitting shelves November 2012.
Please visit the new website at: http://www.x-1.com.
About X-1 Powered by H20 Audio
Breaking the barriers of sound. Powered by H20 Audio technology, X-1 creates the most advanced audio solutions for athletes. With seven patents and over a decade of technological innovation, H2O Audio, Inc., the foremost leader in headphones, cases and accessories for aquatic athletes, has evolved to the next level as X-1. Designed for all athletes, X-1 offers audio solutions to harness the power of music regardless of sport or climate. For more information or to shop online, visit www.X-1.com
---