BACK TO NEWS
Industrial Profile
10/19/2012
Jacob Levine, Team Utah, Head Coach - Park City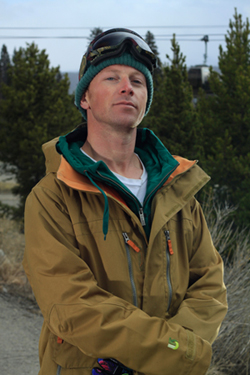 Jacob Levine, Team Utah, Head Coach - Park City
Founded in 2009, Team Utah offers its members the chance to take their snowboarding to the next level with programs available at nine chapters located statewide promoting character development, snow progression, cross training, internships, industry involvement, and global travel to all members year round.
The main philosophy behind the program is the belief that snowboarding is both an individual sport and a lifestyle and as the founder and head coach of Team Utah Park City, Jacob Levine, explains, "for a snowboarder to make it in the industry he or she will need more than a big bag of tricks, she or he will need the whole package, and it's our job to help them to develop the whole package."
The staff at Team Utah is also committed to setting the standard in snowboard coaching by "outlining a strict standard of qualifications required to become a Team Utah coach, and creating a coach education system that enables our staff to continuously develop themselves to become better and better coaches."
"My expectation is that all Team Utah members, coaches, staff, volunteers, everyone is passionate about snowboard progression on a personal level," says Jacob. "I've been coaching for almost 10 years, riding for 20, and am still working on my own progression."
Read on for more on Team Utah Park City's founder and head coach Jacob Levine, and how his passion for snowboarding and coaching has led him on a 20-year journey to the top of the peak.

Team Utah Snowboarding's Park City Chapter shred flick 'The Path to Pro' Part 1 from Jacob levine on Vimeo.
What is your background, how did you become the head coach for Team Utah Park City.
I am 32 years old, have been snowboarding since I was 12, and involved in the snowboard industry since I was 19. My industry experience started with snowboard instructing and competing in Halfpipe out of Smuggler's Notch, Vermont. I then enrolled in the Ski Industries program at the University of Maine at Farmington and Sugarloaf become my home mountain while I continued to compete in pipe, and started competing in slopestyle and railjam events. I also began coaching, privately at first, and then for Carrabassett Valley Academy's weekend program.
By 2006 I earned a Bachelor's degree in Business Economics with a concentration in Coaching and Athletic Conditioning, although I missed the CAC certification by one class that I completed but never got the credit for, instead I got a lesson in paying attention to paperwork deadlines. I'd also acquired a few flow level sponsors: Sunny Breeze snowboard shop (RIP), Oakley, and Winterstick. In March of '06 I was selected through an online competition to be 'the Rover': a board sports ambassador to the mainstream for Burton, Snickers, and General Motors. It was a year long gig as a spokesperson with some cool perks including gear from Burton, cars from GM (which I had to give back) and Snickers bars - lots and lots of Snicker bars.
Despite the amazing opportunity that 'the Rover' gig was, I got pretty burned out on the non-stop travel, and the other quality of life issues associated with life on the road. When that contract expired in March of '07 I moved back to Maine, helped out on the organic farm I was raised on for the summer, and then moved to Utah that next fall to coach for the Park City Snowboard Team. The PCSBT has done some great things for up and coming snowboarders, but after two years with them our clash in philosophy regarding how best to help the next generation was at an impasse, and my contract was not renewed.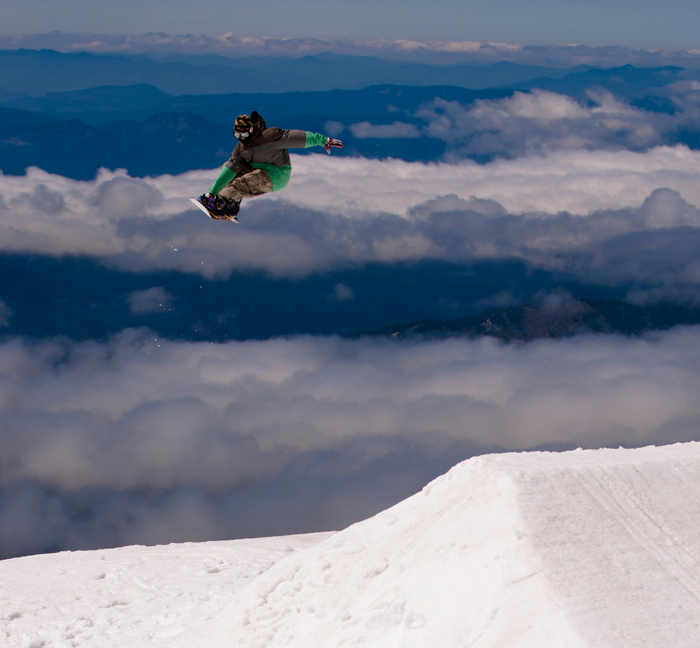 So in December of 2009 I started Team Utah Park City underneath the Team Utah Snowboarding, Inc. Corporation. While we are a competitive snowboard team, our philosophy is that competitions are not the be all end all of snowboarding, and our holistic set of services reflect that. In addition to on snow coaching, we offer portfolio development services aimed at building character and knowledge about how the industry works. We create professional photo and filming opportunities, internships, volunteering with the CHILL program, travel opportunities, and a fall cross training program. My personal goal is not to coach the next Shawn White, it is to facilitate the lifelong pursuit of snowboard progression in every member. Podiums are a great ego boost for a coach, but I am more concerned with making every member of Team Utah more passionate about the act of snowboarding, and showing them that with a little creativity they truly can pursue snowboarding for their whole life.
Now as a snowboard coach I'm halfway through my level 300 certification, and coach snowboarding full time. I squeeze in freeriding and splitboarding, and competed for the first time in 6 years in the Northface Masters, got lucky against a field of dudes I have great respect for, wound up in 4th with a $1500 bonus for the year.
In my non-snowboard life I'm halfway through earning my MBA, and hope to use it someday to help promote sustainable living.
How many members do you have in the state? In Park City?
Our membership is on an annual basis, and at the end of last year we had 165 members statewide. Team Utah Park City ended last year with 47 members. On a busy day we'll have more than 60 Team Utah riders riding at PCMR.
Team Utah Adaptive, which is partnered with the National Ability Center and also based at Park City Mountain Resort had over 20 members last year. Team Utah Adaptive is run by Team Utah founder Stuart Rea, and there is a very high likelihood that some of our adaptive riders will be representing the US in the next Para-Olympics.
Can you speak a bit on Team Utah and the services you offer?
Snowboarding is an individual sport, so snowboard programs should be customized to the individual as much as possible. To be eligible to join Team Utah you must be riding at a competitive level relative to your age, and you must be passionate about pursuing snowboard progression.
Every Team Utah member starts each year of programming with us by sitting down for a one on one meeting with a Team Utah coach to create a personalized goal set. Goal sets include how a rider wants to improve his/her knowledge about snowboarding which we call the 'tactical knowledge base'. We promote that smarter riding = safer riding, and for younger riders it may be about etiquette in the park, while for older riders it may be avalanche awareness or attaining a coaching or instructing certification.
Goal sets also include progression focused in all mountain freeriding, all of the competitive snowboard disciplines, Jumping, Jibbing, Pipe, etc. as well as competitive aspirations, industry involvement, and portfolio development. The industry feedback has been consistent: for a snowboarder to make it in the industry he or she will need more than a big bag of tricks, s/he will need the whole package, and it's our job to help them to develop the whole package.
After creating the personalized goal set we make recommendations on which combination of programs will best help each member achieve their goals. Some members participate as little as one day per week, others participate up to 6 days per week.

What is the age range of program participants?
We offer programs to all ages, providing they can already snowboard at a competitive level for their age. We do not give a lesson, that's the resorts' job. Some of our hosting resorts specify an age minimum for programs based there, and one of our fastest growing groups is our 'masters' program for people aged 18+.
You are the head coach for the Park City location - can you speak a bit on the other chapters located throughout the state. Do they offer similar services at comparable facilities?
Park City Mountain Resort has some of the best freestyle facilities in the nation, hands down. When it comes to dialing in freestyle skills it is really the best place to be. I can tell you with certainty that on opening day there will be insanely good freestyle terrain open and ready to shred, I greatly appreciate how PCMR is dedicated to providing awesome features consistently.
While it's hard to compete with PCMR on the freestyle side, our other chapters have some other attributes that shouldn't be discounted. Many offer combinations of sick big mountain terrain, powder, and some freestyle terrain. Some are closer to home for some people, like the Snowbasin chapter servicing the Ogden area and Sundance chapter servicing snowboarders that live farther south. All Team Utah chapters offer services with the same guiding principles, but each one has a slightly different flavor based on its hosting resort.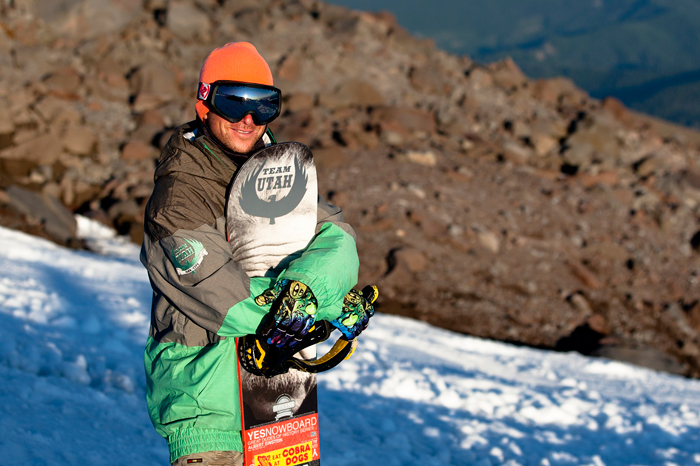 Which chapter is the most successful? And, where do you see the most growth in terms of participation numbers at a specific location?
Success is relative, and I think changes on a day to day basis and on who got to shred pow that day. Our fastest growing chapters would be the newer ones where the word is just getting out about them. People still don't really know we are out there, and as they hear about us we've begun to gain some momentum. We've actually had trouble staffing coaches to accommodate our rate of growth. We have high standards for who we let become a coach, but we're always scouting for new talent.
Can you describe the facilities for you there in Park City?
PCMR and Utah in general have consistently the best conditions of any place I've ridden in my entire life. I've become a bit of a snow snob, and while I love traveling to shred I'm always a little bummed while away from my adopted home because it's always so good here. The winter before I moved here I was visiting, and all of the locals were apologizing for how bad the conditions were… I just kept thinking 'if this is bad, I want to see good' because it was some of the best conditions I'd ridden that year. In addition to the famous Utah snow, PCMR really has awesome freestyle parks, tree runs, and a 22' pipe that is scary good.
What is Team Utah's relationship like with Park City Mountain Resort?
PCMR has granted Team Utah Park City provisional home team status, which means we are officially allowed to run our programs there and they help us out with getting our coaching staff on the hill. The resort is incredibly popular for aspiring freestyle athletes on the skiing and shredding sides, so there are a number teams that train there. We are very appreciative that we've been recognized as a legit program, and hope to continue our relationship long term. We work hard to foster that relationship, and when on hill promote good shrediquette, and work with the PCMR staff to help their guests to have a safe and fun experience. Some of our older members participate in internships at the resort and even work for the resort as instructors and park crew.
On the homepage there are photos from the Snogression Facility in SLC, can you speak on this new state-of-the-art facility and are there plans for similar facilities closer to the various other chapters Team Utah operates?
Utah has a ton of great cross training facilities specific to getting ready for the winter, and we promote cross training as a means of injury prevention and having a more successful season. We always looking to grow our programs, but currently the cross training facilities we use include Snogression, Black Diamond Gymnastics, the Utah Olympic Park, skateparks, mountain bike trails, and hiking trails.
Team Utah is a growing non-profit - are you looking to hire and, if so, what sort of talent are you looking for?
We are always scouting new talent. A big part of what I look for in new recruits is attitude: do they really buy in to our philosophy, and are they willing to pay their dues. To coach for us we require a minimum level 100 snowboard coaching certification, First-Aid CPR certification, and established history in the industry, and successfully passing a background check. But like I said, the biggest thing is attitude. We've had people start as members and become coaches, as well as people starting out as interns and it evolving into a paid position. My expectation is that all Team Utah members, coaches, staff, volunteers, everyone is passionate about snowboard progression on a personal level. I've been coaching for almost 10 years, riding for 20, and am still working on my own progression.

How long has Team Utah been providing its services and can you share any interesting success stories?
Team Utah Snowboarding, Inc. was incorporated in 2009.
Sorry to be a cheeseball, but any one of our members that loves snowboarding more from being a part of us is a success story.
On the more specific level:
Nicole Roundy, adaptive team rider, has multiple podiums at the World Cup Level.
Andrew Tassell now coaches at Black Diamond Gymnastics, works for PCMR's terrain park crew after doing an internship there, and snowboards competitively representing the Max Snowboard Shop, Solomon, Skull Candy, Spacecraft, and Smith.
Jeremy Thornburg, has pursued the filming side of the industry, and his 'Lick the Cat' Productions has received international notoriety.
Rob MacFarlane, transitioned from being a top level snowboard competitor to a valued member of our coaching staff...
That's all I got off the top of my head.
Anything we missed?
I think that covers it. A big thanks to all of the Team Utah supporters, our sponsors, the hosting resorts, the families, and the state of Utah, we love all of you!
Check us out at www.teamutah.org, and if you want to get involved at any level hit me up at Jacob@teamutah.org
Team Utah Sponsors: Burton, YES, Rome, Celtek, all the shops that help the individual chapters: TUPC – Max's, TUSnowbird Milo Salt Lake, TUSundance Milo Orem, TUBrighton Blindside, Backcountry.com, Rossignol, Discrete, Anarchy, Arva, Ergo, sorry if I left anyone out.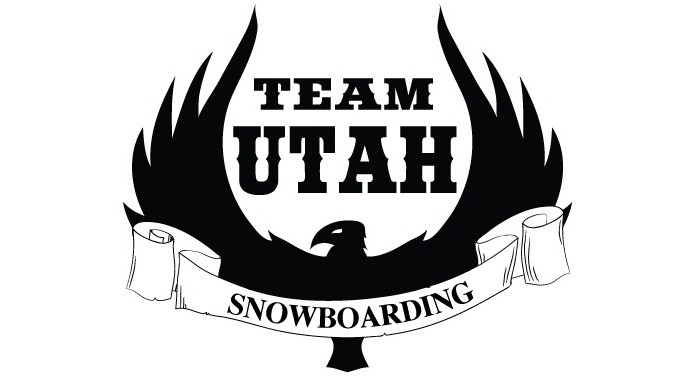 ---