Back to News
Mike Killion, Photographer & Founder, Great Lakes Surf Magazine
October 26, 2012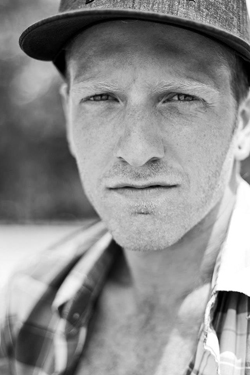 Mike Killion, Photographer & Founder, Great Lakes Surf Magazine
Earlier this week Surfing Magazine announced the six photography finalists for their Baby Cobras contest presented by Nike Surfing; which awards a writer, photographer, and filmmaker between the age of 18-27 with a trip to the North Shore this winter to document the winter madness. The group of finalists is a mixed bag, with portfolios from the shores of New Jersey and New York, to California and Hawaii. Among the six entries, there is one shutterbug that stands out simply because he's based in Chicago - and considers himself a surf photographer.
Meet Midwest surfer Mike Killion - who, with a BA in Photography from Columbia College in Chicago, specializes in action sports and lifestyle photography, with a heavy focus on capturing the landlocked surf culture he grew up in. The fact that he's about 1,000 miles from the nearest ocean hasn't stopped him from steadily growing his portfolio of beautiful landscapes and stunning action. Case in point, in 2010 he was selected as one of the top 50 photographers in the Red Bull Illume Image Quest - the world's premiere action and adventure sports photography competition. And, he doesn't limit himself to exclusively working behind the lens. In 2008 he founded an online magazine: Great Lakes Surfer Magazine where his work continues to open creative outlets for surfers in the midwest.
Read on for more on Chicago-based photographer Mike Killion and Surfing Magazine's Baby Cobras Contest presented by Nike Surfing. And look out next week when the winners are announced!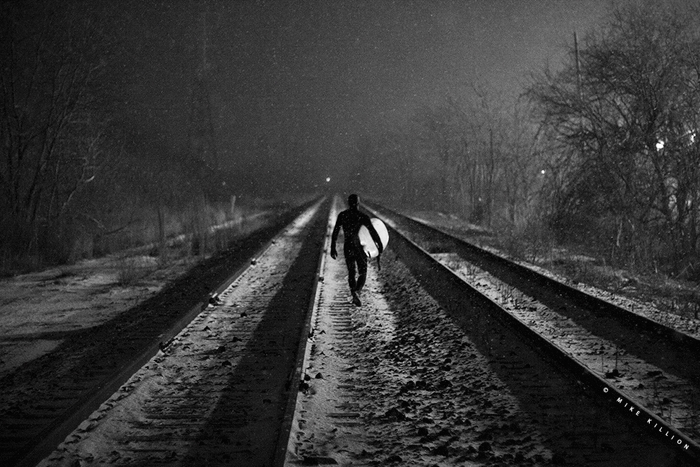 Jeremy Rumas, surfer & filmmaker of Hangs Upon Nothing, walks down the tracks after a blizzard session til dark in northwest Indiana.
What is your background as a photographer? How did you get into photography? How long have you been shooting?
For as long as I can remember I've been creating images. I can remember days where I'd be playing around with old film cameras and disposable cameras as a toddler. My mom would get so upset with me, "wasting" film. I would just snap away. Looking back at those pictures is quite hilarious. I started to take photography seriously my sophomore year in high school and continued to AP photo by my senior year. We learned to make and develop our own film and prints in the darkroom, when digital photography was still very weak. It wasn't until a year of community college went by without taking any photo classes that I realized photography was my ultimate passion. I soon enrolled at Columbia College Chicago as a photo major and graduated with a BA in photography.
Can you name any of your inspirations: be it photographers, surfers, artists in general…
I like to think I grab a lot of inspiration from all sorts of places and people. But the first names that come to mind seem to be all surfing related. Chris Burkard, Brian Nevins, Dustin Humphrey, Daniel Russo, Steve Sherman are the top names that I think of in surf photography. I think each one has their own unique style and vision. It's always great to see what they are putting out there. As far as my own surfing goes, not only do I look up to the pros like CJ Nelson, Joel Tudor, Alex Knost, (can you tell I'm a long boarder yet?) I really look up to a lot of the local guys on Lake Michigan I get to surf with all the time. Ryan Gerard, one of the best loggers out here, my best friend Artem Abakumov, Jack Flynn, Bryan McDonald. They're all just really great people who stay humble and let their surfing, music, or art just speak for itself. That's something I can really look up to and it's always a pleasure to share waves with them.
How long have you been surfing? Where is your home break?
I got into surfing through another really good friend of mine, Joey Greco. We went to stay with his dad in SoCal for a week in high school, right around the time I started taking photography seriously. We were 15, 16 years old and just learning how to stand up. Joey had surfed before but we were all just beginners. Caught my first wave (white-water) at Pipes and was hooked since. It was only natural that my photography followed suit. Surfing and photography became hand sand hand for me at that point. Coming back to Illinois we realized we could get waves on Lake Michigan, surf able waves. And so it started. About 10 years ago. Currently living in Chicago I'm about 20 minutes from my favorite local break just south of the city, hugging casinos and steel mills in the industrial landscape of Indiana.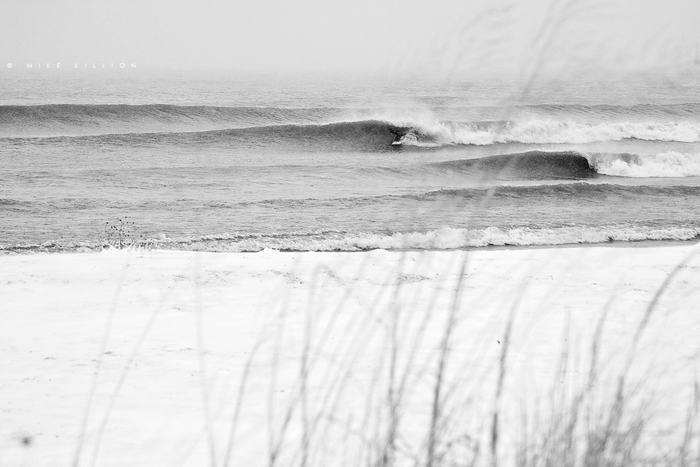 Petter Carlweitz of Sweden was on a 2 day layover in Chicago on a 'round the world' trip and happened to score the best day of the season. After seeing Vince Deurs movie, "Unsalted" he's always wanted to shred the lakes. Vince gave him my contact while I was living in Chicago and I lent him my board, suit, and a ride to the beach. Now he can check that off his bucket list.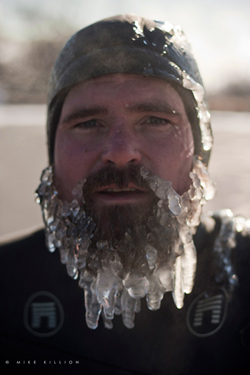 How is the surf culture in the Midwest?
Everyone always compares it to how surfing might have been in California in the 40's. But within the last few years it's really grown quite a bit. From getting in the papers and on the news stations as well as international coverage online and in a few surf mags, more and more people know you can get a fresh water wave in the MidWest. I'd say it's more comparable to the NorthEast without the hurricanes and heavy waves. There's not too many people that can handle the winter months here and go all year round, it gets really cold - we have some restricted beach access issues in the bigger cities, but everyone is pretty close. People are friendly, the vibe is chill, it's hardly ever crowded, you usually know everyone in the lineup, and the average surfer here would typically lend a board or any equipment to a stranger if they were looking to get wet. Thats part of the reason I haven't moved yet!
How did you hear about Surfing Magazine's Baby Cobras contest and what inspired you to submit a portfolio?
I'm an avid follower of theirs on Facebook and saw the banner for it one day. Clicked in and checked it out - a free trip to Hawaii to shoot the Triple Crown and add Surfing Mag to my resume, I was all for it. I've never been to Hawaii and ever since I began surfing all I did was subscribe to every mag I could, read every article, check out every photo and hope that one day I could do what these guys were doing. I mean, who wouldn't want to get paid to travel the world and photograph exotic/off the beaten path locations?! Being that Hawaii is obviously a well known location and a shit show during the winter months, I couldn't pass up the opportunity to travel to the birthplace of surfing.
Can you speak on your portfolio, was there a central theme or a particular point of interest with selection?
The rules were to submit 10 images of our home break that tells a story and to be creative. There wasn't much to it. Being that we don't get surf all that often on the lakes or that great of surf in comparison to the entries that would be submitted, I wanted to give a good overall feel of our location. I decided to add a little bit of everything, summer, fall, and winter photos to show the range of seasons. The snow, ice, , sun, cloudy days, bigger waves, smaller waves, action, details, landscape, men, women - everything that one might see over a period of time while surfing Lake Michigan. I felt that this would separate me from the crowd and show the variety of images I had to offer.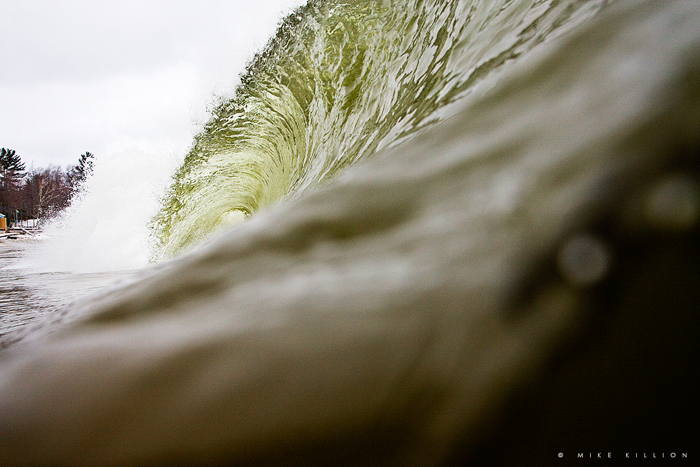 This is up on Lake Superior this past April. I thought I was going to pass out the air/water temp was so cold. After taking a few waves on the head, I had to get out and warm up. I spent a few hours shooting in the water that day. It's super shallow and gets really squared out. Made for a great photo opportunity.
When and where were the shots taken?
All the images came from different times of the year, stretching over the past year or two. Since we haven't had winter yet, I stuck with my go to images from the southend of Lake Michigan and picked some new ones that shows how I'm shooting currently.
Why did you choose the shots you did? Do you have any favorite shots?
As I said before, I really wanted to show a range of imagery and capture the true essence of what it is like to surf on the Great Lakes. My favorite photos come from our winter months of course. They really stand out and stand to show what we go through to get waves on the lake. The one of my friend and filmmaker Jeremy Rumas, walking down the railroad tracks at night after a session while it was snowing and gusting into the single digits was an all time moment I will never forget. Along with that, the one of the man with his beard covered in ice, Brad Tunis. This happens almost every year, but won't this winter as Brad has got up and moved to California. It blows my mind how the dude can stay out for hours with that much ice on his face. We all get a certain degree of ice attached to us in the coldest months but with a beard like that, icicles hanging down, I can never pass up a opportunity to photograph him.
What has the feedback been like since posting your portfolio?
It's been really good! I got a ton of support from my friends and family. My girlfriend hustled all her friends at school to vote for me everyday until we got super annoying. I'd personally rather have it not be a popularity contest, but to get into the finals, you gotta do what you gotta do. It was great to see all the positive feedback and comments on my work. This is what I live for and have an undying passion to document the scene out here. Coming from the MidWest and trying to be a surf photographer isn't all that easy. I did however get some negative feedback from other contestants and people from the coast. They didn't think it was fair that the Founder/CEO of Great Lakes Surfer Magazine should be able to enter. They simply don't understand that I am a one man show, organizing, editing, doing all the layout, social media, and web work for the thing. I put my heart and soul into every aspect of the mag, in which I have only been able to produce 2 issue thus far. I replied as politely as I could. And as upsetting as it was to see other people come after me like that, I managed to have a great following of positive supporters, including Seth Stafford of TransWorld SURF which kept my chin up.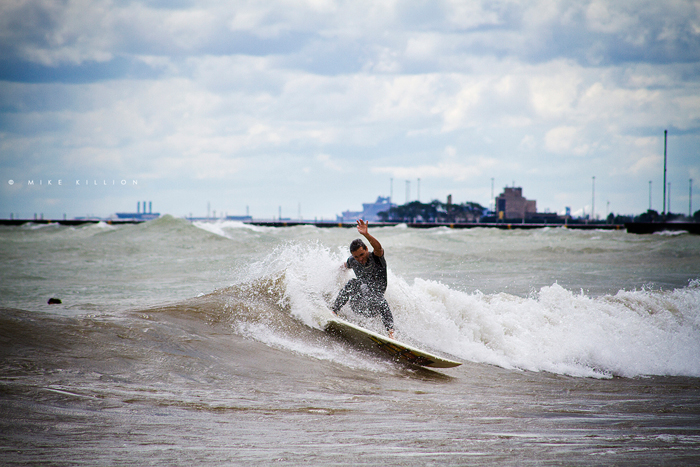 Artem Abakumov shreds what he can of this little summer wave in Chicago. It's been a great 10 years so far surfing with Artem. We started together and used to be just the two of us. Now it's quite different. It's been great to see him progress.

What would winning the contest mean to you?
Everything. Hahaha. I mean, in a way it would. I would see it as a big stepping stone and a great accomplishment in my photo career to team up with Surfing Mag. It's something I've thought and dreamed about for a long time now. I always thought it would be amazing to be a staff photographer for an international surf mag one day. Now as I started my own publication here for the Great Lakes, it's kept me at home. Don't get me wrong, I love it here, but I definitely want to travel, see new things, learn and expand my craft beyond my roots. Hopefully this contest will give me the opportunity to do so. I'm just so stoked to be a part of it, making it to the finals round and ever so thankful for Surfing Mag for putting the contest on!
What are your plans for the rest of 2012 – shooting in the Midwest and beyond? Doing work for RedBull?
Make better photographs! That's always my goal. I've been lucky enough to start working a little bit with Red Bull here in Chicago and hope to create some great images with them in the years to come. I was a top 50 finalist in the Red Bull Illume in 2010 and now that the contest is back on for this year, I'm so amped to make some new work, rep the MidWest and hopefully create some images from abroad to submit into the Illume once again. It was an amazing honor to be paired up with such incredible talent from all over the globe. Making it to top 50 for that was definitely one of the highlights of my career so far. Aside from my personal photography, I hope I can continue to produce Great Lakes Surfer at a quarterly basis and start to gather a team of like minded individuals from the Great Lakes with a passion for the arts, surf, and design. We'll see what the end of the year has to offer!
Care to add anything we might have missed?
I'll do my shameless self promotion right about now - for those that don't know, you can find my personal work on www.mikekillion.com
Find Great Lakes Surfer Magazine at www.greatlakessurfer.com and like us on Facebook!
I just joined this thing called twitter, you can follow me @killzphoto and check my instagram photos @killertown
It's a bummer so many people are on these things I can't keep my names consistent but you tech savvy people shouldn't have a problem locating my work! Thanks so much for having me on Malakye! Aloha!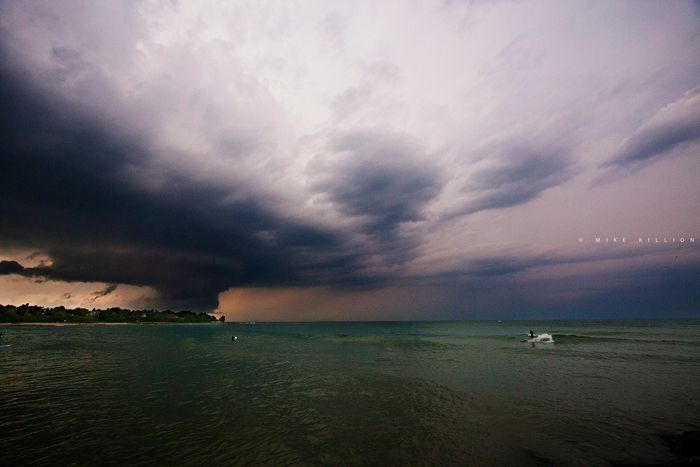 Blake Meisinger slides down a tiny wave in Sheboygan, WI at the infamous "Elbow". This place gets really good when its big. I'd say with confidence, 200-300yrd rights. The weather also changes quite quickly up there. I swear I thought a tornado was going to land on us. This storm cell creeped just past us and then got so foggy you couldn't see a few feet in front of you. Another reason I love it out here.

---