Back to News
X-1 Q&A with Dana Swanson, Director of Marketing
October 31, 2012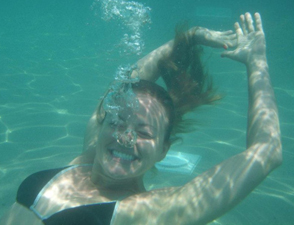 X-1 Q&A with Dana Swanson, Director of Marketing
H2O Audio has been perfecting waterproof audio solutions for swimming and aquatic sports for the last ten years. Now, with the intent of being able to target a wider range of athletes, the company has evolved into X-1 powered by H2O Audio, which will offer the next evolution of audio technology by providing waterproof, weatherproof, and sweatproof products with the same patented technology that made H2O Audio the most trusted brand in the industry.
Dana Swanson, who serves as Director of Marketing for X-1, explains the need for the updates saying, "with the new X-1 name, it will give us much more breadth to expand and offer the full potential of our technologies to all athletes on land, or in the water."
And, according to the company's revamped and updated website at X-1.com - which features new additions to the product line including a line of headphones designed for female athletes to go with their existing headphones, cases and audio accessories - "X-1 has extended their product line to provide audio solutions that fit comfortably and securely while withstanding rain, humidity, sleet, snow, water, perspiration, and anything else Mother Nature might throw at you."
Read on for more on how, despite the new name and new look for X-1, the mission for the refreshed company is still the same - "to provide athletes with music solutions that empower them to train longer, play harder, and push themselves to their peak performance."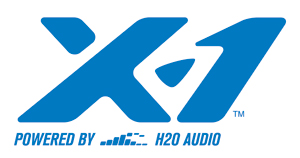 Why the change?
The H2O Audio brand has been around for close to 10 years, and over that time has acquired 7 patents, with an 8th pending. That's a lot of technology that makes our headphones and cases really perform, under many different conditions and for many different athletes, but with the name H2O Audio, so many people pegged us as just a watersports company. But, there are so many benefits of waterproofing technology that go far beyond the pool or ocean. Sweat is water, rain is water, even high humidity can damage electronics. These conditions can be found in nearly any sport. So with the new X-1 name, it will give us much more breadth to expand and offer the full potential of our technologies to all athletes on land, or in the water.
There are studies out there that scientifically prove that music can affect training, better motivation, improved pacing, minimizing boredom and the effects of pain. So we do take our mission of providing the most advanced audio solutions for athletes seriously, and we're really excited about the potential of the new X-1 brand.
What does this mean for the future of X-1?
We will continue to produce the most popular H2O Audio lines, like the Surge Waterproof Headphones, The Amphibx Waterproof Armbands and our Interval Swim case. But in the future you can expect to see ultra light headphones and cases in more styles and fit options, reflective accents and technologies and also, our line of headphones designed specifically for female athletes, X1 for Women. Up to this point, no one in the headphone space has really addressed the fit, comfort and safety issues that many women have with regard to sport headphones. We saw the need, we listened, we researched and we really hope that X-1 for women will change the sport headphone space.
Did this have any affect on the crew headquartered in San Diego?
Other than the huge quantity of work put into the re-branding efforts, no. We're still the same company and everyone is on-board and really excited about the change.

What does this mean for consumers?
For consumers, it means our products will now be even easier to find. We're expanding retail distribution and our redesigned website has a product selector feature, and more interactive dealer locator, and a by sport navigation that really helps people find the exact audio solution that's going to work best for them.
X-1 has a strong pro team featuring world-class athletes, and also boasts a riders program which the website mentions is "200 strong" – how important has it been developing a top-notch group of ambassadors?
It's a main pillar of our company, it was for H2O Audio and it still is for X-1. We've always created new products and improved others by listening to our team athletes, and now, more than ever, we make sure that everyone who represents us truly does use our products and is an honest evangelist. We've always said all our headphones and cases are made for athletes, by athletes, and it's really true. We all use our products daily, and the X-1 employees are always the first line of product testing…you should see some of the crazy prototypes I've suited up and taken to the pool or paddled out with! But also it's worth noting that when I say "athletes" we mean that with a comprehensive definition. We're not a company made of people that are running marathons every weekend or training to survive massive two wave hold downs. But we do all work out regularly, like to be fit and enjoy many different sports and hobbies. If you make exercise and activity a priority in your life, you're an athlete to us. The term athlete isn't a specific physical definition, but more of a mindset, and if you want your music with you when you're getting after it, then you're team X-1 material. There's various criteria we use when selecting our ambassadors and team riders, but it's much more than just your latest race or comp results.

What are the most popular products on offer?
Well, we're the only company in the world that makes a waterproof headset. The Surge Contact is a fully submersible (to 12ft) pair of headphones with an in-line mic and answer/end button. Whether you want it as an all around use headset you can take from desk to car to pool and back again, or if you're out on a long SUP crossing and want to be able to stay in communication for safety, it's always been one of our top sellers. Also our Interval Swim Solution continues to be one of our flagship products. It's in its fourth generation now and we've really dialed it in. It's a case with integrated headphones that attaches to any swim goggles, allowing you to take your iPod shuffle swimming with you. It works great, the sound amazing and as anyone who's logged some hours "staring at the black line" of the pool, it's a total game changer. I've made it to the pool and realized I forgot my towel…still swam anyway….forget my iPod, and I just turn around and go home. I'm a full addict and I'm certainly not the only one!

X-1 offers waterproof cases for iPhones, including armbands and a mounting system for the case, is the case designed for POV video capture? Does X-1 offer products specifically for athletes (board, motor, cycle, etc.) to record live video while in action, or will X-1 continue to focus on providing quality audio products?
There are ways to rig some of our cases for POV video, but that's not what they're designed for. We don't like to chase, we like to lead. Obviously there are companies out there that are nailing POV video, so we choose to keep focused on what we do best, which is functional, comfortable, sport audio solutions. There's really no one out there doing what we do, how we do it. And we want to keep it that way.
Who do you see as your biggest competitor in the market and are there other companies out there offering similar products?
Like I said above, there isn't anyone that's an apples to apples comparison. But in cases, there's companies like Otterbox and Lifeproof…but both of those are more daily use cases that are made to go on your device and stay there, where ours are more focused on how your device is going to sit and function on your body while you're moving around, getting wet, etc. In headphones, there are some truly waterproof headphones out there, but none of them hold a candle to us in sound quality or variety of styles. There are also quite a few companies out there that claim to have "waterproof" headphones, but upon further investigation, you can find that what they really mean is "water resistant". We have a lot of IP and years of research in the sport headphone space, so we really can offer a superior product.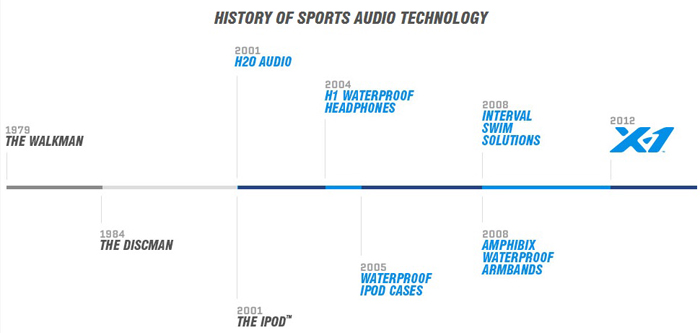 ---