Back to News
Powder Alert: Snow is Going to Pile Up in the West
November 6, 2012
Powder Alert: Snow is Going to Pile Up in the West
via theSkiChannel.com
Lots of red on the map today as a widespread event will spread across the Sierra and Rockies later this week. We are not talking election red but instead POWDER ALERTS which are up for many areas of the West! This gets me fired up for some good base building however most of the snow will be light density making for better face shots.
The overall pattern is changing as cold air that has been stuck in northern Canada is finally dropping south into the lower 48. The cold air will drop into the Northwest on Wednesday/Thursday dropping snow levels to 3,000 feet with light to occasionally moderate amounts for Stevens, Baker, and Crystal Mountain. The system will drop along the coast picking up a better moisture tap from the Pacific and into the Sierra by Thursday afternoon. Snow will favor resorts in the North Lake area especially Alpine Meadows, Squaw Valley and areas closer to I-80. Snow will continue under very cold Northerly flow into Friday morning (Heaviest will be Thursday night). Expect generally 8-14 inches at higher elevations in the Sierra. Light snow Friday/Saturday might tip the scales higher by the weekend.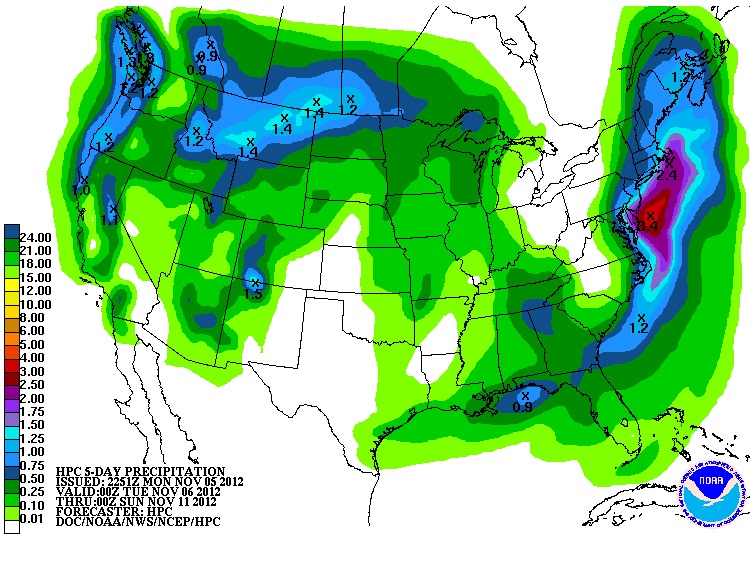 photo: NOAA
Rockies:
There will be 2 pieces of main energy in the Rockies. The strongest will remain stationary over central and northern Montana where up to 15 inches will fall in many higher mountains and near blizzard conditions near the North Dakota border. The 2nd piece of energy tracks into the Wasatch and Tetons by Friday morning and drives south into the 4-corners of Southwest Colorado Friday PM into Saturday AM. Wake up Silverton and Wolf Creek as you will finally see a decent dump Friday night. Snow continues in the Wasatch of Utah through late Saturday (12-18 inches) with lake effect bands setting up with the arctic air behind the front. The Tetons will see lower amounts under Northwest Flow (7-10) however Grand Targhee will do better on the West side of the pass. Central and Northern Colorado get into the action Saturday mid morning and continues through Sunday morning. The 2 pieces of energy over Colorado should keep snow showers over I-70 into Sunday afternoon. My predictions for greater than 9 inches are Steamboat, Vail, Silverton, Wolf Creek, Keystone, and perhaps Winter Park. The above map is what one can expect in the next 5 days. Remember that 1 inch of water at the very cold temps this storm will contain can relate to approx. 15 inches of snow. Most of those higher amounts will be in the Wasatch, Montana, and a few isolated areas in northern Wyoming.
The East coast gets another Nor Easter which will bring more wind than snow. Heavy wet snow and ice is likely in Southern MA, NH, and ME (4-7) Thursday/Friday. Moderate rain is likely over the aftermath of Sandy over NY, CT, NJ.
Enjoy the powder!
Powderchaser Steve
---