Back to News
Wade Maresh, Residential Advisor/House Parent at Windell's Academy
November 9, 2012
Wade Maresh, Residential Advisor/House Parent at Windell's Academy
Earlier this year, Wade Maresh, a recent college graduate with a math degree, was working as a tutor while on track to be an apprentice electrician for a labor union in Minneapolis when one day he opened up his weekly Malakye.com newsletter email "and read through and saw a "Residential Advisor/House Parent" listing. It was something so different I had to check it out," explains Wade.
The listing was for Windell's Academy in Portland, Ore., a world class action sports program designed to fully develop today's most driven and talented student athletes. This was the opportunity Wade had been looking for - a chance to advance his career while getting to skate in the Portland area everyday.
Read on for Wade's coast-to-coast journey from studying at the University of North Carolina - Charlotte to teaching in California before landing his dream gig.
This time two years ago you were a student at UNC in Charlotte and since graduating in 2010 you've lived and worked in California and Wisconsin before now settling in Oregon – what have these past few years been like for you?
Crazy, hectic, mind-opening, exhilarating, confusing… I have definitely been through a wide range of emotions and experiences in the past two years, all of which I am thankful for. From these experiences I have definitely learned more about life in the past 2 years than I have at any other point in my life. Financially, once I graduated I wasn't living off student loans anymore and that was a huge change for me. The 6-month grace period is what allowed me to even live in California, but once the loans needed to be paid back I couldn't even think about supporting myself in the same manner and ended up having to find work anywhere I could.
One of my best friends since elementary school had just moved up to Wisconsin for an electrician job and said he could get me work for a few months so I just ran with it; it was better than having one part time job and not being able to find a fulltime job after months of searching. While I was working with him I found an AmeriCorps position and thought I had everything set for at least a year and that I was not going to have to worry about much. I was definitely wrong.
During my AmeriCorps time, however, I did learn how to budget my money to the extreme, how to cook a large variety of different meals, became much more self-aware as to how I interact with others (especially children), learned I need to look into things a lot more before I dive right in, and learned the importance of goal setting; both long and short term. And somehow, I still managed to have an amazing time with good friends the whole time through ice fishing and skateboarding (there's not much else in the middle of the Northwoods!).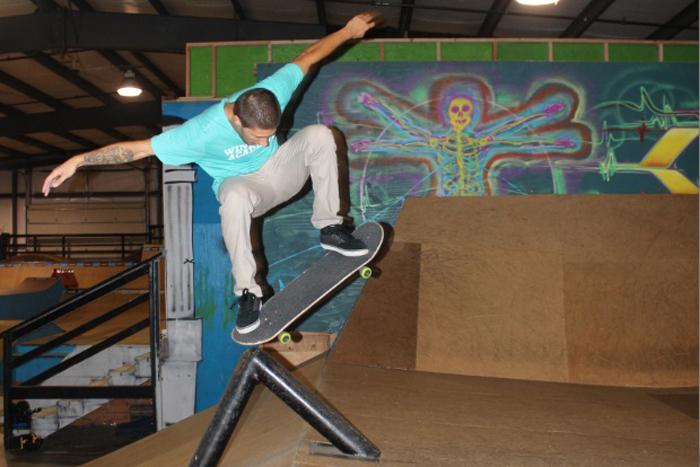 Wade admits skating is a perk of the job, here he is cashing in on his benefits, photo: Arlan George (student).
What is your current position at Windell's Academy and can you summarize a typical day-in-the-life for you there in Mt. Hood, Oregon?
I am currently a Residential Advisor/House Parent at Windell's Academy. A typical day involves me waking students up around 7:15 for their morning workout, eating a wonderful breakfast cooked by Josh or Eric (our chefs). I usually go with the skateboard kids and Jamie Weller (skate coach - he's a ripper!) to skate somewhere in Portland. After we skate the kids have class, if someone asks me for help in Math or Chemistry earlier in the day I will go help them, if not, then that's my few hours to relax and usually nap. Dinner is at 6, then, depending on the day, all the kids either go to the gym or I open up the indoor skatepark. The indoor park is rad, especially for the good ole Oregon rain, and it has trampolines for the ski and snowboard kids to work on their air awareness if they do not want to skate. After all is said and done, lights out for the kids is 10p.m., I enforce that rule, do a couple of rounds at night then go to bed.
Weekends are a whole different monster. We have different activities planned, but the kids usually just want to go to the mall and movies… Sundays are room clean-up day. Ever try to get 20+ kids to clean their rooms all at the same time?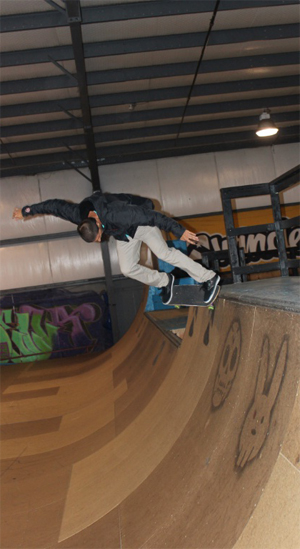 What is your favorite part of the new job?
Easy, skate time. Skating in the Portland area everyday is awesome, plus I get to go with the skate kids on their trips. SoCal anyone?
Can you take us through the process of how you were able to ultimately secure this amazing position?
Well, I'm not going to lie; I had kind of given up hope searching for jobs on Malakye.com, and online in general. I had gone from using the job search engine everyday to barely even reading the malakye.com emails searching for my next step after the AmeriCorps. I had started the process of applying to be an apprentice electrician for a labor union in Minneapolis at one point, a process I continued throughout this whole story.
As if by fate, however, there was one day I had looked at the Malakye.com email and read through and saw a "Residential Advisor/House Parent" listing. It was something so different I had to check it out. One of the first things I saw on there was something about tutoring so I checked out what Windell's Academy was. As soon as I saw their website I knew I couldn't pass the opportunity, the place just looked way too awesome. The posting had been up for 10 days when I saw it so I knew my time was running out. After summer school was over one day in Shell Lake, Wisconsin, I sat for about 3 hours, pumped out a cover letter and tweaked my resume, then sent them both out that day.
About a week later Ally Ryoppy contacted me via email. It happened to be the week of July 4th, so I wasn't at work at all to check my email (Wisconsin if void of cell phone service and the AmeriCorps didn't pay enough to have the pleasure of internet in my home). Her email had asked if I could do a Skype interview that Friday, which happened to be the only day I chose to go in to work that week. No reply to her email by the day she wanted to have the interview, I thought I definitely blew it. I emailed back as soon as possible in a last chance effort, and wouldn't you know it, Ally still had the time for the interview that day.
3p.m. on a Friday that I didn't even need to come into work and I had a Skype interview. I was glad it wasn't in person; sans shower isn't the best for an interview. I get the Skype call, and there I am staring at Ally Ryoppy and Rachel Lemons over a computer screen. About an hour later I felt like I had the job in the bag, we were all laughing throughout the interview and I felt an instant connection with them that I hoped they had felt too. This is about the time that I quit putting a whole lot of effort into the union electrician career.
I sent an email to Ally the next week sometime thanking her for the interview and checking up on the hiring progress. All seemed well and she said I would hear back by the end of the week. The end of the week came, and nothing. I still had hope and figured they were just taking a while, hiring people does take time. The next week rolls along and I hadn't heard anything yet. So here I am a week and a half since my interview and haven't heard a thing, so I hop back on Malakye.com to look for anything else that might pique my interest. Bam, the same job posting I had seen a month before looking for a Residential Advisor was reposted. I couldn't have been more bummed. I remember thinking that there was no possible way I got the job if they reposted the listing after my interview. From there I picked right back up from where I was with the electrician job.
Then it happened. I got an email from Rachel Lemons with the job offer. Completely filled with happiness I accepted the offer. I wanted to move to Oregon right then and there, but I had to wait a month. During that month I wondered if I had made the right choice. I could go make $20+/hr. starting, full benefits, retirement plan, per diem if I were travelling, and winters off as an electrician. Or I could make much less money, but do what I love. I'm thinking I made the right choice. I still wake up and look out my window to make sure the Windell's skatepark is still there, it always is and its surreal even to this day that I am here.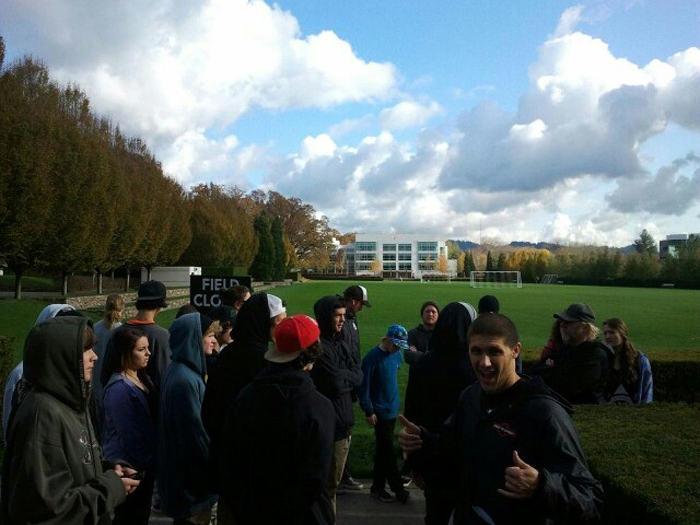 A recent trip for students at the Academy was to Nike's headquarters in Oregon, photo: Mike Hanley (Windell's Academy President).
Can you speak on Windell's Academy and the sort of environment you are living/working in?
Windell's Academy is a private school designed to prepare students for college and careers in the action sports industries. The school is primarily focused on skiing and snowboarding, but has a small skateboard program (which is growing very quickly). Although it is an athletic school, academics come first. Not everyone is going to become a professional athlete, some will, so we emphasize the importance of getting a college education specializing in a chosen career field for the action sports industry. We take the kids on industry trips to places like Nike, ON3P, and Oakley (to name a few) so they can see first hand the behind the scenes aspects of their sports. Plus, having a pro snowboarder as a teacher shows that even pro athletes have to do something other than just their chosen sport, further emphasizing the importance of education.
I work alongside some of the best co-workers I have ever had. Everyone is very communicative and they all work their butts off to help these kids meet their goals. Living on campus, and being a part of the residential staff, really lets me see all aspects of the kids' lives. From coaching to academics, I have a taste of it all. Windell's is where I need to be to get the experience I need to go down any chosen path in the action sports world, and I plan on utilizing it to the fullest.
What is the biggest challenge with your new position?
Getting kids to clean their rooms. Not really, they haven't given me too much trouble about clean rooms… yet. I would have to say the most challenging part is juggling the fine line between being a friend and an authority figure to the students. It sucks catching the kids I skate with everyday breaking rules, especially when they are doing stuff that I did/would have done when I was their age. But, I feel that I did a good job at the beginning of the year establishing that line between friend and authority, and the kids respect that.
Where do you see yourself in another two years?
Hopefully on the teaching staff at Windell's. If that's not an option I plan on returning to school to get my Ph.D in Chemistry. I've always wanted to do research in solar panels; and crystal field theory in Chemistry is the way to go for me to achieve those goals.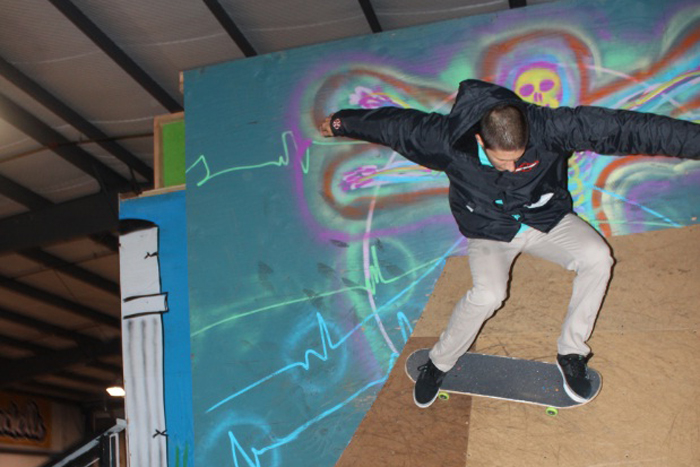 Wade having fun at the Academy's indoor park, photo: Arlan George (student).
How long have you been a Malakye.com user?
I want to say I originally found Malakye.com in California when I was looking for jobs, but I never registered on the site until I was in Wisconsin. It was around January or February of 2012 that I actually registered. Definitely paid off in my opinion.
Can you offer any advice for Malakye.com users on how they can land their dream gig?
Watch Joe Dirt. "Keep on keepin' on!" If Malakye.com users actually read my story, they'll see that I never fully gave up on anything. I thought I didn't get the dream job and I did not quit, I kept my options open and always looked ahead. Turns out I got the dream job in the end. Coincidence? I think not.
Is there anything we may have missed?
You forgot the question "On a scale from 1 to 10, how rad is Malakye.com?" Answer: 11
Thanks Wade and keep on keepin' on!
---