Back to News
DESIGN: First-Ever Burton Snowboard Graphic Design Contest Going on Now!
November 14, 2012
Crowd Sourced Design Platform Blank You Very Much Announces Ground-Breaking Collaboration with Burton Snowboards
Presented exclusively by Blank You Very Much, here is your chance to create a new snowboard graphic design for two boards that will be featured as Burton Snowboards' new 'Backyard Project'.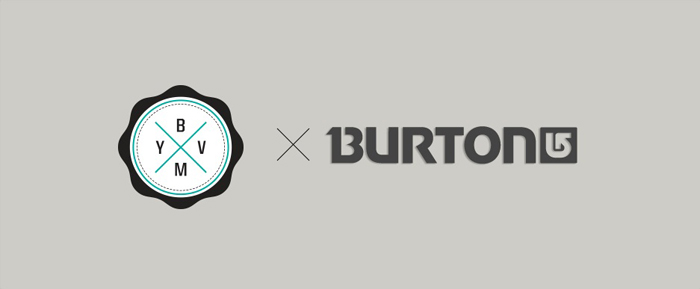 Snowboarding's biggest brand, Burton, has teamed up with Los Angeles based crowd-sourced design start-up Blank You Very Much to have their official assets re-envisioned by the global BYVM creative community consisting of nearly twenty thousand designers, artists, and fans.
Designers will have access to official Burton design asset files that can be downloaded and used to create new designs which are then uploaded to the BYVM Gallery. The community then votes on the designs along with judging by Burton pro riders and retail dealers, with the final winning designs being featured on two limited edition Burton snowboard models that will be put into actual production and sold at Burton dealers around the globe. The winning designers will be awarded handsome cash prizes, and the top 10 finalist designers will all receive customized one of a kind Burton snowboards featuring their designs.
BYVM, an e-commerce and crowd source design platform created by street wear impressario Darren Romanelli in partnership with apparel giant Jerry Leigh Inc, has "blanked" a number of iconic brands since their recent launch, including Coca-Cola, the uber-popular skateboard brand HUF, fine art collective FriendWithYou, street art and supply brand KRINK, and the legendary soccer star PELE.
Here is how the program works:
• Our friends at Blank You Very Much, a website devoted to crowd-sourced design, are tapping into their creative community of nearly twenty-thousand artists to submit graphic options that will be showcased in their BYVM gallery.
• At the end of November, the community will vote and choose the top 20 designers. We are encouraging Burton dealers to sign up to the community so they can see the submissions along the way at www.blankyouverymuch.com.
• After the top 20 designers are identified, each of their designs (2 from each) will then be exclusively voted on by selected Burton dealers to narrow the field to 10 top designs.
• From there, these 10 boards will be built at Craig's and brought out to the SIA show where Danny Davis and Mark Sollors will select the two finalists.
• Winning graphics will then be used on Burton boards planned for the 2014 production season.
All details are also at www.blankyouverymuch.com if you want to learn more.
Thanks for checking out the contest, and hope it snows soon somewhere near you.
---