BACK TO NEWS
B$Z: PacSun Announces Partnership With Kendall and Kylie Jenner
PacSun Announces Partnership With Kendall and Kylie Jenner for Exclusive New California-Inspired Young Women's Line
"Kendall and Kylie" will launch at PacSun stores nationwide in 2013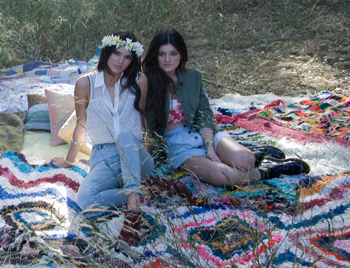 ANAHEIM, Calif., Nov. 15, 2012 /PRNewswire/ -- Pacific Sunwear of California, Inc. (Nasdaq: PSUN) (collectively, "PacSun") today announced a new collaboration with fashion darlings Kendall and Kylie Jenner for a young women's line to launch exclusively in PacSun stores nationwide in February 2013. Designed and inspired by the stylish reality TV star sisters, "Kendall and Kylie," a line exclusive to PacSun, will feature a full assortment of on-trend young women's pieces that reflect the optimism, creativity and diversity of PacSun's California heritage.
"PacSun is all about great brands and on-trend merchandising that align with the creativity, diversity and optimism that makes the California lifestyle so unique," said Gary Schoenfeld, CEO of PacSun. "Kendall and Kylie represent all of these unique characteristics and will be an exciting addition to the women's side of our business."
The first items in the "Kendall and Kylie" line will include chambray button downs, chiffon tops, high waisted shorts, denim, graphic tees, dresses, jackets, bandeaus and scarves, all showcasing the casual-yet-chic sensibility of the Jenner sisters. The "Kendall and Kylie" line will range in price from $24.50 to $79.50 and will be available online as well as in stores across the country.
"Fashion has always been such an important part of our lives, and we are so excited for the opportunity to collaborate with a California-based brand that shares our style and California spirit with everyone," said Kendall Jenner. "Designing every piece of our first collection has been a really exciting creative challenge, and we're so pleased with the final product that will be available only in PacSun stores," added Kylie Jenner.
In the months leading up to the release of their line, the Jenners will offer fans and fashionistas several ways to learn more about the upcoming line through social media channels and online content, including behind-the-scenes videos, which will be housed on PacSun's Golden State of Mind microsite – www.gsom.com.
"Kendall and Kylie," exclusively at PacSun, is the result of a collaboration that also includes Majestic Inc. With current licenses including Heidi Klum for New Balance and the House of Harlow 1960 line by Nicole Richie, the Jenner agreement constitutes a new foray for Majestic Inc. into fashion for young women.
For more information on PacSun, visit www.pacsun.com. For inspiration on styles and trends, visit www.gsom.com.
About Pacific Sunwear of California, Inc.
Pacific Sunwear of California, Inc. and its subsidiaries (collectively, "PacSun" or the "Company") is a leading specialty retailer rooted in the action sports, fashion and music influences of the California lifestyle. The Company sells a combination of branded and proprietary casual apparel, accessories and footwear designed to appeal to teens and young adults. As of November 13, 2012, the Company operates 721 stores in all 50 states and Puerto Rico. PacSun's website address is www.pacsun.com.
---