Back to News
SURF: Video Nominees Announced for 2012 SURFER Poll Awards
November 20, 2012
Video Nominees Announced for 2012 SURFER Poll Awards
Don't Miss The Awards Show Via Live Webcast at SurferPoll.com Dec. 6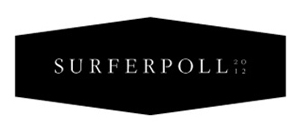 SAN CLEMENTE, Calif. (Nov. 19, 2012) — Just days before the 2012 World Title is determined in Hawaii, the year's best surf films, performances, and surfers will be awarded at the 2012 SURFER Poll Awards. After the grueling task of culling through dozens of video submissions, the nominees have been narrowed down into just a handful for each category. SURFER Magazine is pleased to announce the video nominees in contention at this year's event.
"With 2012's massive swells at Cloudbreak and Jaws, this year's film submissions included some of the best footage we've seen in years," says SURFER Editor Brendon Thomas. "Never before have we had this many nominees across all categories from just a few sessions — from Best Barrel to Heavy Water to Worst Wipeout."
The winners will be announced live from Turtle Bay and via webcast at SurferPoll.com on Dec. 6th.
2012 Nominees are:
Best Barrel
Ian Walsh, Fiji Freight Trains
Reef McIntosh, Fiji Freight Trains
Clay Marzo, Let's Surf Seriously
John John Florence, Dear Suburbia
Shane Dorian, Seared Peahi
Dave Wassel, Fiji Freight Trains
Heavy Water
Reef McIntosh
Mark Healey
Shane Dorian
Greg Long
Ian Walsh
Mark Mathews
Best Short
Seared Peahi
Excerpt
Electric Blue Heaven
Cliché
Fiji Freight Trains
Ward Stories, Barbados Episode
Worst Wipeout
Mark Mathews, Fighting Fear
Laurie Towner, Immersion
James McKean, Immersion
Issac Stant, Seared Peahi
Matt Meola, Seared Peahi
Movie of the Year
Surf Madness
Bending Colours
Get-N Classic Volume 2
Dear Suburbia
This Time Tomorrow
Fighting Fear
Best Performance
John John Florence, Get-N Classic Volume 2
Dane Reynolds, Dear Suburbia
Mason Ho, Elementary
Jordy Smith, Bending Colours
Jack Freestone, Daze at Sea
Chippa Wilson, Let's Surf Seriously
In addition to the video categories and unveiling of the SURFER Poll results for both the men and women, honors will be bestowed for the "Andy Irons Breakthrough Performer," "Agent of Change," and Lifetime Achievement."
The 42nd annual SURFER Poll Awards will take place Dec. 6, 2012 at the Turtle Bay Resort on the North Shore of Oahu, Hawaii prior to the final event of the Triple Crown of Surfing. Attendance is by invitation only, but the event will stream live to the world at SurferPoll.com beginning at 7 pm HST (9 pm PST, 12 am EST).
Find more information at SurferPoll.com, win exclusive SURFER Poll giveaways at facebook.com/surfermag and start the conversation with #SurferPoll.
Special thanks to SURFER Magazine partners Verizon Wireless, Red Bull, Kru82 Vodka, Turtle Bay Resort, Martin Guitars, GoPro, House of Marley, Life Proof and New Era Caps for helping to bring the 2012 SURFER Poll to life.
About SURFER
In 1960, SURFER Magazine began as the original. After a long history of delivering provocative and insightful editorial features, revealing interviews and award winning state-of-the-art photography, SURFER remains the authoritative voice of the surfing world and thus earned the moniker "the bible of the sport." The SURFER brand has also grown to include Surfermag.com, Fantasy Surfer, and the SURFER message boards. All of these assets combine to make the SURFER network the most current and reliable channel of information to the surf community. The magazine is published by Source Interlink's GrindMedia, which reaches more than 22-million active sports enthusiasts through an integrated network of magazines, online properties, events and television programming. To learn more, visit surfermag.com
About GrindMedia
Source Interlink Media's GrindMedia is home to renowned action and adventure sports magazine brands Surfer, Surfing, Snowboarder, Skateboarder, Powder, Bike, Canoe & Kayak, SUP-Standup Paddler, Dirt Rider, ATV Rider, and Paved. Along with our standalone websites, including GrindTV.com, Newschoolers and Motocross.com, GrindMedia is the leading provider of print and online action sports and entertainment content in the United States. Delivering significant reach across both action sports enthusiast and various in-market consumer audiences, GrindMedia produces more than 20 leading events and webcasts such as Surfer Poll Awards, Powder Video Awards, Nike Lowers Pro, EnduroCross and International Surfing Day. GrindMedia is also the exclusive action and adventure sports content provider for Yahoo! Sports. To learn more, visit grindmedia.com.
---