BACK TO NEWS
B$Z: Sitka Announces New Quebec Representation
Sitka Announces New Quebec Representation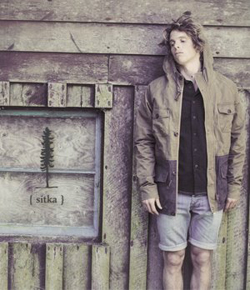 Victoria, BC Canada – Sitka is happy to announce that they have hired a new sales agency for the territory of Quebec & the Maritimes. Sitka is now being represented by the Montreal-based, Agence Jon H. Genier.
Joining key territory brands like Obey, Nikita and Supremebeing, Sitka is pleased to add a strategically aligned sales partner in what has historically been a difficult market for the brand. Picking up the reigns for the F/W 2013 sales season, the new allegiance has big plans for the territory in the seasons to come. "Jon and his team have done a great job building brands in Quebec from scratch, and we're really excited to see what they are going do with Sitka," says Mike Pepperdine, Director of Sales at Sitka. "We've really just started to scratch the surface of the market in Quebec."
"The minute I laid eyes on Sitka I knew it was something special; it's that once in a decade kind of brand," says Jon Genier, agency founder. "It is an honor to be part of what I know will become one of the most important Canadian brands on the market."
About Sitka
Sitka is a lifestyle brand designed by the sea and woven by a common thread. With roots in surfing, skateboarding and art, Sitka is a product of the sea and the trees where the company finds itself so at home. Sitka places its values in a reverence for the natural world and the beauty that surrounds and inspires the company. As such, sustainability and fair-practice are two of the cornerstones of the company's business beliefs.
About Agence Jon H. Genier
Agence Jon H. Genier (AJG) is well established in the industry and recognized in the business with its 14+ years of experience. The agency's headquarters is based in Brossard just across the Montreal Champlain bridge and works the territory of Quebec along with the Maritimes. AJG currently represents; Obey, Osiris, Nikita, Supremebeing, JSLV, Loser Machine/Dark Seas, LIRA and Sitka.
---