BACK TO NEWS
EVENT: Save the Date! World Snowboard Day Is Back!
Save the Date! World Snowboard Day Is Back!
Impatiently awaiting the next edition of World Snowboard Day even though this winter is still going strong? Great news, we've picked the date! We'll see you on Sunday December 30th, 2012, with the same bold objective: a wide variety of activities, for free, to discover the joy of sliding on snow, to share your passion for snowboarding with others, and to have an outrageously excellent experience!
In 2011, 167 events took place in 37 countries! The exciting program of activities included contests, first-time snowboard lessons, equipment tests, demonstrations, the opportunity to meet pro riders, cocktails, concerts, a video contest, and much, much more! The number of events continues to grow from one year to the next, and we're sure that for the upcoming 7th edition there will be even more of you to take advantage of an unbelievable program put together by federations, ski areas, clubs, shops, pro riders, associations, and brands from the all across the planet!
For the 2012 edition we're ready to bet that more new countries will join the adventure - just like India, Brazil, and Peru in 2011 - and that we'll have another record-breaking number of events! In the meantime, the upcoming months will be full of surprises, with the first coming in the very near future! So as not to miss it, head to the Facebook page each and every day in order to catch a sneak preview of the new WSD visual! We guarantee that they will blow your mind!
To stay up to date on the latest news for the event, you can also go directly to the www.world-snowboard-day.com website!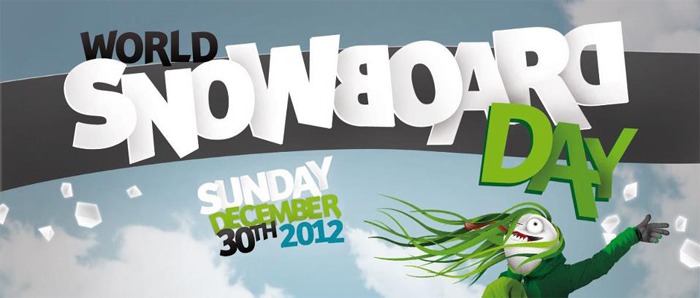 A quick history of the event and its key partners:
Created in 2006 by EuroSIMA and the World Snowboard Federation (WSF), World Snowboard Day provides a unique opportunity for the international snowboard community to promote snowboarding and its unique culture by allowing the general public to try out and to discover the joy of snowboarding for free. Since 2010 the Outdoor Sports Valley association (OSV) is an event partner, with SnowSports Industries America (SIA) in North America and CorePower Asia in Asia as regional partners. All of these partnerships provide a broader worldwide presence for World Snowboard Day. For the 7th edition, a well-known partner has joined the group: TTR World Tour.
---