Back to News
EVENT: Celebrate the Year's Top Shops, Brands, and Reps at the TransWorld Business Awards Party
January 1, 2015
TransWorld Business Awards Party
Celebrate The Year's Top Shops, Brands, and Reps
Friday, January 4, 2013
Long Beach Convention Center — 6:00 p.m.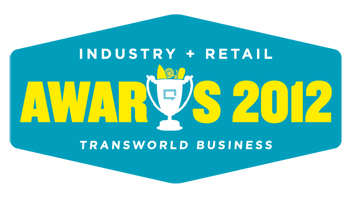 Carlsbad, CA — TransWorld Business, the leader in action sports news and information, invites the industry to join them as they recognize 2012's top shops, brands, and reps at an awards ceremony on Friday, January 4, 2013 during the Agenda Show at the Long Beach Convention Center in California. The ceremony for the fourth-annual TransWorld Business Awards will begin at 6:00 p.m. and celebrate the people and companies doing the most to move action sports forward.
After two months of polling over 8,000 shops, brands, and reps, the results are finally in for categories including: Brand of the Year, Shop of the Year, Regional Reps and Retailers of the Year, and more. Everyone attending the Agenda Show is welcome to enjoy complimentary drinks and appetizers as TransWorld Business recognizes this year's winners and unveils its winter print issue, featuring the awards and its recipients.
"The TransWorld Business Awards allows shops to vote on the brands that support them the most and brands to vote on the retailers that killed it for them across the United States and Canada," comments TransWorld Business Editor In Chief Mike Lewis. "We are stoked to be able to uniquely recognize the people doing the most to help keep specialty retail special."
"We are very excited to be hosting the TransWorld Business Awards for the second year in a row," adds Agenda President Aaron Levant. "We see this event getting bigger every year as it recognizes the best and brightest from across the action sports and lifestyle industries."
For more information on the TransWorld Business Industry & Retail Awards, go online to transworldbusiness.com.
To keep up-to-date on the latest in action sports, sign up for the TransWorld Business newsletter here. Download the latest digital copy of TransWorld Business on iTunes here.

---