Back to News
Team Phun Q&A with Jesse Goodwick, Founder and CEO
December 12, 2012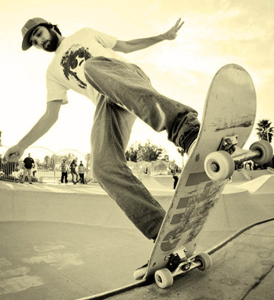 Team Phun Q&A with Jesse Goodwick, Founder and CEO
It has been nearly a year since Jesse Goodwick decided to take his hobby to the next level when he "took the money from (his) savings and filed the paperwork, permits, trademark, and other fees to the government to establish Team Phun LLC in January 2012."
Team Phun has a unique collection of products for men, women, children, and animals as well. As the company's mission statement explains, Team Phun provides "fun, distinctive, functional apparel, headwear and accessories designed to characterize and promote all lifestyles."
Choosing his home studio in San Diego, Calif. as Team Phun's base of operations, he promptly hired three of his siblings and a long-time friend as the company's first employees. Now, after a full year successfully running a close-knit team of family and friends, Jesse has big plans for the company in 2013, starting with a trip to the east coast in January to exhibit at Surf Expo.
Read on for more on how Team Phun, led by the creative mind of founder and CEO Jesse Goodwick, is looking to grow in 2013 and beyond.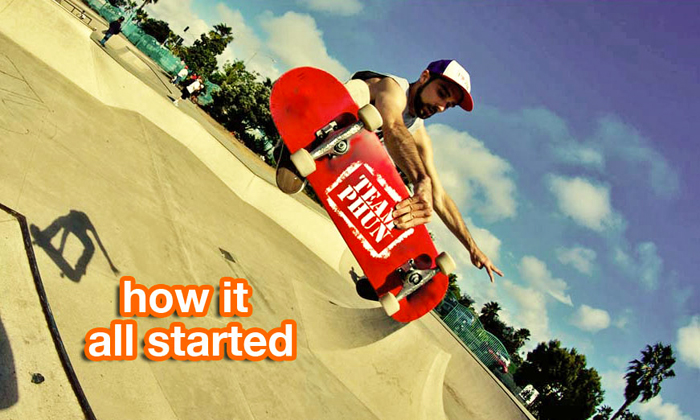 When did you decide to take your hobby to the next level and establish Team Phun as a business?
My hobby has just developed into a business over the past 3 years on its own, but of course with some major circumstances happening in between. I started "TEAM PHUN" when I lived in Breckenridge, CO working as a children's hill coordinator in November 2009 and made my own snowboard facemask, which I have trademarked as a "Snowdanna" and fellow employees wanted their own custom ones too. So I bought a sewing machine on eBay and took the skills I learned from my previous girlfriends and started cutting and sewing away. But it wasn't until I moved to San Diego for a full time audiovisual engineering job that I really realized the potential of my hobby. I worked about 2 years as a 9-5er and got laid off because it was slow, so I took that as an opportunity to grow my hobby into a full-fledged business. Even during my full time employment I would do farmers markets, craft shows, and Internet sales as much as I could to keep the "phun" alive. When that door closed for my full time employment, another opened for me to concentrate on developing TEAM PHUN into an actual business. I had so much good feedback from the community and felt very confident about dedicating my time into this 100%. I took the money from my savings and filed the paperwork, permits, trademark, and other fees to the government to establish TEAM PHUN LLC in January 2012.
Where are you based and why?
We are based in San Diego, California. After ski season was over in Breckenridge in April 2010, I looked for employment all over the nation and found the audiovisual engineering job that landed me in San Diego. I almost think it was fate because I couldn't have ended up in a better spot to evolve my business.
What has been the biggest challenge for you in starting and running Team Phun?
My biggest challenge was lack of experience! I went to college, received my Master's in Mechanical Engineering from the University of Hartford and my mind has always been very mechanical but also very creative. Setting up the legalities of the business was pretty straightforward with some GOOGLE searches and advise from family friends, but when someone asked me about fashion I just kind of scratched my head. To me this industry is more about the art and the message you are conveying to the consumer, because in all honesty someone is going to wear your stuff because they either want to be associated with the brand and/or they like the image. And of course after the design you have to figure out how to get it made, and that was an entire adventure in itself to find trusted/quality manufacturers. We try to keep everything USA based to monitor quality control closely, but some of our products are still made over seas, with assembly and quality control done in San Diego.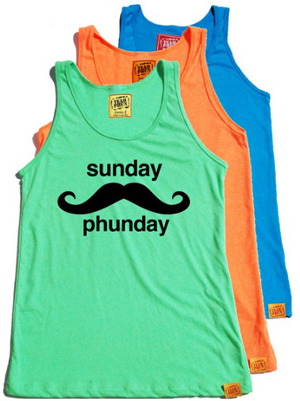 What are your most popular products?
Our Sunday Phunday neon tank has been a huge hit in our online and retail markets. This is our number one selling shirt and we have had customers from literally all over the world ordering this. The shirt itself is a USA made 50/50 poly/cotton neon tank available in numerous colors and provides superior comfort.
The "ASTROBOARD" by TEAM PHUN is another hot commodity now, which I have secured a patent for. It is a hybrid of a penny style skateboard with AstroTurf top that provides the rider with ultimate in barefoot cruising. I personally have designed and over see the manufacturing operations for every board, and work with local engineering companies in San Diego to supply and die cut the turf, as well as adding the VHB (very high bond) adhesive to keep the turf secured for life.
We also offer men, women, kids, and even pet products so our line is continually growing. We offer hand crafted skateboard dog feeders, fashion forward pocket tees and an eclectic arrangement of other good humor, comfortable apparel.
It seems the brand is a family affair – how has it been working to get Team Phun up and running with your siblings and what duties do each of you handle?
Yes it is a phamily affair. I've enrolled my brother Jamie as President who brings a degree in marketing from Roger Williams University and experience with design. He also helps securing our retail accounts and with everyday operations in the business. My sister Linz has been our go-to PR person because she has always been the most social able one in the bunch and helps reach out to magazines, retailers, and other potential networks. She is actually in Vancouver, Washington too, so we just skype all the time to keep each other in the loop on everything. Finally, our father David brings 25 years of marketing and B2B experience to the field, and although he sometimes doesn't understand our designs or intentions, he still is our guiding light and we all truly honor is knowledge.
Can you share any lessons you've learned in your time with Team Phun?
Hard work pays off, Murphy's Law is true 99% of the time, and even "perfect" people mess up in the real world. I guess this almost applies to everything in real life, but you really notice it more when you are running your own business. I've dealt with late shipments from vendors, misprints from manufacturers, receiving wrong goods, not getting paid in full, etc. These are all things I never really had to worry about when working for someone else, but now that I have my own business, I am learning these things as I go and have accounted for most of them in the best way I can in all our activities.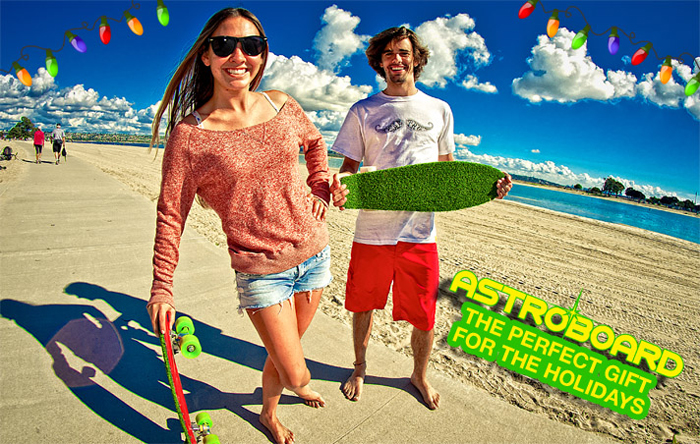 Can you share any plans or upcoming product releases for Team Phun in 2013?
We are really excited to put our ASTROBOARD out on the main market. These have been in development since August 2012 and I've secured the patent and manufacturing methods so we are ready for full-scale production. These have been major hits in the local beach community, but just to prove a point we have sold (and re stocked!) to a shop in Detroit, so they are not just for the beach!
Besides the board, it will also be the official release of our 2013 spring/summer line including our new plaid and paisley pocket tees, neon tank tops, exclusive "phun" women's line, and newly developed point of sale displays.
Let's talk about Surf Expo in January, where you guys will be exhibiting in the surf section – have you had much experience at trade shows being that Team Phun is such a young company?
We are all so excited to be going to Surf Expo because our brand will fit in really well and still stand out from everything else the show has to offer. We have been to other tradeshows, like last August we attended MAGIC in Las Vegas. The problem with MAGIC though is that it is so big you can get lost in a heartbeat. Placement was an issue for us because the floor managers put us in a "sea of black" as I like to describe it in the STREET section and our booth was bright orange with palm trees. We definitely stood out from the rest of the bunch with our colors and high energy, but placement was an issue for us.
However this Surf Expo we have our own island where we have complete creative freedom to make our own booth, which we all have been excited about. This gave us a chance to build point of sale displays and custom fixtures for the show, rather than giving us a square box with 3 walls and decorating as we please. Our booth will be very easy on the eye and give buyers the ultimate shopping experience all in one bundle. We will be in the Surf section at Booth 1440, look for the bright orange surfboards and mustaches.
What are you most looking forward to in heading East for Surf Expo?
Besides being able to introduce east coast retailers to our brand and network with potential retailers, I'm excited to see my family. They live in South Carolina, so we are sending our freight for the show to Colombia and picking it up with the family truck and hauling it down to Orlando. Jamie and I don't get to go home to see the parents and farm too often so we are excited to see the them and enjoy a few days of relaxing before the show.
Anything we missed that you'd like to include?
If you don't know what TEAM PHUN is, we are a good humor lifestyle that promotes fun, fashion, and friendships. All for Fun, PHUN for All is our motto. I started this brand to not exclude anybody. We've all seen/heard there are lover's and hater's (especially in the action sports world) which separates everyone, but my vision was to create a brand where we all play together. After all we are all a team, and Together Everyone Achieves More PHUN!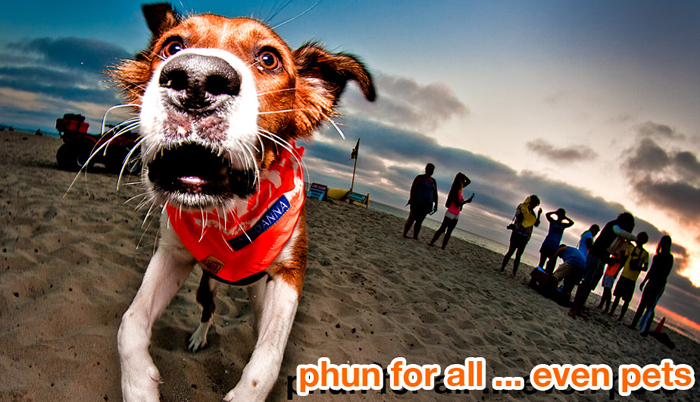 All photos: TeamPhun.com
---