Back to News
B$Z: Christian Hosoi Signs with Penny Skateboards - Set to Release Hosoi Nickel in April
January 7, 2013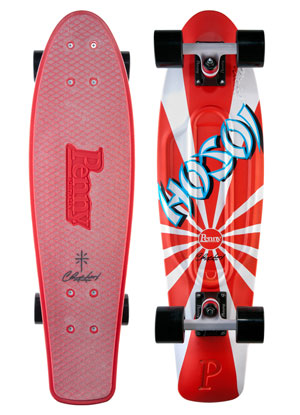 Christian Hosoi Signs with Penny Skateboards - Set to Release Hosoi Nickel in April
San Diego, CA – Penny Skateboards has signed skateboarding legend, Christian Hosoi, as a rider and ambassador for the brand. To commemorate the signing, Penny will debut Hosoi's signature Nickel skateboard at the Agenda Trade Show on January 4th and 5th in Long Beach.

With a professional skateboarding career spanning over three decades, Christian Hosoi certainly needs no introduction. As one of skateboarding's most stylish and dynamic personalities, Christian will bring his iconic rising sun graphic to the Nickel shape producing another industry first - the first plastic signature skateboard model ever created.

The Hosoi Nickel complete will feature Hosoi's "Rising Sun" innovative Penny Plastic Print detail on the underside of the Nickel shape, clear die-cut signature griptape, custom powder-coated 4-inch trucks, and exclusive red shielded Abec7 bearings wrapped in Penny's 59mm signature black wheels.

"I wanted to work with Penny because after riding all the plastic boards on the market nothing felt as good under my feet as a Penny" said Christian Hosoi. "As the original, it exudes style and performance, and Ben's aim in starting Penny to get more feet on skateboards really appealed to me and my own life in teaching my own kids to skate. For me, Penny's about what I'm about, so it's an honor to become an ambassador."
The Hosoi Nickel Signature model will officially release on April 1st, 2013 at select retailers worldwide.

Penny Skateboards is the original plastic skateboard. Heralding from Australia, Penny Skateboards has a rapidly growing following spanning over 45 different countries and is widely credited with sparking the plastic skateboard phenomenon and bringing the "fun" back to skateboarding.
Penny Australia x Christian Hosoi Signature Model. from Penny Skateboards on Vimeo.
For more information on Penny Skateboards, please visit the website
www.pennyskateboards.com
or contact Ollie Berney at
[email protected]
or Richard Inskip at
[email protected]
---