BACK TO NEWS
EVENT: SIA's Snow Show Preview and The Guide Available Now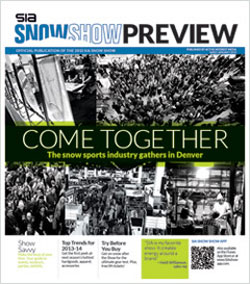 SIA's Snow Show Preview and The Guide Available Now
Washington, DC (January 7, 2013) -- This week, the snow sports industry will have access to two great publications for planning their Snow Show days and nights – SIA Snow Show Preview issue and The Guide. Both publications will help attendees get properly prepped for the upcoming 2013 SIA Snow Show (Jan. 31-Feb. 3) and SIA Sourcing Snow (Jan. 30-Feb. 1) at the Colorado Convention Center and On-Snow Demo/Ski-Ride Fest (Feb. 4-5) at Winter Park and Devil's Thumb Ranch.
"Reading through the Snow Show Preview and The Guide got me excited for the 2013 Show in January – they're both great resources for making plans and getting the most out of those busy days in Denver and the On-Snow Demo," commented David Ingemie, SIA's President.
Member-owned, inspired and dedicated exclusively to snow sports, the SIA Snow Show is the industry's largest annual global gathering. It's where the most influential and visionary brands connect with leading retailers and resorts to unveil innovations, exchange ideas and build solid relationships that shape the industry.
SIA On-Snow Demo. Made by the Industry for the Industry. from SnowSports Industries America on Vimeo.
SIA Snow Show PreviewSIA Snow Show Preview
Offering state-of–the-industry analysis and previews of emerging trends, the SIA Snow Show Preview was mailed to 12,000 retailers, sales reps, executives and industry VIPs plus sent electronically to another 30,000. View the digital version here.
Once the Snow Show kicks off, the Snow Show Daily staff will produce the official on-the-floor source for news, analysis, and event coverage. Available onsite, the Show Daily is also delivered each morning to Show attendees' hotel rooms, sent out electronically to the snow sports industry/media and mailed out to retailers unable to attend the Show.
A new On-Snow Demo Guide will be available at the Show providing resources for navigating the On-Snow Demo/Ski-Ride Fest and to serve as a Demo guide for the regional on-snow demos.
The Guide
A custom co-branded pre-show publication built by TransWorld Business for the snowboarding community, keeping core snowboard retailers needs top of mind, The Guide provides pertinent Show information, new trends, editor's picks, up-to-date research, feature articles, travel tips and more.
The Guide was distributed both in print to over 4,500 ski/snowboard shops and industry execs and digitally to over 30,000 including shops, manufacturers, executives, reps, media, and SIA members. The digital edition is available online at issuu.com/siasnowsports via a browser-based reader, and additionally, on its own iPad App, through TransWorld's proprietary iPad magazine platform at no cost. Hard copies will also be available onsite at the SIA Snow Show.
SIA
SnowSports Industries America (SIA) is the national not-for-profit, North American member-owned, trade association representing suppliers and service providers of snow sports products with constituents in the retailer, rep and resort communities. Annually producing the SIA Snow Show, the largest snow sports industry trade show, on-snow demo and networking environment globally, SIA delivers invaluable data/research reports including the Snow Sports Market Intelligence Reports, SnowSports RetailTRAKTM and Executive Market Summary. SIA also produces the Supplier Show, Sourcing Snow, at the SIA Snow Show; learn more at SIAsnowshow.com/sourcing. SIA is dedicated to growing the industry through consumer initiatives and websites, Snowlink.com and wintertrails.org, marketing resources, services and collaborative programs to increase participation and move product. For more information, visit Snowsports.org. SnowSports Industries America, 8377-B Greensboro Drive, McLean, VA 22102-3587 (Washington, DC Area). Phone: 703-556-9020, Fax: 703-821-8276, Email: SIAmail@snowsports.org.
AIM Outdoor Group
AIM's Outdoor Group is a blend of consumer and trade publications that reaches 3 million active enthusiasts each month across the trail, climbing, fitness, and ski industries. In addition to Backpacker and Climbing, it publishes SNEWS, Outdoor Retailer Daily, Epic Life (formerly Peaks), Snow Show Daily, and National Park Trips (a group of four magazines and five websites dedicated to Western outdoor travel). Based in Boulder, CO, the Outdoor Group also operates two of the most successful events in the outdoor industry: Backpacker's annual Adventures NYC festival in Central Park, and Get Out More, a beginner-oriented clinic series that travels to 70 retailers annually.
TransWorld Business
TransWorld Business is a B2B trade publication in the action sports world and for over 15 years continues to remain the number-one source for action sports business news and information. It provides key resources and tools to thousands of retailers and manufacturers within the industry through its print, digital, and event assets. TransWorld Business is a brand of TransWorld Media, the world's leading action sports media company and is based in Carlsbad, California. TransWorld is a division of the Bonnier Corporation. Bonnier Corporation (bonniercorp.com) is one of the largest consumer-publishing groups in America and the leading media company serving highly engaged audiences through 50 special-interest magazines and related multimedia projects and events. Bonnier Corp. is the US division of the Bonnier Group (bonnier.com), a 200-year-old family-owned media group based in Sweden with business operations in 25 countries.
---