Back to News
CONTEST: Amateur Videographers Can Enter the "Why I Love to Ski or Ride" Contest
January 8, 2013
Amateur Videographers Can Win the Warren Miller Video Award by Entering the "Why I Love to Ski or Ride" Contest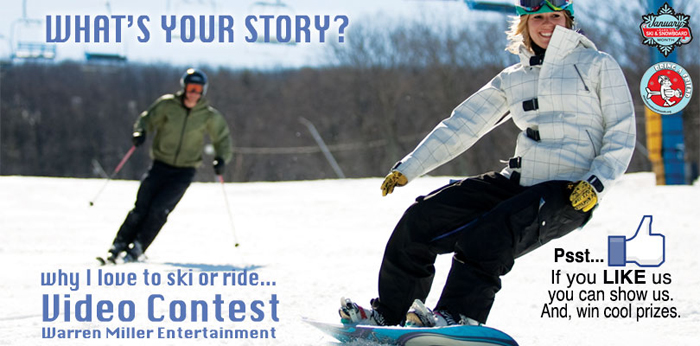 WASHINGTON, DC -- Amateur videographers can win some great prizes and help a non-profit organization that encourages physical activity by entering the "Why I Love to Ski or Ride" contest. The contest celebrates the "joy and exhilaration" of skiing and/or snowboarding. Kicking off this week as part of the national Learn to Ski and Snowboard Month/Bring a Friend initiative, the contest will run through Feb.15, 2013. Videos will be posted on Learn to Ski & Snowboard Month's Facebook page and contest information is also available at skiandsnowboardmonth.org.
Three finalists will receive a Warren Miller Entertainment (WME) Certificate of Merit, a jacket from The North Face and a yearlong subscription to either SKIor TransWorld Snowboardingmagazines. A Grand Prize winner will be selected from the finalists, who will receive the WME Video Award, a $500 gift certificate from skis.com and be recognized at the National Ski Areas Association national conference in May. Thanks to The North Face, a $500 contribution will be made on behalf of the Grand Prize winner to a non-profit organization that advocates physical activity among children and adults.
Consumers will be able to "vote" for their favorite videos. Three judges with experience in videography and snow sports will also cast their own "votes". Judges include Senan Gorman, founder of North Pole Designs, Halley O'Brien, freelance videographer and Tom Horrocks, marketing director for SnoCountry Ski Areas Association.
"This video contest shares the stoke and celebrates the discovery of skiing or snowboarding," says Max Bervy, managing director, Warren Miller Entertainment. "As our 'friends' acquire new skiing and snowboarding skills, they enter our world where freedom is found on the side of a snow covered hill, it's an experience that tends to change people's lives." Warren Miller Entertainment is known for its action-packed adventure films featuring dramatic footage from all over the world. They also encourage learning a snow sport as a way to get outside in the winter.
Learn to Ski and Snowboard Month is an industry initiative organized by state and regional ski associations, leading snow sports media outlets, rep and retailer associations, the Professional Ski Instructors of America, the American Association of Snowboard Instructors, United States Ski and Snowboard Association, SnowSports Industries America, National Ski Patrol, and National Ski Areas Association.
A Snow Sports Industry Initiative/skiandsnowboardmonth.org/bringafriend.org
---