Back to News
B$Z: Belkin and Vans Announce Licensing Deal
January 9, 2013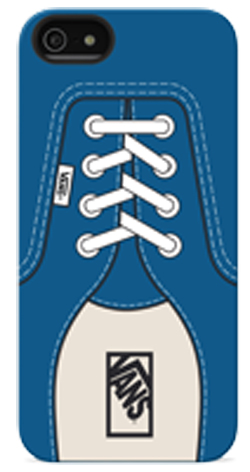 Belkin and Vans Announce Licensing Deal
Belkin to Create New Line of Cases Inspired by Vans
LAS VEGAS--(BUSINESS WIRE)--Belkin, creator of people-inspired consumer technology products, and Vans®, creator of "Off the Wall" original footwear, apparel and accessories, today announced a multi-year licensing partnership to create innovative and fun accessories for mobile devices. Initial case designs will be on display during the 2013 International CES from January 8-11, 2013 at Belkin's booth #30651 in the South Hall of the Las Vegas Convention Center.
"As a people-inspired brand, Belkin prides itself on creating cases and accessories for everyone"
Starting in early 2013, Belkin and Vans will launch a variety of cases merging the iconic Vans' brand imagery with Belkin's quality mobile accessory design. The initial cases focus on iOS devices including the iPhone 5 and iPod touch, with plans to expand to other platforms over the course of the partnership. Products will be available through Vans' accounts worldwide and through Belkin's online and retail partners.
"As a people-inspired brand, Belkin prides itself on creating cases and accessories for everyone," said Nima Ahmadinejad, vice president of products at Belkin. "We're excited to work with Vans on fun, funky and original designs that their legions of loyal brand enthusiasts are sure to love."
"Vans is the action sports original since 1966 and we've created designs for surf, skate and snowboarding since their earliest days," said Luciano Mor, Vans men's apparel category director. "Our fans also happen to be technology enthusiasts, so it makes perfect sense to partner with Belkin, a global leader in the mobile accessory space, to create cases that give fans a new way to enjoy our iconic designs."
About Belkin
At Belkin, we make people inspired products. With more than 200 patents, Belkin invents products that harness the power of technology to enrich people's lives. From wireless home networking and entertainment, to mobile accessories, energy management, and a broad USB and cable mix, Belkin products connect the dots between people and the things they love. Belkin also provides public and private sector organizations with high-quality security, infrastructure, energy, and server-room solutions. A privately held company founded in 1983, Belkin has more than 1,200 employees in 21 countries. Headquartered in Playa Vista, California, Belkin can also be found on the web at Belkin.com, on Facebook at facebook.com/belkin, and on Twitter at Twitter.com/belkin.
About Vans
Vans®, the original action sports footwear and apparel company, is a brand of VF Corporation (NYSE: VFC). Vans collections include authentic footwear, apparel and accessories, snowboard boots and the Pro-tec line of protective gear and are sold globally in more than 170 countries through a network of subsidiaries, distributors and foreign offices. Vans owns and operates more than 300 stores in the United States and internationally, each offering a wide range of Vans footwear and apparel while communicating our Brand and athletes' rich stories. Vans promotes action sports lifestyle and youth culture through support of athletes on boards and bikes all over the globe and through progressive events such as the Vans Triple Crown of Surfing®, the Vans Downtown Showdown, the Pro-tec Pool Party and the Vans Warped Tour®. More information about Vans can be found at www.vans.com, Twitter @vans_66 and www.facebook.com/vans.
---