Back to News
MOTO: KTM Announces Corporate Partnership with Foremost Insurance Group
January 16, 2013
KTM Announces Corporate Partnership with Foremost Insurance Group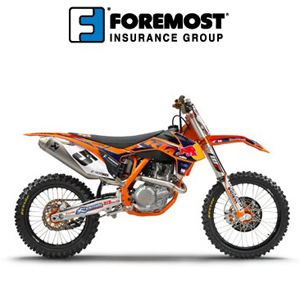 MURRIETA, Calif.(January 15, 2013) – KTM North America, Inc. is excited to announce a corporate partnership with Foremost Insurance Group becoming the latest sponsor of the Red Bull KTM Factory Racing Team, Factory FMF/KTM Racing Team and the KTM Ride Orange Demo Ride Program.
The partnership blossomed through combined interests of the two companies. Both companies are motorcycle-focused with an emphasis on grassroots initiatives. While the KTM brand has been widely recognized for its offroad heritage and success, Foremost® is an insurance company that offers specialized offroad vehicle insurance coverage, along with motorcycle, boat, home and much more.
Red Bull KTM Factory riders, Ryan Dungey and Ken Roczen, launched the partnership off to a great start after both riders' finished on the podium at the opening round of the Monster Energy Supercross, an FIM World Championship Series.
Foremost has also signed on to be a prominent sponsor of the Factory FMF/KTM Team. The Factory team is known as the leader in offroad championships; securing more offroad championships than any other offroad racing team in its history.
For the second year in a row, Foremost will partner with the Ride Orange Demo Ride Program. The Ride Orange program provides an opportunity for participants to test ride the new KTM motocross, offroad and street motorcycles at demo ride events throughout the
United States.
"We feel this is the start of a great partnership," stated Vice President of Marketing, Florian Burguet. "Foremost is a company that has a true passion for professional and amateur motorcycle racing. We feel their commitment to the grassroots level and their innovative line of thinking will work well with the KTM for 2013 and beyond. We are thankful for their support and happy to have them as a member of our team."
"This partnership with KTM is a great opportunity for Foremost to support the products we insure and also be able to work with a first class organization," says Randy Slotten, director of marketing for Foremost Insurance Group. "We feel that the connection between
KTM, our insurance products and our employees, customers and agents make perfect sense and are looking forward to a successful 2013 race season."
Learn more about Foremost Insurance by following them on Twitter: @Foremostracing.
About KTM
KTM is a European motorcycle manufacturer specializing in "Ready to Race" street and offroad motorcycles. Proven successes in worldwide competition are embodied into the design and function of each KTM. With more than 200 World Championships and counting, the technology, design and performance of KTM continues to race past the competition.
About Foremost
A part of the Farmers Insurance Group of Companies®, Foremost Insurance Group ("Foremost") has been a leader in personal lines insurance since 1952. Foremost is headquartered in Caledonia, Michigan. Farmers is a trade name and may refer to Farmers Group, Inc. or the Farmers Exchanges, as the case may be. Farmers Group, Inc., a management and holding company, along with its subsidiaries, is wholly owned by the Zurich Financial Services Group. The Farmers Exchanges are three reciprocal insurers (Farmers Insurance Exchange, Fire Insurance Exchange and Truck Insurance Exchange), including their subsidiaries and affiliates, owned by their policyholders, and managed by Farmers Group, Inc. and its subsidiaries. For more information about Farmers, visit www.Farmers.com, or www.Facebook.com/FarmersInsurance.
Foremost wants you to be safe in whatever adventure you choose. To learn more about Foremost products or to share feedback, visit www.Foremost.com, our blog at blog.foremost.com, our Facebook page at www.Facebook.com/ForemostInsurance or our
Twitter account at www.Twitter.com/Foremost.
---